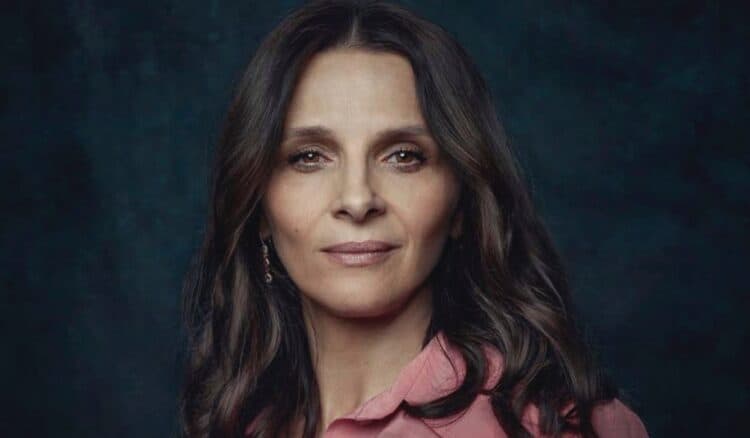 A new Apple TV+ series promises a compelling true-to-life story backed by an impressive list of cast members as well as a showbiz veteran working behind the scenes. Titled The New Look, the show is a biographical drama created by Todd A. Kessler, who had previously worked on shows like The Sopranos and Providence. Here's a description of the plot of the show, according to What To Watch: "The New Look is set during World War Two, during the Nazi occupation of France, The Apple TV+ drama charts Christian Dior's (Ben Mendelsohn) meteoric rise to fame and how he helped to lift spirits around the world with his groundbreaking designs. Inspired by true events the drama series shows how he brought Coco Chanel's (Juliet Binoche) impressive reign to an end and dominated world fashion in the decade after the war. Interwoven are the stories of Dior's many rivals, including Pierre Cardin and Balmain." The New Look will be featuring A-list level performers ready to breathe life into this much-anticipated biopic. If you want to learn more about the actors appearing in this series, read ahead. Here are the cast members of the upcoming TV series The New Look.
Ben Mendelsohn
Ben Mendelsohn will be portraying the real-life fashion icon Christian Dior in the upcoming TV series The New Look. Mendelsohn is an Australian actor who has been in a number of successful films. His breakout role was in The Year My Voice Broke, and he has also starred in Animal Kingdom, The Dark Knight Rises, Starred Up, Mississippi Grind, Rogue One, Darkest Hour, and Steven Spielberg's Ready Player One. He is part of the Marvel Cinematic Universe as Talos. Mendelsohn is a highly sought-after actor who has shown his range in a variety of roles. He is known for his intense and committed performances. He is set to appear in multiple films, including Misanthrope and The Marsh King's Daughter.
Juliette Binoche
Actress Juliette Binoche will be playing the character of Coco Chanel in the upcoming TV series The New Look. Binoche is a French actress who came to international prominence with her English-language film debut The Unbearable Lightness Of Being. She has since starred in a number of high-profile films, including The English Patient, Chocolat, and Three Colours: Blue. Binoche is widely respected for her acting ability, and has won numerous awards, including the Cannes Film Festival Best Actress Award and the Academy Award for Best Supporting Actress. She is also an accomplished stage actress, and has appeared in a number of well-regarded French productions. Binoche is a highly sought-after actress, and her work in both independent and mainstream films has helped to broaden the appeal of French cinema to international audiences.
Maisie Williams
Maisie Williams will be playing the role of Catherine Dior in the series The New Look. Williams is best known for her role as Arya Stark on the HBO series Game of Thrones. She made her debut on the show in 2011, when she was just 12 years old, and quickly became one of the most popular characters on the show. Over the course of the series, she earned two Emmy nominations for her performances. AfterGame of Thrones ended in 2019, Williams starred in the independent film The Falling and the period drama Mary Shelley. She will also be appearing in the upcoming Marvel Cinematic Universe film The New Mutants. Outside of her acting career, Williams is an outspoken advocate for gender equality and animal rights. She is also an internet entrepreneur, having co-launched a social media app called Daisie.
John Malkovich
Veteran actor John Malkovich will be starring in The New Look as Lucien Lelong. John Malkovich is an American actor, director, and producer. He has appeared in more than 70 films and has been nominated for an Academy Award, two Golden Globe Awards, and four Screen Actors Guild Awards. Malkovich began his acting career in 1976 with the Steppenwolf Theatre Company. He made his film debut in 1979 with Jon Robyns's adaptation of Sam Shepard's play True West. Malkovich has since appeared in such films as Places in the Heart (1984), The Killing Fields (1984), Dangerous Liaisons (1988), In the Line of Fire (1993), Being John Malkovich (1999), Mulholland Drive (2001), Burn After Reading (2008), and Spider-Man 2 (2004). He has also directed and produced several plays and films. Malkovich's distinctive voice and mannerisms have made him one of the most recognizable character actors in Hollywood.
Emily Mortimer
Emily Mortimer will be portraying is Eva Colozzi in The New Look. A British actress, she began her career on stage, before transitioning to film and television. She has starred in a number of films, including Scream 3 (2000), Match Point (2005), The Pink Panther (2006) and its 2009 sequel, Lars and the Real Girl (2007), Chaos Theory (2008), Harry Brown (2009), Shutter Island (2010), Hugo (2011), Mary Poppins Returns (2018), and Relic (2020). She is also known for her role as MacKenzie McHale on the HBO series The Newsroom. Mortimer has been nominated for several awards, including an Emmy Award and a Golden Globe Award.
Claes Bang
Claes Bang will be playing the role of Hans Von Dincklage in the upcoming TV series The New Look. Claes Bang is a Danish actor who has starred in several high-profile films. He is perhaps best known for his role in Ruben Östlund's 2017 film The Square, for which he won several awards. He has also starred in Robert Eggers's 2022 film The Northman, as well as the television series The Bridge and Borgen. Bang has received critical acclaim for his work and is considered one of the most promising young actors working today. He made waves with his role in The Burnt Orange Heresy, and in an interview with Collider, he talked about what drew him to the role: "It really is a page-turner. It was like reading one of those really good novels that you just can't put down. I was fascinated by this very weird and twisted relationship between James and Berenice. I was just like, "What is this? It's so crazy. I just wanna do it, right away." I just wanted to get right in there. That was the main attraction, at the beginning of it, really."