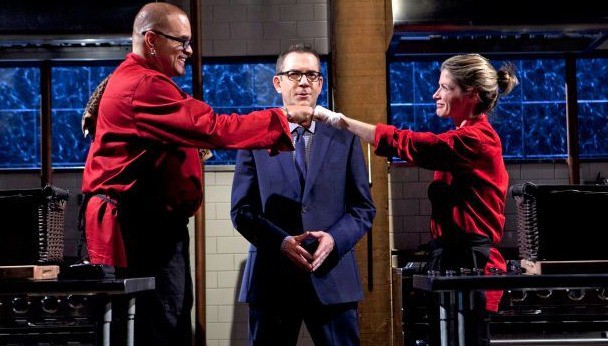 With so many cooking shows on the air these days, it's hard to decide what is worth watching. Chopped is a no brainer. What's more fun than watching cooks scramble to make gorgeous meals out of mysterious ingredients. The show has everything, intrigue, drama, heartwarming wins, and soul-crushing defeat with plenty of laughs, surprises, and memorable characters. That was just season one. Of all the Chopped seasons, the best by far may have been Season 19s Tournament of Stars. We loved seeing some of our favorite celebs battle it out for their favorite great causes. Spoiler Alert- Seeing the incredibly talented actor, and Buddhist martial arts practitioner Michael Imperioli pull out all the stops to win it for his charity was stunning.
Pure Land Project builds and maintains schools in rural Tibet, so he showed his heart was in it for all the right reasons and he deserved the win. There are so many celebs who might make a tremendous all-star cast for the Chopped Tournament of Stars; we decided to put together our dream-cast. Everyone who made the cut is known for having a considerable amount of heart, and plenty of re-watch value for our binge Chopped marathon nights.
5. Amy Sedaris
It might seem like an unusual pick, but comedian Amy Sedaris is an excellent cook. She used to run her own food-business selling homemade cupcakes and cheese balls. Her business was Dusty Food Cupcakes, not the best name, but it suited the funny lady well. When it comes to charities, she's pretty easy to pin down. Amy Sedaris supported the anti-fur campaign from PETA. She seems to live in a beautifully simple, and hilarious world of her own, but when she does philanthropy, it's pretty clear she doesn't approve of harming animals.
4. Regis Philbin
Regis may be one of the most recognized faces in the world. He holds a Guinness World Record for most hours on film. That's no small accomplishment. He has so many years of experience that fans may have forgotten he also co-authored a cookbook called Cooking With Regis & Kathie Lee: Quick & Easy Recipes From America's Favorite TV Personalities. The title is apt, and he is genuinely a beloved TV persona who brings a lot of charm and charisma to any show. The sheer number of high profile charities Regis has worked with are a direct correlation to his celebrity and time spent. Guessing who would profit most from seeing the charismatic and beloved host win Chopped would be an exercise in futility. He has supported everything from the March of Dimes and the American Heart Association to Exploring the Arts and the United Cerebral Palsy Foundation.
3. Eva Longoria
Most of the stunningly gorgeous Eva Longoria's' fans see a pretty face and her other talents, but they don't know much about the actress. It may surprise people to know she grew up with a special needs sister, and she loves to cook. The 43-year-old Texas-born Eva also wrote a cookbook. Eva's Kitchen: Cooking with Love for Family and Friends is exactly what you'd expect from the title. She might struggle with exotic Chopped ingredients, but she'd do it beautifully, and with all the heart we've come to expect from her. It's not difficult at all to guess what charity she would choose to support. Anyone who founds a charity and names it for themselves is invested in the cause. The Eva Longoria Foundation focuses on Latinas. Supporting women in business and through their higher education so they can achieve more is a subject close to her heart.
2. Julia Roberts
Who could ever compare to the original Pretty Woman? Julia Roberts is known for her huge heart and her sweet disposition. People who work with the actress inevitably say she's fantastic in real life and has a great sense of humor. She also apparently makes a mean shredded brussels sprout and her kids think she should open a restaurant. She's almost too likable, and anyone would be happy to see her win. When it comes to her charities of choice, she couldn't possibly go wrong. The actress has narrated to help sufferers of Rhett Syndrome and played Mother Nature in a film for Conservation International to raise awareness about the growing climate change issues. She has traveled to work with UNICEF and became a spokeswoman for Earth Biofuels to promote sustainability. She also works to empower women and supported Chime For Change, which was created by Gucci.
1. Snoop Dog
He hangs out with Martha Stewart, so we know he has to have some serious kitchen skills. Perhaps it's cheating since he had his own cooking show and it's transforming into a competition show this year. After putting out the albums many of us grew up to and even his own cookbook, we know he's fun to watch. He's even more fun to listen to and frankly who doesn't want to see how Ted Allen would handle him.
We can only guess at what charity he would endorse. In the past, he's performed at the Environmental Media Association Honors Gala as an apparent rep for Beyond Meat, and he donates turkeys to the less fortunate for the holidays. Whoever he chose to win the money for would probably end up getting more than they bargained for with a celeb like Snoop bringing them into the public eye. Plus, he'd make a fierce competitor with some downright tasty ideas no matter what they threw at him for ingredients.
Final Thoughts
We may never be up to the task of taking on the Chopped kitchen in person, but who doesn't dream of making food like that? The next best thing is watching our favorite stars do it for us and win a ton of cash for great causes as they do. The only question is who would win, other than the charities of course. We're hoping for a tie so that we can cheer twice as hard.
Tell us what's wrong with this post? How could we improve it? :)
Let us improve this post!