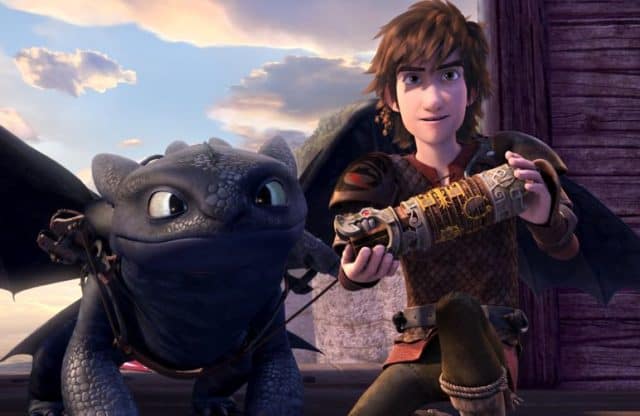 If you've never seen the movies How to Train Your Dragon and How to Train Your Dragon 2 I highly recommend it. While it looks like we'll have to wait until 2019 to get to see a third installment of the franchise, don't fret because you can watch the animated show Dragons: Race to the Edge on the Cartoon Network and Netflix. There you can follow Hiccup and Toothless as they go on adventure after adventure in an incredible animated world created by Dreamworks. The series has already completed 3 seasons and a 4th is nearly underway. According to Comicbook
The studio has provided fans an up-close look at how the creatures of the show are brought to life, showing how they're brought from sketch form to 3D animation. Creatures like the Eruptodon, Fireterror, Shellfire, and Submaripper are all featured in the concept art, which you can view in the gallery.
While all of the dragons have unique looks, Toothless remains a fan favorite. When ComicBook.com had a chance to ask visual effects supervisor David Jones about the adorable dragon and how his animations are always getting additions courtesy of co-workers cats this is what he said:
Yeah, we tend to play up the cat aspect of Toothless. It's certainly not unusual for someone to bring an iPhone video of something funny their cat did and they want to turn it into a Toothless action. The Gronkels, like Meatlug, we often refer to a bulldog, and I have a bulldog which makes it easy and funny for little creature that runs around bow legged and when it's happy wags its whole backside rather than wags its tail because it doesn't have a tail. We're trying to put those animalistic feelings into the dragons because it feels really real. Stormfly has a lot of aspects of a parrot with the twitchy head movements. Often, when we find ourselves looking for things for the dragons to do, people go back to reference and start looking for the animals that inspire that dragon. It's not very rare that you find something and go, "Oh, that's hilarious! They should do that sort of thing!"
Check out the amazing concept art below!