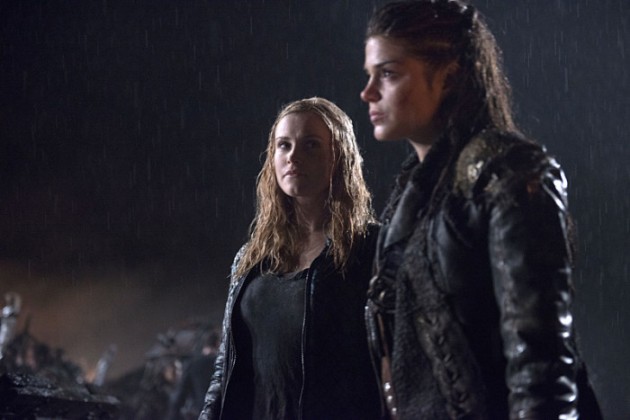 We're going to war. That's what Bellamy said to Jasper in one of the final scenes of tonight's episode. He's not wrong, and I am PUMPED to see how it all turns out. The 100 just keeps getting better and better, and the way the story is progressing, we're in for a doozy in these final few episodes of Season 2. The intensity is rising, everyone, and I'm loving every minute of it.
This week on The 100: The war within Mt. Weather comes to a head, reuniting Bellamy with his friends and unleashing the beast within Jasper. They also find some sympathizers within Mt. Weather's walls. Clarke, Lexa, and Lincoln search for the sniper, who needs to be taken out so their surviving people can be rescued. Octavia takes the lead of Indra's crew while she is incapacitated, and Kane's near death gives Abbie some perspective.
Well, to be honest with you folks, I had two or three heart attacks during this episode. I was worried for Indra, I was worried for Kane, and I was REALLY worried for Lincoln for a minute. I know that The 100 is not afraid to kill off its characters, so I had some serious concerns about whether they'd make it out alive. SPOILER ALERT: They did. Huge sigh of relief, am I right? What they did VERY well is use the near death of a few characters to progress some others. Indra put Octavia in charge, which challenged her. Octavia, however, rose to the occasion and really showed she can not just handle but thrive in a leadership role. Marie Avgeropoulos has proved on multiple occasions that she is more than a pretty face, and she was excellent in this episode.
I really loved the turn that Abbie has taken. Paige Turco is an excellent actress, and every scene she does is better than the last. I'm continually impressed with her character arcs, and I love the way her character has grown. Henry Ian Cusick's Kane has been a good complement to her, and the two of them have made for some excellent tense, dramatic scenes. Their scene tonight, for instance, took half of the episode. If you had told me in Season 1 that Kane would be convincing Abbie that her daughter's actions weren't all bad, I would not have believed you. Kane has been a huge advocate FOR Clarke TO Abbie, and it's a very interesting dynamic. I can't get enough!
There weren't a lot of "odd couple" character pairings this week, but Lincoln with Clarke and Lexa could fit in to that category. He seemed surprised to find them outside the camp at first, but shortly after, he joined them in their hunt for the sniper. Lincoln played a crucial role in stopping the sniper, but it was Clarke who made the whole story worth watching. Lexa was visibly distressed, Lincoln was angry, but Clarke was a whole new level of upset. One of my favorite scenes was Clarke shooting through Lincoln to get the guy. Just a really cool visual story there.
My favorite arc, for the second week in a row, was the story inside Mt. Weather. There is intrigue, civil war, and best of all, beast mode Jasper. All the performances have been good on this show, so you shouldn't get me wrong, but Devin Bostick has brought it two weeks in a row. Jasper has been in the thick of the action; he saved Maya's life, and he's really pretty good at wielding an ax. I loved the element of Maya's parents being a moral compass, and rebelling against the powers that be. Just that little bit of explanation did a lot of work on her character, AND I got a Star Wars feel from it. Never complaining about that.
All in all, this was another very strong installment of The 100, the goal of the episode (or so it seemed) was to build tension toward this upcoming war, and boy did it work. Everything about this episode was tense, from constantly wondering about your favorite characters' fates, to seeing the destruction from the missile, to seeing what would happen during the rebellion inside Mt. Weather. The characters all have strong arcs and the story that's motivating all of them is as gripping as ever. This is the fourth week in a row that I've been unable to look away. I've become enamored with every character and every move they make. Three episodes left, and my eyes will be glued for every bit of it. Sometimes, it seems that The 100 can do no wrong, and I'm totally okay with that.
What did you guys think? Did you love this episode as much as I did? Are you worried for your favorite characters? Let us know!