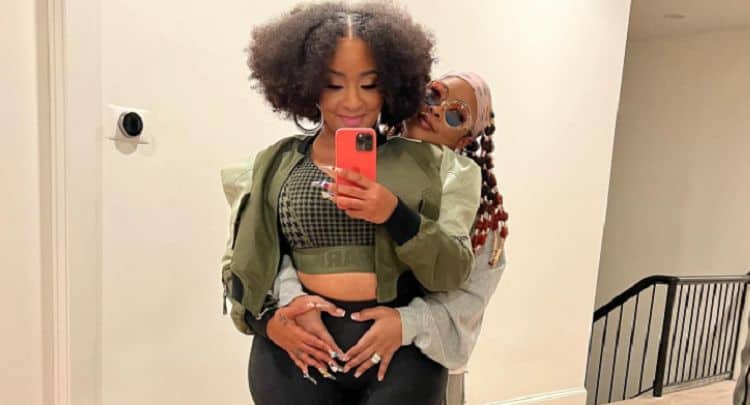 Known to many by her Instagram handle, Da Real BB Judy, Jesseca Dupart has become a powerhouse in more ways than one. In addition to building a large following on social media that now includes millions of people, Jesseca is also the owner of a multi-million dollar haircare company called Kaleidoscope Hair Products. However, Jesseca's professional life isn't the only place where things have gone well for her. She has been in a relationship with rap star Da Brat for almost two years. They are now engaged and the two recently announced that they're expecting their first child together. Continue reading to learn 10 things you didn't know about Jesseca Dupart.
1. She's A New Orleans Native
Jesseca is fairly private when it comes to many of the details regarding her personal life. However, we do know that she is originally from the New Orleans area. Although she currently lives in Atlanta, New Orleans will always have a special place in her heart.
2. She's Always Loved Doing Hair
Jesseca's decision to start a haircare company didn't just come out of the blue. Doing hair has always been something she's enjoyed. During an interview with Urban Magazine, Jesseca said, "Since I was a child, I loved playing in hair. I never thought of becoming an adult and saying "hey I want to pursue this for money" or anything. When I was about five or six years old, I used to put berets in my father's hair. Then as I got older, I moved on to Barbie dolls. I was constantly cutting their hair off and creating new styles with their hair. As I started to grow up I started to do my own hair and even my friends hair."
3. She's a Grandmother
When people look at Jesseca Dupart, the word grandmother probably doesn't even come to mind. After all, she is already 39 years old. However, she is already a grandmother of one. Her granddaughter, Kenzie, is just a year old and appeared on Jesseca and Da Brat's reality TV show, Brat Loves Judy.
4. She Likes to Give Back to the Community
No matter how many great things Jesseca achieves, she will never forget where she came from. Since building her platform, she has made it a point to give back to others. In addition to donating to existing organizations, Jesseca has also organized charity events of her own.
5. She's An Author
Running her own business isn't the only thing Jesseca has accomplished. She is also the author of a book titled When The Miracle Drops: How Instagram Helped Turn A Quick Fix Into A Million-Dollar Product which was released in 2019. It's unclear if she has plans to write any more books.
6. She Loves the Finer Things in Life
Jesseca has worked hard to get where she is today, and she isn't afraid to enjoy the things she has earned. She doesn't mind spending money on the things she really wants. Not only does Jesseca love to treat herself, but she also loves giving gifts to the people she cares about.
7. She's a TikToker
Instagram is the platform where Jesseca has built the biggest following, but she has also gotten pretty active on TikTok. She uses the platform to market her products and share a variety of other content. So far, she has over 214,000 followers and her videos have gotten more than 827,000 likes.
8. She Proposed to Da Brat
Jesseca and Da Brat initially met in 2017 although they didn't form a romantic connection until 2019. It didn't take long for both of them to know that they had found the person they wanted to spend the rest of their lives with. In 2021, Jesseca decided to pop the question to Da Brat in a lavish ceremony in front of their family and friends.
9. She Enjoys Sharing Her Knowledge With Others
Once some people reach a certain level of success, they start getting stingy with their information. However, that isn't the case when it comes to Jesseca. She loves putting other people on and she even created a separate Instagram account called Judy Dropping Knowledge where she shared business advice and other tips.
10. Her Faith is Important to Her
Jesseca hasn't talked much about the specifics of her faith, but it's clear that she is a God-fearing woman. In several interviews, she has mentioned how her faith in God has been one of the biggest factors in her success. When things in her life have gotten challenging, she has been able to lean on her faith to get through.