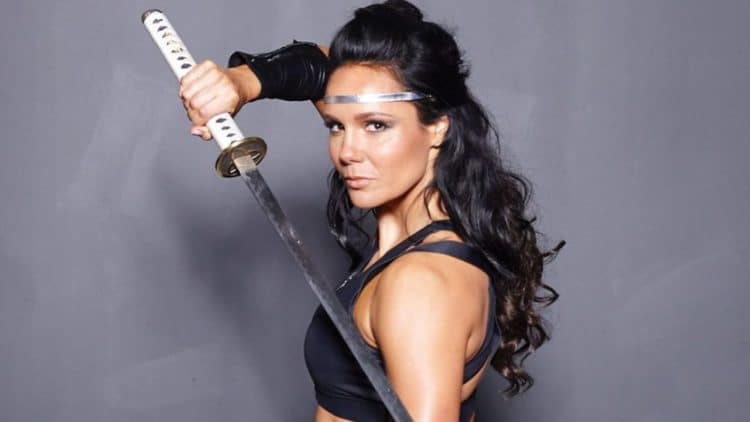 For the average person, working out is just typically seen as a necessary evil. It's something people do because they know it's good for them, but not necessarily something they enjoy. For Jenny Pacey, however, exercise is a way of life. Jenny has made an entire career out of her love for burning calories and she's built a large fan base in the process. Known across the internet for her skills as a trainer and her enthusiasm for fitness, Jenny has become a brand. Prior to bringing her skills to the internet, she also had a brief acting career that includes an appearance in the TV series Gladiators. Recently, she's been in the spotlight for the work she did to train the cast of the upcoming movie Wonder Woman 1984. Keep reading for 10 things you didn't know about Jenny Pacey.
1. She's Worked With Several Major Brands
Jenny Pacey was doing her thing and posing for cameras long before Instagram came along. She's had a successful career as a model and has gotten the chance to work with a lot of big international brands. Some of the companies she's collaborated iwth include Adidas, Tampax, and Visa.
2. She Loves Spending Time In Nature
Spending time outdoors can be a great way to recharge and reflect, and this is something Jenny Pacey believes. She enjoys being outside as much as she can. Whether it be hiking, swimming, or going horseback riding, Jenny has lots of appreciation for the beauty of nature.
3. The Gym Isn't The Only Place She Likes To Workout
Having to get up and go to the gym every day is one of the things that turns a lot of people off from working out. But the truth is that the gym isn't the only place where you can get a good workout in. Jenny loves to switch it up and exercise in different places. Some of her favorite outdoor workouts include yoga and running on the track.
4. Her Boyfriend Is Also In The Fitness World
As they say, 'couples who sweat together stay together' and Jenny and her boyfriend Wayne Gordon are living proof. Wayne is also heavily involved in the fitness world and is a well-known trainer. In addition to his training work, he has also gotten a few acting roles over the years.
5. She's A Dog Mom
It doesn't look like Jenny has any children of her own, but her motherly instincts are still being put to the test. She is a proud dog mom to an adorable pup. Jenny's dog may not make constant appearances on her Instagram page, but when he does he definitely steals the show.
6. She Enjoys Spreading Positivity
The online fitness community has built somewhat of a negative reputation. Some feel that many trainers are judgemental and shame people whose bodies don't look a certain way, but that isn't how Jenny gets down at all. She's all about spreading joy and positivity and helping people feel good about themselves during their fitness journey.
7. She Grew Up Playing Several Sports
Jenny has been an active person her entire life. She grew up playing several sports and excelled in the world of athletics. Jenny was talented in several sports including swimming and long-jump. At one point, she was even a member of the bobsleigh team. Jenny's athletic abilities allowed her to travel all over the world and at one point she reached olympic level competitions.
8. She's Always Up For A Challenge
There are lots of people in the world who prefer to stay within their comfort zone as much as they can. Jenny isn't that kind of person, though. She is always up for a challenge and she isn't afraid to push herself to the limit. This mindset is especially helpful when it comes to working out.
9. She's Into Home Decor
Health and fitness aren't the only things Jenny is into. She's also really into making sure her space at home looks and feels good too. Jenny has an eye for interior design and home decor and loves giving her social media followers a glimpse at how she's decorated her personal space.
10. She Has a Degree In Exercise Science
With so many 'trainers' and 'fitness experts' popping up on the internet, it can be really difficult to know whether or not someone is the real deal. Jenny's followers and fans can rest assured that she is. In addition to her background as a competitive athlete, she also has a bachelor's degree in sports and exercise science from Longborough University.
Tell us what's wrong with this post? How could we improve it? :)
Let us improve this post!