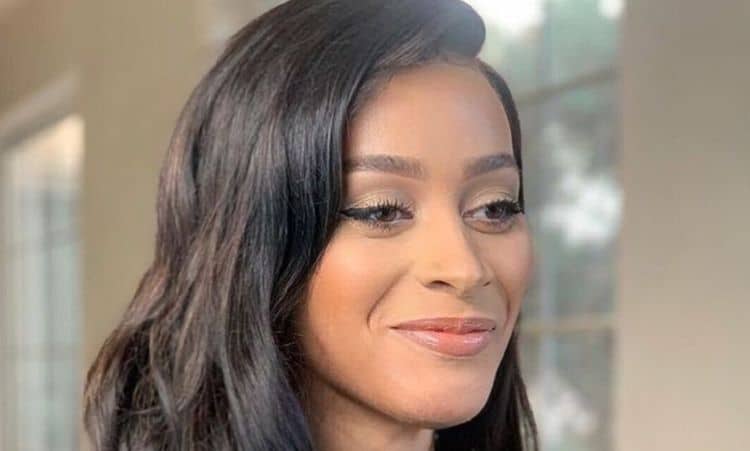 Isis King has spent more than a decade working hard to establish her place in the entertainment industry. That hard work certainly hasn't gone unnoticed. Not only has she found success as a model, but her acting career has also taken off. Her first big break came in 2019 when she was cast in the Netflix miniseries When They See Us which focused on the story of the Central Park Five. When talking about her experience on the project, she referred to it as "One of the most challenging and rewarding moments" of her career. She got another major opportunity in 2021 when she was cast in the series With Love. Unfortunately, the show's future is still up in the air but there are lots of people who would love to see the series be renewed so they can see Isis on their screens once again. Even if the road is over With Love, we know that we are going to be seeing lots more of Isis in the future. Keep reading for 10 things you didn't know about Isis King.
1. She Made America's Next Top Model History
During its time on the air, America's Next Top Model was one of the most popular reality competition shows on TV. Needless to say, Isis was a big fan of the show before she got the chance to compete. Getting the chance to be part of the series was a dream come true for Isis in more ways than one. She also became part of the show's history as the first transgender woman to compete. Despite not winning, being on the show still provided her with lots of helpful exposure that helped her push towards the next phase in her career. On top of that, she also helped break down barriers for other people in the LGBTQ+ community. During her time on the show, she was one of the most visible people in the trans community. On a personal level, being on the show also provided a first for Isis. Flying from Philadelphia to film for the show was the first time she'd ever been on a plane.
2. She Has Experienced Homelessness
Isis was born and raised in Maryland, but we were not able to find much information about her upbringing. What we do know, however, is that there was some tension around her wanting to transition. After earning an associate degree from the Art Institute of Philadelphia, Isis decided to relocate to New York City to take more steps in her transition with space from her family. Unfortunately, however, things were very tight financially and Isis was unable to afford rent. She eventually moved into the Ali Forney Center. According to the center's website, "The Ali Forney Center was founded in 2002 in memory of Ali Forney, a homeless gender-nonconforming youth who was forced to live on the streets, where they were tragically murdered. Committed to saving the lives of LGBTQ+ young people, our mission is to protect them from the harms of homelessness and empower them with the tools needed to live independently." Sadly, homelessness is something that impacts trans people at a very high rate.
3. Her Mom Is One Of Her Biggest Inspirations
Despite initially being misunderstood by her family, Isis has a close relationship with her mom. In fact, her mom is one of the main things that keeps her motivated. During an interview with Pop Sugar, Isis said, "I see so many people who've inspired me, and they just get it right away. And I'm just like, 'I've been doing it for so long and still put in so much passion, so why is it taking so long to get to this point where I can help my mom feel comfortable?" Having someone there to constantly keep you focused on achieving your goals is definitely helpful. This is especially true when you're working in a highly competitive industry like entertainment.
4. She Is A Fashion Designer
Many people who are familiar with Isis know her for the work she has done as a model. However, that isn't the only thing she's contributed to the fashion world. She is also a designer. In 2013, she created a collection for fashion week called The Goldest Winter Ever. As her website states, "Each piece was sketched, drafted, and sew by Isis to insure her vision came to life exactly as she imagined. Her Design esthetic is Sexy, Bold, Futuristic fun. This Collection had a lot of backless edgy garments with exotic texture mixtures such as sequin, and faux croc, lame, and a vintage distressed turquoise and copper printed hybrid fabric." It's unclear if she has plans to design any more collections in the future.
5. She Is Always Pushing Herself To Accomplish More
Once some people reach a certain level of success, they start to get complacent. Isis has never been that kind of person, though. She isn't someone who backs away from a challenge and she is constantly looking for ways to level up. She told Deadline, "I think that everything I accomplish, each time I feel like there's more out there. I feel like there's more I'm supposed to do and I haven't gotten there yet. There's just so much more I want. I have to just be more confident. I just want to continue to bring positivity into my environment and say, 'This is where I belong". One of the reasons she enjoys acting is because it is constantly pushing her. However, despite her desire to keep moving forward in her career, it isn't always easy for Isis to get opportunities as someone who doesn't fit into the box that Hollywood often likes to put people in.
6. She Is A Motivational Speaker
As an entertainer, it goes without saying that keeping people entertained is one of Isis' bigger goals. In reality, however, she hopes to use her time on the spotlight to do much more than that. She is very passionate about inspiring and empowering others, and one of the ways she does that is through motivational speaking. She has spoken at schools all over the United States including Eastern Washington University, Philadelphia University, Pennsylvania State University (Penn State), and University of California; Santa Barbara. Some of the topics she covers during her talks include bullying, fashion, and things relating to the LGBTQ+ community.
7. Her Faith Is Important To Her
There are many people in the LGBTQ+ community who have a complicated relationship with religion. After all, the harsh reality is that most churches are not a safe space for those who aren't heterosexual or don't fit into the traditional gender binary. Isis, however, has managed to maintain a strong relationship with her faith. She is a Christian and has attended Mosaic Church in Los Angeles. It's unclear if she still goes to this church, however, because it has publically been cited as being unwelcoming to members of the LGBTQ+ community.
8. She Is An Activist
Many would argue that just by being a transwoman, Isis is an activity in her own right. However, she has taken her activism even further than that. She is committed to using her platform as a way to bring awareness to the things that are important to her. LGBTQ+ rights are one of the biggest causes that she stands behind. In addition to that, she is very passionate about issues pertaining to children's health. This stems from the fact that Isis had a younger sister who died at birth after being born with her organs on the outside of her body. Isis has helped raise money for Johns Hopkins Children's Center in Baltimore.
9. She Is Grateful For All The Opportunities She's Had
Even though there are still lots of other things Isis wants to accomplish in her career, she is still very thankful for all of the opportunities she's gotten so far. She understands exactly how hard it is to get access to good opportunities and she doesn't take anything for granted. She told Deadline, "I always say that the road for me has been the one less traveled, and it's going to take me longer but I'm thankful for every single moment". Having this kind of attitude will definitely help her as she continues to grow in her career and become an even bigger star.
10. She Is Not Shy About Switching Up Her Hair
For lots of women, hair is a major part of their identity. As a result, many are hesitant to make major changes – especially when it comes to cutting it off. Over the years, however, Isis has learned how to separate her identity from her hair. While talking to Makeup.com, Isis said, "Hair always made me feel beautiful until I bought clippers and shaved it off. I made myself learn to love my femininity and beauty without the aid of hair. What a liberating experience that was! Hair should only enhance what's there, not hide it!" These days, she isn't afraid to switch things up and she's confident no matter what kind of style she's rocking.