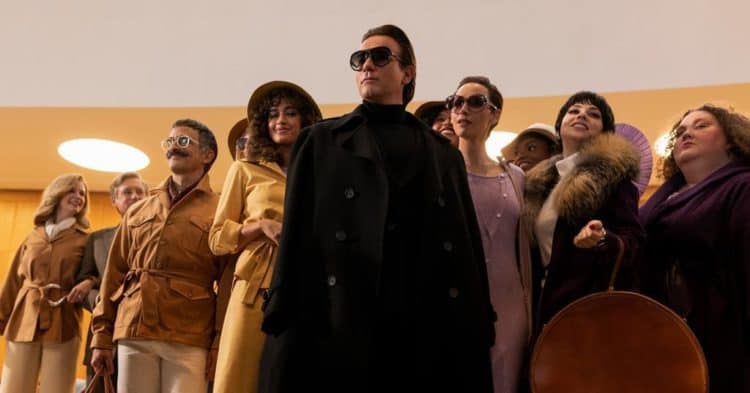 Fashion icons may come and go, but the impact they leave in the industry continues to transcend from one generation to another. In fact, there are still countless of names in the fashion world that can still make a mark, and whose designs are still used as style inspirations up to this day. It's always interesting to come across the success stories of those icons who came and conquered the cutthroat fashion industry. They are true masters of their craft who did not allow anyone or anything to get in the way of their lifelong dreams. If there were one fashion designer who is not talked about enough, it's Roy Halston Frowick, who simply went with the name, Halston. The American designer started to create waves in the 1950's, and continued to reach new heights as he proceeded to capture the international market by the 1970's. Thankfully, it did not take too long before Netflix caught wind of Halston's interesting life journey. The media streaming giant made an announcement last September 2019 that they have ordered a show about Halston to be adapted from the 1991 biography written by Steven Gaines entitled, Simply Halston, which was based on the colorful life of the fashion guru. After almost a 2-year wait, the 5-episode miniseries, Halston, finally premiered on May 14, 2021, and is still available for binge-watching up to now.
Who is Halston
The American designer's first taste of fame started with his women's hat designs. One of his most iconic designs was the pillbox hat that the former US First Lady and eternal style icon, Jacqueline Kennedy, wore to the inauguration of her husband, then president John F. Kennedy in 1961. It did not take long before every American woman joined in on the craze, and sported the fancy hats all across town. Halston was always a step ahead. As soon as the fashion trend on hats started to fade, he was on his next project. He continued to innovate and moved on to designing minimalist-styled clothing next, all thanks to the generous help extended by a financial backer in the persona of Estelle Marsh, a millionaire from Amarillo, Texas. Soon enough, Halston found himself rubbing elbows with Hollywood's elite. These included Liza Minnelli, Elizabeth Taylor, Bianca Jagger, Greta Garbo, Anjelica Huston, Lauren Bacall, Babe Paley, Gene Tierney, and Margaux Hemingway. These were the crème de la crème of celebrities. Halston owned the spotlight, and he enjoyed every minute under it. Unfortunately, the only constant thing in life is change. The spotlight does not shine forever, and the glitz and glamour can slowly lose its sparkle. The sudden rise and imminent fall of Halston's life and career is a perfect fit for the small screen.
What to Expect from the Series
The series was created by famed showrunner, Ryan Murphy, whose creative juices was able to capture the vibrancy of Halston's life. Murphy has been on a roll with his depictions of the tragic lives of the world's best fashion icons, as seen in his last television series, The Assassination of Gianni Versace, and his upcoming movie, House of Gucci. It also helped that the character was accurately portrayed by the ever talented Ewan McGregor (Moulin Rouge!). It was definitely a treat for viewers to watch him transform into a Halston, who is so different from the previous roles he played. The show's other main cast members who embodied Halston's inner circle of friends, also played their parts flawlessly. These include Krysta Rodriguez (Trial & Error) as the iconic actress Liza Minnelli, Gian Franco Rodriguez (This Is How I Lost My Virginity) as Halston's longtime partner Victor Hugo, Rebecca Dayan (Novitiate) as ex-model and jewelry designer Elsa Peretti, David Pittu (Elementary) as illustrator Joe Eula, and Bill Pullman (The Sinner) as money man David J. Mahoney.
Viewers are taken on a whirlwind journey throughout each and every episode. The storyline was able to highlight the key milestones in Halston's life, and gave the public a good backstory on his humble beginnings and his tumultuous rise to fame. Life was not easy for Halston growing up. He had to endure a lot of obstacles, which lasted until he became a seasoned designer. Apart from celebrating his career wins, the story also navigated through the painful parts of his life, including the drug use, betrayals, and hostile takeover of his fashion brand, which was the most painful out of them all. Even though the show's creators were met with some backlash from the family of Halston, who were not consulted for the project, the cast and crew still did a great job of telling the story of one of America's most talented fashion designers whose legacy continues to live on.
Tell us what's wrong with this post? How could we improve it? :)
Let us improve this post!