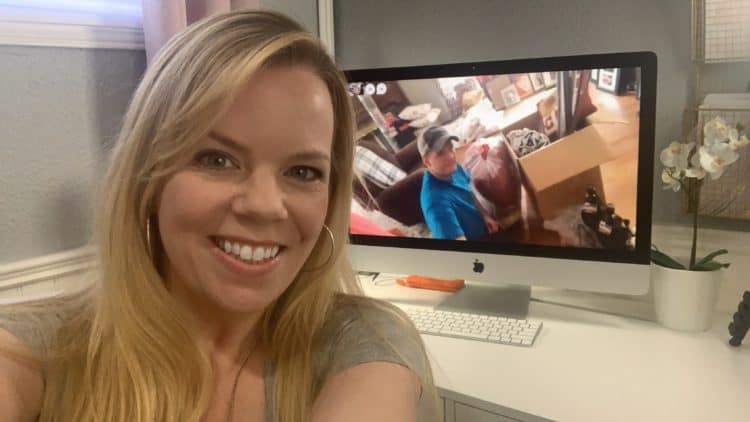 No one likes a messy house, but unfortunately, keeping the house spotless 24/7 isn't realistic for most people. However, removing clutter can go a long way in making sure your house is always looking its best. Plus, now that COVID-19 has us all spending a lot more time at home, it can be easier for things to start piling up. That's exactly what Cassandra Aarssen is aiming to do with her series, Hot Mess House. The show debuted on HGTV in June and features entirely self shot episodes. Typically, Cassandra, who is a 'decluttering expert,' would visit people's homes and work with them to get more organized. But due to COVID-19, she had to adapt her approach. But while the show looks good on the surface, some viewers have started to wonder if the show is actually real. Continue reading to find out if the show Hot Mess House is fake.
Who Is Cassandra Aarssen?
One of the first steps to determining whether or not the show is real is to determine if the host is actually qualified to give organizational advice. The good news is that Cassandra Aarssen is more than qualified. She has over a decade of experience as a professional organizer has her own brand called Clutterbug. On top of that, she has struggled with disorganization in the past. This means that she can genuinely to the people she works with.
Even though her job is to technically help people organize their mess, Cassandra doesn't believe that anyone is messy. Instead, she believes that everyone organizes differently and some people haven't found the method that works best for them. This approach is important because some people may feel embarrassed by their lack of organization. Her goal is providing people with practical solutions they can stick with even after her job is done. When you're trying to get your house together, the last thing you want is to feel judged.
In addition to the work she does directly with others, she has also written several best-selling books. Cassandra is truly passionate about helping people get to the root of what is keeping them unorganized. Cassandra is also a blogger and social media influencer who uses her platforms to share tips and tricks. There aren't many people who can say they really love what they do, but Cassandra is someone who can.
Is The Show Fake?
Anyone who watches reality TV knows that most of these shows aren't actually real. Even the ones that aren't lightly scripted typically manipulate scenarios to get the outcome they want. Still, it's always a little disappointing to find out what really goes on behind the scenes on some of these shows.
The good news is that all signs point to Hot Mess House being as real as it gets. In fact, this is one of the rare instances where there aren't a done of rumors floating around claiming that the show is scripted. Since the show is entirely self shot, there's an extra layer of realness that feels more intimate than your typical reality show. Each person on the show was sent recording equipment from the network to record their segments. They would then do a video call with Cassandra in order to begin the decluttering process.
Due to the format of the show, it's very unlikely that there are any scripts involved. On top of that, Cassandra Aarssen really is an expert, and the people featured on the show don't seem to be actors. According to Cassandra, "it's just so emotional and raw and just the fact that it's self-shot and there's no cameramen and there's no crew, there's no lighting, it's more intimate than anything I've ever experienced before and the families are really opening up on a different level."
If you're a fan of Hot Mess House, you can enjoy the show without having to feel like you're being bamboozled into watching fake transformation stories. Although COVID has taken a lot of things away from us, it's also given us shows like Hot Mess House. Not only will you be entertained from watching, you might also learn some new ways to organize your space.
The Future Of Hot Mess House
Unfortunately, there's no official word on if the show will be renewed. Lots of things are up in the air right now due to production restrictions, and it seems that Hot Mess House may have been released as somewhat of a limited series. Ironically, though, if the show does return for a second season, there's a chance the format will be different. Once production studios are up and running again, many networks may decide to ditch the self shot format.