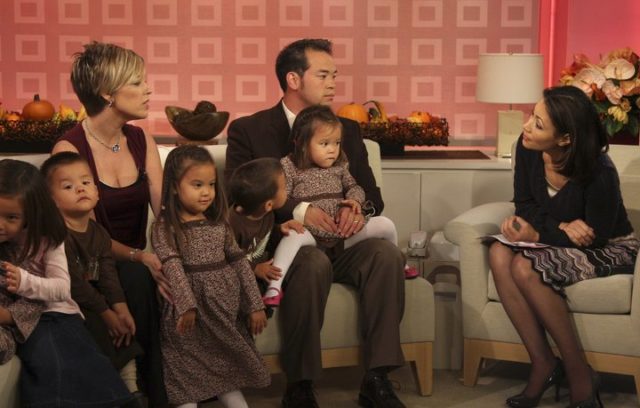 Does anyone still care about this story? They might have been interesting back in a time when having multiple kids was a worthy news story, but nowadays it really seems like they're just trying to hold on to whatever little bit of fame they might still have. If anything else they're a footnote in pop culture and nothing more, something for people to look back at and say "Hey, I remember that, kind of". Jon and Kate were seen as the ideal family for all of a few minutes until the bombs started to drop and the show started to suffer for it.
Here are a few things that brought the happy home down.
10. Jon cheated on Kate.
Jon had an affair with a 23-year old schoolteacher while he and Kate were together. This of course led to their breakup and his possible ext from the house.
9. The network forced them to stay in the same house.
Since the show was still pulling in the ratings the network decided to coax the two into remaining in the same house. Jon might have left earlier if not for the fact that the show was still popular.
8. Jon tried to hold onto his fame.
Once the breakup was final Jon did manage to go to couple's counseling, but not with Kate. Instead he hired a woman to act as his girlfriend. That's not the whole story but the part of it that's been reported over and over.
7. Jon couldn't let the matter drop.
After his and Kate's ugly split Jon just couldn't let things die down as he attempted to berate and verbally bash Kate on the air whenever possible. This allowed him to hold onto a small bit of fame while taking her down with him.
6. They tried to get out of a $10,000 counseling bill.
The couple did at least attempt to make their relationship work, but after racking up ten grand in counseling bills they attempted to go without paying. Real classy.
5. Kate is very difficult to work with.
As you might have already seen in her relationship with Jon Kate is very demanding and downright snippy when she doesn't get her way. This tends to rub people the wrong way more often than not.
4. Jon has a very strained relationship with his kids.
It's difficult to have a normal relationship with your children when your marriage ends, but the sad part about it is that Jon doesn't even seem to try. Kate no doubt isn't much help.
3. Kate has been accused of manipulating and abusing her kids.
Some of this is rumor but some is no doubt true since she has been seen to be quite vindictive and not above using her children against their father.
2. Jon claims the show has messed his kids up.
If the situation wasn't so laughable this might be amusing. If anything has messed those kids up it's the fact that their mother and father can't seem to pull it together.
1. Kate was in it for the fame.
Kate got he idea of having a big family from another family she'd taken note of. When she had twins that wasn't enough. She kept taking fertility treatments in order to have more and more kids per pregnancy, which eventually led her and Jon to their current state.
http://screenrant.com/jon-and-kate-plus-8-show-dark-trivia-facts-tlc/
Does it really matter anymore who did what and what happened to whom? The show is over and done with as it should have been before ever getting started.
Save