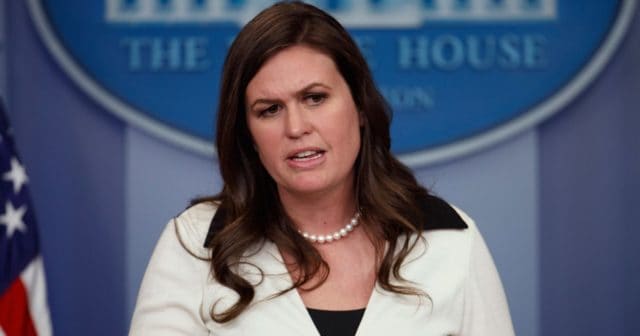 Given her name, it should come as no surprise to learn that Sarah Huckabee Sanders is the daughter of Mike Huckabee, who was the 44th Governor of Arkansas as well as a candidate in the United States Republican presidential primaries in both 2008 and 2016. She is a political aide who has participated in a number of Republican presidential campaigns, with her current position being Principal Deputy White House Press Secretary for the Trump administration.
Here are five things that you may or may not have known about Sarah Huckabee Sanders:
She Is Close to Her Father
Sanders has stated that she is close to her father, so much so that the two speak before 6 so that she can get useful advice from his long political career. Furthermore, it is interesting to note that she sees her father as not just her political hero but also a good parent who challenged her to be a better person.
Headed Straight to Washington, D.C.
For a time, Sanders considered going to law school after she graduated from Quachita Baptist University in Arkansas with a BA. In the end, she decided to go straight to Washington, D.C., where she got a position in the Department of Education under the Bush administration. Since that time, Sanders has been involved in U.S. politics in one form or another.
Became a Senior Adviser for the Trump Campaign
After her father dropped out of the 2016 U.S. Republican presidential nominations, Sanders signed up with the Trump campaign as a senior adviser. She was not the only one to do so, as shown by the example of her father, who vowed to remember the Republicans who refused to back the Trump campaign and promised to never vote for them. As for Sanders, she stated that she joined the Trump campaign because Trump was pro-life, pro-marriage, and a champion of the working class rather than the Washington-Wall Street elite, which was rather interesting even without hindsight.
Has Praised Barack Obama
As strange as it sounds, Sanders has praised President Barack Obama on one occasion. In brief, she praised him for setting a positive example with his active role in his children's lives, which she considers to be the single most overlooked issue in the United States. At the time, she expressed a hope that more people would follow Obama's example because children from broken families were much likelier to end up in either rehab, jail, or poverty, which is a statement with a fair amount of evidence to back it up.
Has Stepped In for Sanders
Since she is the Principal Deputy White House Press Secretary, Sanders has stepped in for Sean Spicer on more than one occasion. For example, there was the time when she defended Trump's rather dubious claim that the Obama administration had wiretapped his phones during the 2016 presidential election. Furthermore, there was the time when she defended Trump's recent firing of FBI Director James Comey. Given the general course of events since January, it seems probable that Sanders will continue making combative appearances in the media for the foreseeable future.