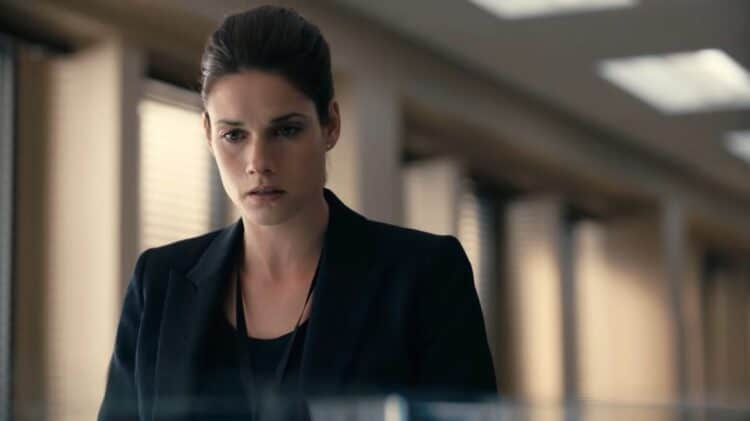 Where is Maggie on FBI? If the question seems familiar to you, it's because you're likely a fan of the OG show in the hit FBI Franchise, and you want to know where everyone's favorite agent is. She's a tough character to read – often morose and void of emotion while also sharing some deep moments inside her own life and the loss of her husband prior to her FBI placement in the city. But, at the end of the day, she and agent O.A. are a team, and they're a team we are missing – for the second time in the past few years. It was 2020 the last time we asked the question, "Where is Maggie on FBI," and now we are asking again in 2022. Here's why she's regularly being written out of the show – and sorely missed each time – and it all has to do with actress Missy Peregrym and her personal life.
Where Did Maggie Go in 2020
FBI was a huge hit from day one. It aired for the first time in the fall of 2018 as the creation of Dick Wolf that would go on to create two more spinoffs by the time the show was only in its fourth season. FBI: Most Wanted, and FBI: International are also both huge hits, but it's the likes of Missy Peregrym, who plays Agent Maggie Bell, actor Zeeko Zaki, who plays Agent Omar Zidan (you can call him O.A.), and Jeremy Sisto as Jubal Valentine – the Special Agent in Charge – who are the OGs and the people fans love the most. Less than two full seasons into the show, Peregrym's character made it clear that she was done with the FBI and wanted to pursue new options. Fans were horrified and heartbroken at the thought of losing her, but it turns out she was only being written off the show for a few months while she gave birth to her first child. While the show let us believe she was out and O.A. would need a new partner, the world knew she would be back following the birth of her darling baby and subsequent maternity leave – and she was. She and her husband, actor Tom Oakely, welcomed a darling son on March 21, 2020. Their son is Otis Paradis Oakley, and being parents to him has been their pride and joy.
Is Maggie Being Written Out Again in 2022
Still worried that she will leave the show, fans were convinced in the season finale of the show in May of 2022 that Peregrym was, once again, being written out of the show. She worked tirelessly alongside her team to take down a man trying to kill people with deadly gas, and that led to serious trouble for her when she was locked inside a room with sarin. Her character did not come out of a coma on the show when she was rescued, and many fans wonder if it is too late for her. However, she gave an almost imperceptible nod at the end of the finale that she would fight so O.A. wouldn't have to work without her, and it seems she'll be back. But…she won't be back right away.
Missy Peregrym Was Pregnant Again
For the second time, she is being written out – only temporarily – to have a baby. She and her husband were thrilled to announce they're welcoming their second child in the summer of 2022, and that she will not be returning to work right away to film for the upcoming season of FBI. We assume her character will continue to need time to recover and heal from the sarin poisoning, and perhaps O.A. will work with someone new for a moment – but will it be someone new or simply someone we recognize who is not new but who has been part of the show before? The good news, however, is that her baby is here. The actress and her husband are the proud new parents of a baby girl they named Mela Josephine Oakey. She was born on June 6, 2022, and mom will be on her way back to work in September after a few months of bonding with her new baby girl. "FBI is starting up again in a couple weeks, but I will be returning to work in September. I'm relieved and grateful that I am afforded the space to bond with my family, to rest and heal and be a mother (which is harder than work!). I understand this is a luxury, and I wish every mother/parent/caretaker had this too. Thank you for all the love, prayers and support from this community," was the message the new mom shared with her fans.
When is the New Season of FBI Airing?
Fans who have waited impatiently for the season five release date will be thrilled to learn that FBI night is only a few short months away. Tuesday, September 20, 2022, at 8 pm is when you can tune into CBS to see your favorite FBI agents make their way back. FBI is first at 8 pm, followed by International at 9, and Most Wanted at 10. Agent Maggie Bell might not be back for the first few episodes, but she will be back. Fans can count on her return before the season is over.