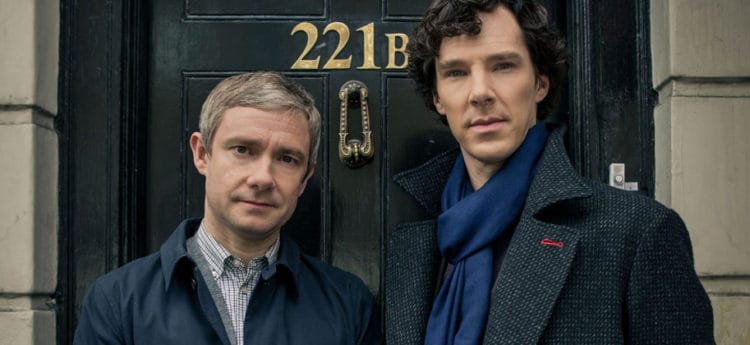 Sherlock Holmes has got to be the most famous fictional detective in the history of literature. I personally love a good detective story and these are the archetype mystery tales that represent the genre. As a matter of fact, I think it would be safe to say that not even Batman can match the detective skills of the creation of British author Sir Arthur Conan Doyle. If you've never at least seen the comic where the two iconic fictional detectives interact with each other, it was quite the sight. How many times have you seen Batman in total shock? Not very many, but his first time meeting Sherlock Holmes was one of a kind. The world's greatest detective finally met the one person who can actually surpass him. And he doesn't even need advanced gadgets or technology.
You know what's even cooler than Sherlock Holmes? When he's being played by Robert Downey Jr. or Benedict Cumberbatch. Which is better? I would honestly pick Robert Downey Jr. but that's mostly because I'm an RDJ nut. Don't get me wrong, Benedict Cumberbatch's portrayal of the fictional detective was great, but just seeing RDJ's take on it was so surprising. That was the first time I have ever seen a character stop time in his head and assess the situation while concocting a plan to solve it. The best examples of this is when he was preparing to subdue that sentry in the very beginning.
But if you want the best example, the bare-knuckle brawling scene that happened shortly afterwards was entertaining as it was intelligent. Not only did Sherlock Holmes analyze a way to overpower a bigger, stronger brawler, but he did it with flawless perfection. Everything after that was typical Sherlock Holmes genius combined with the charm and sarcastic wit of Robert Downey Jr. and boy, was it quite the show. I have to say, that has got to be one of his best performances, just under Tony Stark, A.K.A Iron Man.
Since we're on the subject of Sherlock Holmes and Robert Downey Jr.'s movies, you're probably still wondering where his third movie is. Hey, I share the same concern. It's been in development for a while now and last I checked, it was supposed to release around this time. Obviously, that will happen later than we thought, given that we have received no news of progress on the third movie. Since Robert Downey Jr.'s time as Iron Man is (supposedly) over, he should ideally have enough time to dedicate himself to the third Sherlock Holmes movie.
I hope it happens and I believe it will. We may have to develop the patience level of Sherlock Holmes if we want to see the Sherlock Holmes trilogy be completed. I'm willing to wait, but some interesting news just broke out relating to the character. No, it has nothing to do with Robert Downey Jr.'s third movie, but guess what? The news does relate to him. If you're itching for more Sherlock Holmes, you may be in luck. According to Variety, there are at least two Sherlock Holmes spin-off series in development coming to HBO Max. Interesting news indeed, but it doesn't stop there.
The report gave us more interesting news, claiming that both upcoming series will be set in the same universe as the Robert Downey Jr. movies. To top it all off, they will focus on a new character who will be established in the third movie. So where does Robert Downey Jr. himself fit into all of this? Well, he and his wife Susan Downey will serve as executive producers for both series. Quite the exciting news, although the details on both series and the third movie end there, this does spark some hope.
This news does confirm that Robert Downey Jr. is continuing to pursue the conclusion of his Sherlock Holmes trilogy. He definitely should, since this is one of his most signature roles. Oh, and let's not forget that cliffhanger from the 2011 sequel, A Game of Shadows. Of course, we didn't really expect him to die, but that probably means Professor James Moriarty survived as well. For the archenemy of Sherlock Holmes to survive the second movie, you can be sure he'll return for one final face-off for the third movie. That is one that will fully test the minds and bodies of both men. Where will that leave Sherlock and his friend and partner, Watson? We'll find out when it comes out.
So if this report is accurate, then both series will introduce an original character. I would probably not expect another supporting character from the novels, but one created just for the series. Or maybe it will focus on Enola Holmes? Okay maybe not, but who knows? In typical Sherlock Holmes fashion, we could be in for a big surprise. I'm all for a new character and heck, maybe the new character will be Sherlock's successor? That sounds like a good idea, but first, we'll have to see what happens in Sherlock Holmes 3.
Dexter Fletcher, the director who took over for Guy Ritchie, has not given an update on the movie since 2020. However, after this report, I'm sure we'll be hearing an update on when production will begin very soon. No Guy Ritchie makes me nervous, but if Robert Downey Jr. is still involved, I'm all in. The reveal of this news intrigues me, mostly because I'm more interested in hearing progress on Sherlock Holmes 3. The ending of the trilogy will determine what these two series will be about. Even if Robert Downey Jr. is just producing the series, I hope his Sherlock still appears.
What are your thoughts? When do you think the next Sherlock Holmes will come out?
Tell us what's wrong with this post? How could we improve it? :)
Let us improve this post!