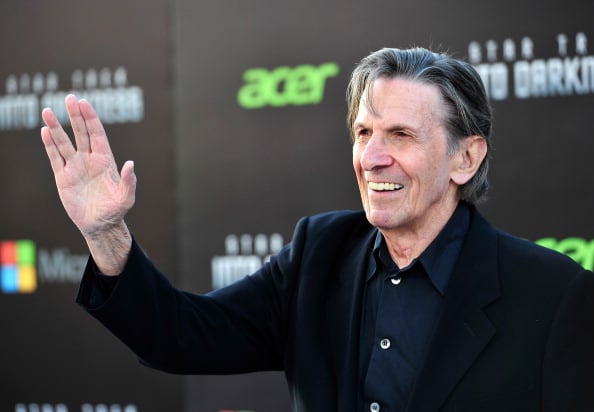 Star Trek icon Leonard Nimoy passed away at his Los Angeles home on Friday after a battle with chronic obstructive pulmonary disease. His wife Susan shared the news the New York Times, who first reported the actor's death. Nimoy was 83.
Throughout his career, Nimoy was most well-known for his role as the Vulcan science officer Mr. Spock, who was also the U.S.S. Enterprise's first officer and friend of the ship's captain, James T. Kirk (played by William Shatner), in the original Star Trek series (which will celebrate its 50th anniversary next year) and all six of the series' films. Additionally, Nimoy also reprised his role as Spock in two episodes of Star Trek: The Next Generation as well as in J.J. Abrams' first two Star Trek reboot movies, in which Zachary Quinto played the younger version of the character.
In addition to his appearance in the original Star Trek and its other shows and films, Nimoy's other TV credits included the recurring role of the mysterious Dr. William Bell on FOX's Fringe (Nimoy would appear in four of the show's five seasons) and appearances on Mission: Impossible. He also offered his voice to many different series, such as The Big Bang Theory (where he voiced Sheldon's Spock action figure), Star Trek: The Animated Series, and The Simpsons (where he played himself).
Additionally, although he was best known for his acting, Nimoy was also a director. He directed many films, such as Star Trek III: The Search for Spock, Star Trek IV: The Voyage Home, and Three Men and a Baby, and also helmed multiple episodes of television for series like T.J. Hooker and The Powers of Matthew Star, among others.
Nimoy will most definitely be missed by his family, friends, colleagues, and, of course, the many fans of his work. However, in the words of the iconic character he played so well, it is certainly true that Leonard Nimoy lived long and prospered.
Photo by Frazer Harrison/Getty Images