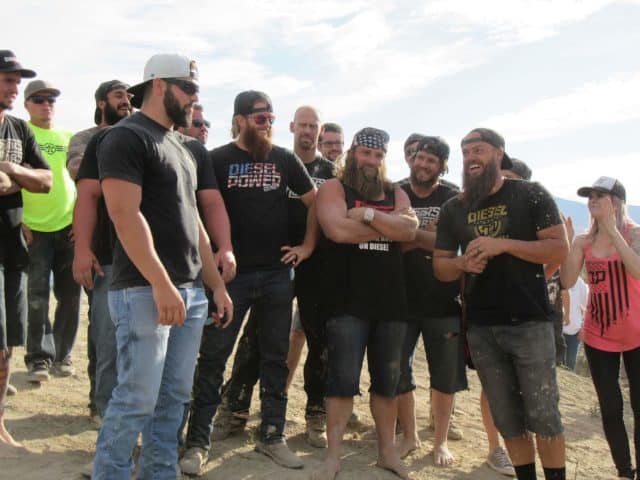 Diesel Brothers returned for its second season this spring and is as popular as ever. When it first premiered in January 2016 as part of the Discovery Channel's "Motor Monday" line up, it attracted 2 million viewers for the first episode. The reality show follows "Heavy D" and his co-workers as they find parts, rehab trucks and sell them. The Salt Lake City, Utah business, Dieselsellerz, adds torque and power to create super trucks. The business attracts celebrities and attracted the attention of the Discovery Channel. In fact, Diesel Brothers will feature celebrity clients, former running back Marshawn Lynch, Detroit Tigers star Miguel Cebera and actor Chuck Norris this season.
Get to know the cast of Diesel Brothers.
Heavy D
Dave Sparks, also known as "The Boss" and "Heavy D" has always had a love of automobiles. He studied mechanics, welding and fabrication in High School. Following High School, Heavy D worked as a heavy equipment operator for his uncle's construction business and later as an excavator for his own landscaping business. Despite attending a semester at Weber State University, Heavy D decided he could learn more about cars and trucks through hands on experience. He met fellow truck enthusiast, Dave Kiley, at a young singles social event at Church and the 2 became fast friends. Dave and Dave started Dieselsellerz and began pumping up cars and trucks to resell. One of Heavy D's favorite projects was Hercules known as the "boldest off-road mud truck. He and his wife met through Church and married in 2010. They have 2 children.
Diesel Dave
Dave Kiley is also known as "The Charm" and "Diesel Dave". Like his business partner, Heavy D, Diesel Dave always had a love of cars. He enjoys torquing and giving horsepower to all types of vehicles. Diesel Dave grew up in Utah and is a great entrepreneur, building vehicles and refabricating them to sell for a profit. Diesel Dave's motto is: "Diesel Power and America! That's what I love". Dave and his girlfriend have a daughter, Saylor Fe, who was born in January 2017.
The Monster
"The Monster" is also known as "The Deal Maker". He grew up in Utah and has known Diesel Dave since they were in the eighth grade. His family have always been diesel fanatics so he grew up building diesel trucks. He loves to find rare parts to use in Dieselsellerz's projects. On the show Diesel Brothers, The Monster is known for his drive and strong opinions. He loves spending time with his wife and 2 daughters. He likes to lift weights, and his motto is: "You can have or do anything you want in life if you put your mind to it".
Red Beard
"Red Beard" is known as "The Regulator" and "Money Man". He grew up in Roosevelt, Utah on part of the Uintah Indian Reservation where diesel trucks are a part of the culture. Having great business skills, Red Beard has built and sold several businesses for profit and helps Dieselsellerz grow their business organization. He met Diesel Dave through mutual friends who loved working with diesel trucks. He knew of Heavy D's reputation as a diesel builder and was brought into the business to help it grow. Red Beard is married and has 4 kids.