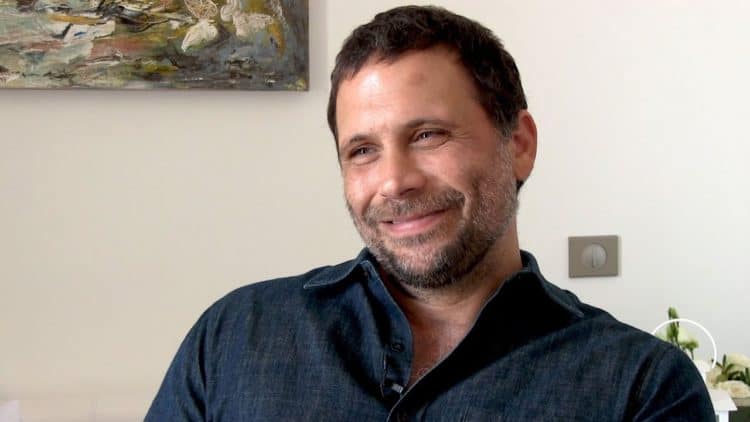 Jeremy Sisto didn't have the easiest time growing up since he lived in a stone house without any of the common amenities that most people have in society. But eventually his family did move and apart from his parents divorcing and his father not being around he's grown up to be a rather impressive person. He started his career when he was still in high school and went full-time afte graduating from UCLA. To say that he's the perfect person isn't really accurate but he does what he can and is for the most part successful. Raising his own kid he admits has been hard at times since he didn't always have the father figure in his life that he needed. But given that he's older and no doubt wiser at this point in his life it feels safe to say that he's done what he can and he's come out with a great deal of experience that has helped him to sort things out.
Here are a few things you might not have known about him.
10. He's in Suicide Kings.
Sitting in a former mobster's preferred booth is usually frowned upon as a faux pas you don't need to make. But kidnapping him and cutting off his finger in order to get him to cooperate in negotiating a kidnapping seems like a huge stretch that wouldn't have even a faint amount of success.
9. He's kind of a tall man.
Jeremy stands at 6'2″, which is above the average, several inches above in fact, so that would qualify him as a somewhat tall man. For those that might think this is not the kind of information you would want to know, it's still something you MIGHT not have known.
8. He was in Wrong Turn.
His character in this film was undeniably pacifistic since he didn't seem to like confrontation of any sort and wasn't about to fight the inbred hillbillies that were out to kill them all. While he doesn't always play such a character it was kind of telling that he was going to be one of those that would finally meet his end in some grisly fashion.
7. He auditioned for theater roles when he was 8.
He was definitely made for show business as his mother no doubt saw his talent and was the one to enroll him in whatever classes or auditions that she could since she was an actress at one point and possibly saw in him another hint of greatness.
6. He worked at Subway for a while.
Call me weird but it's great to see that celebrities have managed to earn their way up in life by doing more than just auditioning and hoping against hope that they'll be able to make a career on stage or in front of the camera. The fact that a lot of them worked normal jobs makes it known that they weren't born rich and famous.
5. He was in the film Hideaway.
Being dead in the first place seems like it would seriously mess with someone's mind, but then being able to see through the eyes of a killer and having them be able to see through yours would be a dangerous proposition that would endanger everyone involved. For such a great story it was forgotten awfully quickly.
4. He was considered for the role Jack in Titanic.
For the purpose of the movie being a love story it kind of seems wise that Leo DiCaprio was selected instead, though choosing Sisto, who has never quite had the same charm as Leo, would have made the character of Jack a little easier to relate to since Leo is, well, a good-looking guy that seems to be elevated above just about everyone.
3. He became part of the Law & Order cast in its 18th season.
He came in as quite an aggressive character that was no-nonsense and was there to do his job and do it right. He did push the edge a few times and he did strike a lot of people as kind of a hard character to like, but at the same time he was one of the better cast members.
2. He usually stars as dark characters.
This kind of suits him in a way since he does happen to embrace the darker side of acting at times and can play such characters quite well. He can play lighter and more endearing characters but he really shines as someone that has a few dark secrets to hide or a person that has a definite aggressive streak.
1. He was a lover of comic book heroes until he found girls.
As guys, a lot of us did probably love comic books or at least revered the heroes until a certain age. Some of us still love them, but others tend to love women just a tad bit more since you can't really date a comic book and be completely happy.
He's a great actor, though it'd be nice to see more of him.