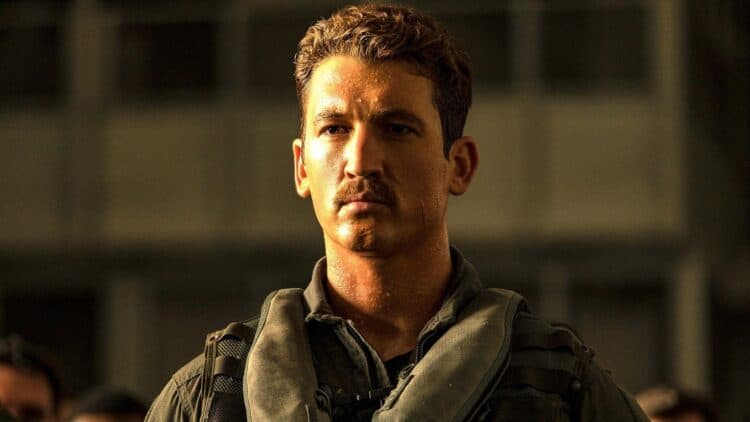 When Top Gun: Maverick hit theaters, it made a killing. The sequel to the 1986 film Top Gun starring Tom Cruise was a film fans looked forward to from the moment news broke. When fans found out the movie would not only include original cast members Tom Cruise and Val Kilmer, but also Miles Teller as the son of the late LTJG Nick "Goose" Bradshaw (originally played by actor Anthony Edwards), fans went wild. Teller might not be nearly as famous as Tom Cruise himself, but he's been steadily working on making a name for himself in Hollywood since he was in high school. Born and raised in Pennsylvania until moving to the small coastal community of Citrus County, Florida (where he graduated from Lecanto High School) at the age of 12, he was already dreaming of his career as an actor while attending school as an LHS Panther. The young hopeful moved to New York City after being accepted into the prestigious Tisch School of the Arts (he graduated in 2009), and he was immediately cast in a Nicole Kidman project called Rabbit Hole in 2010. Things were looking up for the young star, and his career has taken off in the past decade. However, his fans have one question that has nothing to do with his career, the many movies in which he has starred, or how he got his start. They want to know the story behind his facial scars.
He Suffered Injuries in a Car Accident
It is every parent's nightmare to receive a phone call that their child – even when they are an adult away at school – was in an accident. Miles Teller was only 20 when he survived a horrific high-speed car accident that left his friend – and driver of the vehicle – fearful that his friend was dead. His friend was driving approximately 80 miles per hour when he lost control of the vehicle in which Miles was a passenger. The car rolled eight times, ejecting Teller and leaving him for dead. He was thrown approximately 50 feet from the vehicle, and his friend was certain he did not survive. Fortunately, Teller did survive the horrific accident, but not without a few facial scars to remember it by. His recovery was long and painful, and it included numerous surgeries. He spent four years undergoing various procedures to remove scar tissue from his accident injuries, though doctors were unable to completely remove any evidence he was in an accident. In fact, he still lives with gravel embedded in a few places on his face, but his doctors are fearful removing the gravel will cause additional damage – therefore, he will live with it.
Acting and His Scar
He was only 20 when he was thrown from the vehicle in his accident, and he was nearly 23 when he was first cast in Rabbit Hole. His scars had a prolonged effect on the trajectory of his acting career, but everything worked out in the long run. For every no he received during auditions, he kept trying. While he was told he was a great actor, he was also told that the characters for which he was auditioning simply didn't have scars – his face did not go with the part. Rather than allowing this to end his dream of acting, he kept going. It was a director by the name of John Cameron Mitchell who finally decided he wanted to be part of a project and gave him the job – the role of a man who was the driver of a car that killed a young boy. The scars worked well for this role, and the rest is history.
By 2011, he was starring in the remake of Footloose. That was quickly followed by Project X, The Spectacular Now, and 21 & Over. However, it was his role in Divergent that really got people talking. That was followed by his roles in films such as Fantastic Four, War Dogs, and more. Of course, being asked to star in a music video in 2021 didn't hurt, either. Especially when the video is one being made for a song sung by not only Taylor Swift by also Chris Stapleton (I Bet You Think About Me) and directed by none other than the famous Blake Lively. It's the music video equivalent of working with an ensemble cast. Miles Teller is working on becoming one of the most widely recognized actors of his time, and the world is excited. His accident may have lingering effects on his face, but it didn't stop him from living his dream.