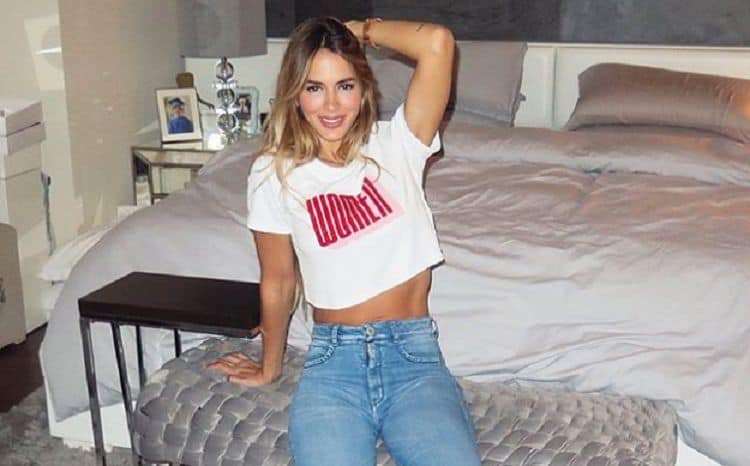 I know I've heard the name Shannon de Lima and it didn't have anything to do with her ex-husband Marc Anthony. Is the internet and Hollywood just getting so flooded with names that remembering them all is becoming a burden? At the moment this de Lima is most well known for being romantically linked to boxer Canelo Alvarez. The fact remains that while she is somebody we're aware of, she's hard to pin down since there isn't a lot about her that doesn't have to do with someone else that's just a little more famous.
However, here are a few things that we did in fact dig up.
5. She has two children.
Looking at the kind of shape she's in you wouldn't be able to tell she's had two kids. But she does have a son and a daughter that are the lights of her life and are thankfully one of the high points in her existence. It's always nice to see celebrities that value their children for more than the added publicity they bring.
4. She does a lot of humanitarian and charity work.
There are bound to be detractors out there that say the humanitarian and charity work undertaken by celebrities is all a publicity stunt that is done to up their value, but that accounts for maybe a small percentage of them. Many celebrities that actually do charity work are there simply because they want to make a difference in the lives of others and help make the world a better place.
3. She started modeling in Venezuela but picked it back up in the U.S.
Shannon began her modeling career in her native country of Venezuela but eventually moved to the US later on where she continued to pursue her career and eventually came to be well known among the many celebrity circles. Models are without a doubt a very exclusive bunch that tend to branch off into a wide variety of different interests that might mirror or be completely opposite from their current career.
2. She won Miss Earth Venezuela in 2005.
It takes more than just being pretty to win such a title but being attractive is one key component. It also takes such things as elegance, poise, and intelligence to actually pull off such a win. This is another key point in her life that it was proven that she wasn't just a beautiful woman without a brain in her head.
1. Her net worth is around $1 million.
This also proves that she's not helpless or that she needs anyone to help her out in life. Shannon is obviously a strong-willed and determined individual that knows a thing or two about how to survive and take care of herself. That alone is enough to make her quite an attractive individual to any person.
If you happen to know any more about her then please share.
Save
Save