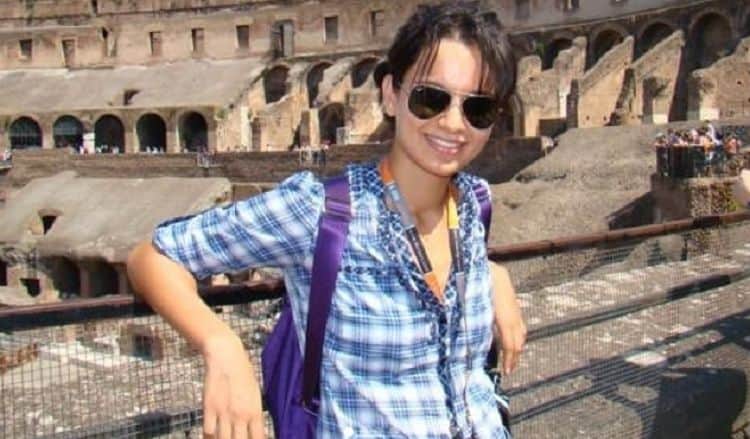 Indian actress Kangana Ranaut is one of India's most famous actresses, as renowned for her personal life as she is her films. After leaving her family home to move to Delhi at the age of 16, Ranaut spent a brief spell as a model before deciding to forge ahead with a career in movies. Since then, she's enjoyed widespread success and critical acclaim with such films as Gangster (2006), Shootout at Wadala (2013), Queen (2014) and Rangoon (2017). To find out more about the acclaimed actress, keep reading.
1. She nearly became a doctor
Acting wasn't Ranaut's initial choice of career. As a teenager growing up in Bhambla, near Manali, she dreamt of becoming a doctor, a career choice her parents, businessman and contractor Amaredeep and school- teacher Asha, actively encouraged. After completing her high school education at DAV's High School, Ranaut enrolled in the Science College in Simla. Despite proving an excellent student, Ranaut decided a career in science wasn't the right choice… although it would take her several years to figure out what was. "I had taken up science and, initially, wanted to become a doctor. There are few career options for students of science though, so I shifted to Delhi and decided to try theater instead," she's explained. "As I was still unsure of what I wanted to do, I began sending photographs of myself to advertising agencies. I even took up classes in French because I thought of shifting to Paris, where models have always had a chance."
2. She's a record-breaker
In 2015, Ranaut entered the record books after her film, Tanu Weds Manu Returns, a sequel to 2011's Tanu Weds Manu, became the first Bollywood film with a female protagonist to pull in over ₹1 billion (US$14 million) in India. Her performance in the dual role of Kusum "Datto" Sangwan/Tanuja "Tanu" Trivedi also won her a 2nd National Film Award for Best Actress, along with a Filmfare Critics Award for Best Actress.
3. She's not shy with her opinions
Over her career, Ranaut has proved she's not shy to express her opinions… something filmmaker Karan Johar learned to his cost in 2017 when he came under attack from the actress. After joining Johar on his talk show Koffee With Karan to promote her film, Rangoon, Ranaut couldn't help sending several jibes Johar's way, even at one point calling him the 'flag-bearer of nepotism in Bollywood. "Johar understandably took some offense at the digs, later saying that if the actress is so despising of Bollywood, she should leave it. "You cannot be this victim at every given point of time who has a sad story to tell about how you have been terrorized by the bad world of the industry, leave it," he retorted.
4. She fights with her directors
Ranaut is clearly not an actress who holds back, something which is evident from the relationships she's had with the various directors she's worked with over the years. "I fight with my directors a lot," she told India Today. "If a set doesn't have a creative conflict, it is not going right. It is not about taking instructions and pleasing people."
5. She studied screenwriting in New York
At the height of her Bollywood career, Ranaut decided to take a break from acting by packing her bags and getting on a plane to New York. Once there, she spent a month learning a new angle to her profession by studying screenwriting at the New York Film Academy. The then 26-year-old found the experience of living a "normal" life away from the cameras liberating, telling India Today, "I needed a break. I crave standing in queues waiting for a bus, walking down a street, and making my own meals. These are small pleasures and life in Mumbai doesn't allow for that. It is nice to be busy but sometimes you just want to stop and do different things."
6. She's one of the highest-paid Bollywood actresses of all-time
Thanks to the success she's enjoyed with her films, Ranaut has emerged as one of the highest-paid Bollywood actresses of all time, with Forbes estimating her salary in 2017 to be around ₹320 million (US$4.6 million).
7. She's won multiple awards
Since getting her start in the industry all the way back in 2006, Ranaut has won recognition for the quality of her performances, bagging several awards for her efforts. For her film debut, Gangster (2006), she won the Filmfare Award for Best Female Debut, while her work in Fashion (2008), Queen (2014) and Tanu Weds Manu Returns (2015) saw her claim 3 more awards from Filmfare. She's also the recipient of three National Films Awards for Fashion, Queen and Tanu Weds Manu Returns.
8. She's a vegetarian
Ranaut is a practicing Hindu and a follower of the teachings of Swami Vivekananda. As part of her faith, the actress shuns meat, something that in 2013, earned her the title of "India's Hottest Vegetarian" from animal rights organization, PETA. Also named on the list that year was fellow Bollywood star, Vidyut Jamwal.
9. She's collaborated with Vero Moda
As one of India's best -dressed celebrities (she's been named "Best Dressed Personality" by the Indian edition of People, and one of the nation's best-dressed female celebrities by Vogue India) it was perhaps inevitable that Ranaut would eventually try her hand at fashion. In 2015, she did exactly that, collaborating with fashion brand Vero Modo to launch her own clothing line, Marquee. After the success of her initial offering, Ranaut launched a further line, Venice Cruise, the following year.
10. She's branching out as a director
Having established herself as one of Bollywood's biggest draws, Ranaut has started to branch out from acting by building a career behind the lens. With several screenwriting credits already under her belt, 2019 has seen her add "co-director" to her list of accomplishments after she directed (and starred in) the epic period drama, Manikarnika: The Queen of Jhansi. Judging by how well the film performed internationally, it's expected Ranaut will take further steps in that direction over the years to come.