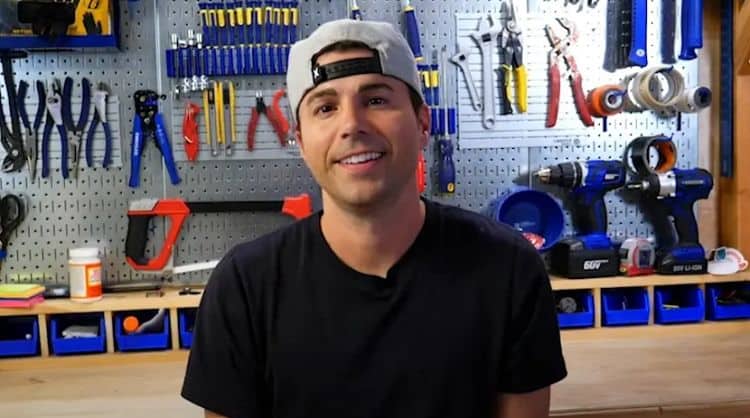 There are lots of people who would consider it a waste of time to spend a whole day on YouTube. However, people are like Mark Rober are proof that spending a bunch of time on YouTube can actually be a great investment. Rober has made an entire career out of posting videos on the popular platform, and that career has also made him reach. In the years since launching his channel, Robert has gotten over 13 million subscribers, and his numbers are just continuing to grow. As an engineer by trade, Mark's content primary focuses on science and has created an easily accessible place for people to learn. Keep reading for 10 things you didn't know about Mark Rober.
1. He Used To Work For Apple
Most people are aware that Mark used to work for NASA, but what many don't know is that he also used to work for Apple. From 2014 to 2019, he was a product design engineer for Apple. Rumors have started to circulate that Mark was part of the team that worked on the company's virtual reality based solution for motion sickness.
2. He Has Degrees In Mechanical Engineering
Things can get pretty weird on the internet and there are lots of people who have pretended to be experts on various subjects in order to gain a following. The good news is that Mark Rober isn't one of those people he has a bachelor's degree in mechanical engineering from Brigham Young University and a master's degree in mechanical engineering from the University of Southern California.
3. He Is An Advocate For Autism Awareness
Mark Rober is a proud dad and he has become an advocate for autism awareness as a way to support his son who who was diagnosed with autism. In a Reddit thread, Mark said "My son is Autistic. The best part of my day is the 20 minute night time routine with all his stuffed animals. Repetition doesn't bother him (in fact he prefers it) so my same jokes totally kill every night."
4. His Mother Passed Away After Battling ALS
Mark had a very close relationship with his mother who passed away in nearly 10 years ago after being diagnosed with ALS. On Twitter, Mark retweeted a post from his niece who revealed that her grandmother (Mark's mother) had "pre shopped and pre wrapped 12 YEARS worth of christmas presents for her grandkids before she died. "
5. He Admitting To Partially Faking One Of His Videos
In 2018, Mark found himself with a lot of explaining to do after people started to question the validity of a video he posted. Mark uploaded a video on his YouTube channel which depicted a 'package thief' stealing something from his porch only to find out it was a glitter bomb. Mark eventually admitted that the video was indeed staged and issued an apology to his followers.
6. He Likes Spending Time Outside
Just because Mark makes a living on the internet doesn't mean that he spends all of his time in front of a screen. When he isn't working, he actually likes to do the exact opposite. Mark enjoys spending time outdoors with his family. Some of the things he likes to do include rafting and swimming.
7. He's A Writer
Videos may be what Mark is best-known for, but that isn't the only kind of content he shares. Mark is also a writer who has contributed several pieces to Men's Health. Like his videos, the article's he's written make science fun and easy to understand by incorporating every day topics.
8. He Believes In Taking Care Of The Earth
In 2019, Mark Rober teamed up with MrBeast to launch a campaign called #TeamTrees. The original goal of the campaign was to plant 20 million trees by the start of 2020 by crowdfunding 20 million dollars. The campaign was launched in October and had earned more than 20 million dollars by the end of December.
9. He Tested Positive For COVID-19…Or Did He?
COVID-19 has affected countless people all over the world, and it is still wreaking havoc in the United States. In a video, Mark claimed to have tested positive for the virus earlier this summer. However, it appears that he was joking. If you watch the video closely, you'll see that his positive and negative test results were given on the same same day.
10. He's A California Native
Mark was born and raised in California where he still lives with his family. The fact that he attended Brigham Young University as an undergrad has sparked some questions around the internet as to whether or not he is a Mormon, however, he doesn't discuss his religious beliefs.