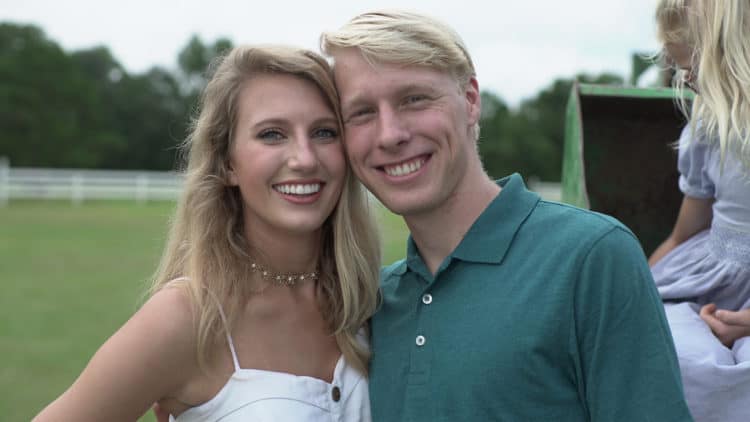 Ethan Plath is the eldest son of Kim and Barry Plath, stars of the new reality television series "Welcome to Plathville." The couple has gone a bit off the grid and they moved their family to a 55-acre farm that is 10 miles from the nearest town. Ethan is the oldest and we're just beginning to get to know him on the series, but there is a lot more than fans are curious about. Although he's new to reality television, he does have an interesting story, so here are 10 things you might or might not know about Ethan Plath.
1. He's a fantastic musician
Ethan joins his family as a member of the Plath Family Band. They are a talented group of musicians who travel occasionally performing their folk-style gospel music. Ethan plays the accordion and he also plays the piano. He also sings Johnny Cash gospel songs with the group.
2. He was recently married
Ethan Plath is 20 years old and he's a been married for just over a year. He married his wife Olivia in October of 2018. The couple is just beginning their new life together, but they do have a lot of adjustments to make. They have been raised in very different environments. Ethan will need to adjust to a different lifestyle, but so will Olivia. It is going to be interesting to watch their new life together unfold on the show.
3. Ethan's mother disapproves of his wife's lifestyle
It's been reported that Ethan's mother Kim Plath has not been pleased about the lifestyle that her new daughter-in-law lives. Ethan was raised in a family that does not believe in consuming foods and beverages that contain sugar. Olivia grew up like the majority of the population drinking sodas and eating sweet snacks and desserts and she sees nothing wrong with that.
4. Ethan is is a tough position with his mother
The friction between Ethan's wife Olivia and his mother Kim is a source of drama on the show. It's also a tough situation that Ethan will have to deal with as neither woman shows any sign of changing their beliefs or their lifestyle. It's one of those situations where people come from different backgrounds and belief systems so conflicts are going to arise, and Ethan is caught in the middle of this one.
5. Married life agrees with Ethan
So far, young Ethan Plath has proclaimed that is is very happy with his marriage. The couple has been happily wed for over a year now, and despite disagreements between his wife and mother, he has stated that this is the happiest time in his entire life. He went against his mother's advice in marrying Olivia and from what he has shared, it was a decision that he has not regretted for a moment.
6. Ethan has more freedom than ever
Ethan discussed the ways that his life has changed since he married his wife Olivia. His life as an adult has changed dramatically. He is now a married man with his own family and as such he has a new sense of freedom. This is something that he has never known growing up with his parents in charge.
7. His new lifestyle goes against his parents' values
Ethan has tried Coca-cola for the first time and this is something that hasn't gone over very well with his folks. They blame Olivia for this, but really, it's just Ethan doing the things that he wants to do and exploring a world that he was never allowed to venture into. Although they're not happy about it, it is, after all, his life and he can live it however he wants. He is enjoying his life with Olivia as she teaches him about the things that most people consider to be innocent enough, that he's never had the freedom to experience.
8. He may be forced to make a choice
It will be interesting to see how things unfold between Ethan and Olivia and the rest of the family. Since they are living under the same roof with Kim and Barry, the house rules are those that the parents make. However, since Ethan is an adult he can choose whether or not to indulge in a sweet treat now and then. We'll have to stay tuned in to find out if the newly married couple can iron out the differences between them and Ethan's parents and if Olivia can adapt to the new lifestyle that Kim insists upon. Will it come down to Ethan being forced to make a choice? Only time will tell.
9. Ethan didn't go to public school
Ethan and the rest of his siblings were all homeschooled. They didn't go to public school, or even a private school for that matter. They do not know what it is to interact in this type of social setting. Although they didn't spend all of their time at home. The music they perform has taken the family out on tours to different places where they've met new people in their travels. Through Olivia, Ethan is learning how to make new friends and he is enjoying it very much.
10. Ethan wasn't allowed to watch television
Another modern form of entertainment that most kids take to extremes is watching television or going to movies. Neither Ethan nor his siblings were allowed to do this. They didn't grow up watching their favorite programs on television because their parents didn't believe that it was a healthy thing to do. This is yet one more thing about the modern world that Ethan is learning about through his wife Olivia. Being with her has opened up a whole new world for him as though he is seeing it for the first time, and she is his guide as he navigates through it.
Tell us what's wrong with this post? How could we improve it? :)
Let us improve this post!