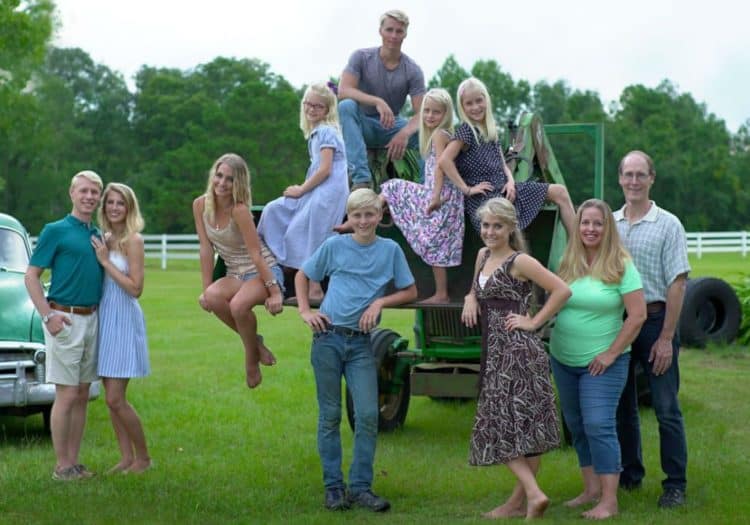 The Duggars may have shocked the world with their strict family values and the large family of 19 children in these harsh economic times. However, the Plaths are following in the same footsteps; they are yet to reach as many as 19 children; they have nine so far. Their unique lifestyle on a 55-acre farm has attracted TLC to document them through a new show "Welcome to Plathville" that premiered on November 5, 2019. For those who are curious about what to expect from the six-part series, here is everything you need to know about the family featured.
1. The children have never watched television
Television has become a necessity in every family, but the Plaths have set themselves apart in this regard. According to them, they do not need any form of technology to have a good time; they would rather be rearing animals. That means the children have no idea what your favorite movies are. According to Daily Mail, even the youngest son, who loves soccer and basketball has no clue who some of the sports legends are.
2. The family does not consume sugars and carbonated drinks
For nearly every family, ice cream is the dessert of choice, and a large bottle of soda is a must-have, especially on long road trips. On "Welcome to Plathville," the family does not consume any of these products. Barry Plath even emphasizes that the children may know what Coke is, but they have never tasted it. As for ice-cream, Ethan, despite being an adult who does not have to follow his parents' rules anymore, still cannot bring himself to eat some. Therefore when he moved out with his new bride to their new home, he was bothered and told Olivia she should not be eating sugar.
3. The show introduces the double standards of the family
The Plath family may boast of not being influenced by technology, but they seem to have double standards in that regard. The parents have restricted the children from using any social media, but they do not have a problem with creating The Plath Family website to promote their music. Besides, Kim has a Facebook account, and she uses it to also seek additional revenue by advertising a cabin for rent and showcasing her family's achievements. There is also a Facebook page, The Plath Family, with about 1.2k fans.
4. The children are homeschooled
On the show, you will not see any school bus coming to pick the children or drop them off, nor the parents struggle with what to pack for lunch. The Plaths are serious about not contaminating their children with any worldly influences, even if it means keeping them at home to get their children. They, therefore, homeschool their children.
5. The family members are staunch Christians
Some people claim to have known they were destined for each other upon meeting. However, Kim and Barry Plath knew it because, according to them, God told them. He showed the couple they would marry each other in the spring of 1997; come July 1997, the two got married. They believe God has influenced their lives since they consult Him on significant life decisions, something they have instilled in their children too.
6. The show would have had 12 members
"Welcome to Plathville" is featuring 11 family members, but they would be 12 were it not for an accident that happened in 2008. Kim ran over their 17-month-old son, Joshua, with her Suburban when transplanting trees. Unfortunately, Joshua died on the way to the hospital, and for eight months, Kim could not stop reliving that moment. Her faith was put to the test, and Kim could not bring herself to read the bible. She believes God healed her during the next Mother's Day weekend, just like He had shown Barry He would.
7. They are a musical family
The Jackson family may be the one that showed us that music could run in the family, but the Plaths are also artistic, from the youngest to the oldest. Ethan is the eldest son and plays the piano and accordion while Hosanna is gifted not just with her soprano voice but also with mastering the piano, violin, and viola. Hosanna got married to a man who loves music, Timothy, so now they tour together as a couple. Moriah is the family's lead singer, Micah plays lead guitar while Lydia and Isaac play the banjo and guitar respectively. The youngest daughter is yet to settle on her preferred musical instrument, but she loves to sing while the other two sisters love singing too and playing the piano.
8. How the family started the band
Kim Plath went to Florida State University and studied music. She then taught her children classical music, but in 2013, Hosanna learned a fiddle tune, and Ethan learned to play the piano and accordion. Micah joined them with his mandolin, and together, they began playing in churches and nursing homes. By 2015, Lydia had joined the family with her banjo. When Ethan recorded Southern Gospel Music and introduced the idea of singing together as a family, they liked the idea. Therefore in 2015, they went on their debut gospel tour, and since then, they have produced several CDs so you can expect to catch a few musical moments.
9. The eldest son's marriage is changing things for the family
Change is a good as rest, and Ethan is making a 180 degree turn in his life, much to the family's disapproval. First of all, he married Olivia, whose beliefs conflict with those of the family, and she admits she is causing a hurricane. Not ready to fit in, Olivia has made it clear she will not give up her life to please Kim and Barry. Therefore she introduced Ethan to his first can of Coke, and Ethan could not hide his delight. Ethan also went to the gym for the first time and had trouble with the equipment. Moreover, Olivia gave Moriah her first taste of cotton candy, and the teen said she is already addicted. Ethan is also enjoying some television, and so far, "Friends" is bringing a smile to his face.
10. The careers of the parents
Do not be surprised to see that the matriarch is not waking up early to beat the traffic because she works from home. Of course, for a family that does not believe in outside influences and lives on a 55-acre farm, it is expected that Kim Plath is a naturopathic doctor. She sees her clients in her home office while her husband, a transportation planner, has been working for the same company for more than 25 years.
Tell us what's wrong with this post? How could we improve it? :)
Let us improve this post!