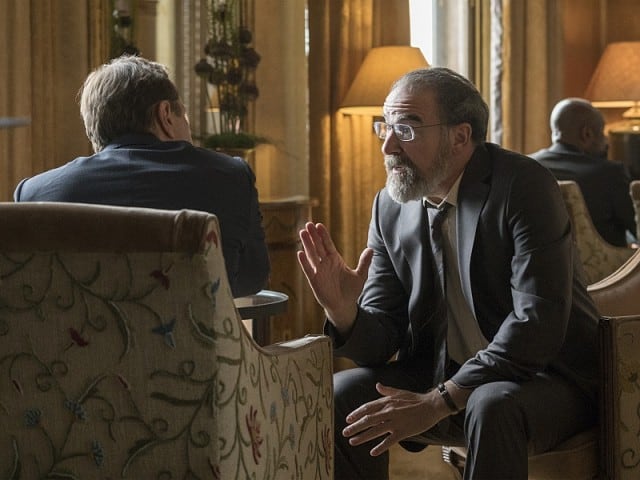 The title of this week's episode of Homeland is "Parabiosis," which literally means "living beside" or the "joining of two individuals." In a purely physical sense, it's easy to see how the word connects to tonight's Homeland: Quinn's savior gives the dying CIA operative his blood in order to save his life. However, the title of the episode can also refer to Carrie and Saul, who only share one scene together in "Parabiosis," but find themselves closer than they have been in a long time by the end of the hour.
"Parabiosis" is easily the most Saul-centric Homeland of the season, and Many Patinkin shines throughout the hour, as Saul first rejects Carrie's information before beginning to slowly realize how everyone at the embassy is turning against him. Not only is Saul being followed by members of the CIA, but Dar believes that his relationship with the Israelis played a role in the destruction of the plane; in fact, Dar is so adamant about Saul's involvement that he won't even look into a possible link with the Russians and instead orders his longtime friend and coworker to get a polygraph.
Ultimately, when he's locked out of the secured system at the embassy, Saul pulls a Carrie move, going against the agency and getting the leaked documents his own way. And what does he do with it afterward? Well, he make sure it gets to Carrie, of course, because by the time "Parabiosis" is over, with Saul being taken in by the CIA and Carrie about to board a plane to nowhere, the two of them really are the only ones left who believe in one another; as the definition of the word states, they are truly "living beside" each other.
Although Saul can't deliver the documents to Carrie himself, Otto makes sure she gets them before she boards the plan, and it's still a touching moment. After declaring that Saul hated her and that she was "the problem" in all of her relationships earlier in the hour (after Jonas leaves her for good and she thinks that Quinn is dead), Carrie receives proof that Saul believes in her again, that someone out there is on her side, fighting along with her. Even though they're nowhere near each other, the scene at the end of "Parabiosis" brings Carrie and Saul back together again, and it's immensely satisfying.
And sure, I would have liked to have seen Carrie and her mentor mend things a little more quickly in tonight's Homeland, only so that we could get to the action that I'm assure awaits us in the second half of Season 5; however, that wouldn't have been true to the characters. It's been reiterated again and again this season just how distant Carrie and Saul are now, to the point where it wasn't completely implausible to her that he could have been the one behind the plan to take her out. The wounds they both have are still raw and painful, and I'm excited to see how they'll work through them while trying to help each other out in the episodes to come.
Really, the only thing that doesn't really work in "Parabiosis" is Quinn's story, which amounts to him recovering from his injuries, listening in on a planned attack, and then fighting and killing the group's erratic leader, Hajik. While the story with Quinn and the doctor who saved him provides some nice emotional moments, there's not enough going on in this story to justify it taking up so much screentime. Even though Quinn will remain at that building, as he recovers from yet another injury (that cut he got looked bad), I hope that next week gives him more to do, and that tonight's episode was just a tiny pause on the journey to something better for this character in Season 5.
Other thoughts:
Other than the fact that he hasn't discovered that Allison is behind everything, Saul was an A+ spy this week. I particularly loved how he got the documents to Otto, leaving the drive in Otto's jacket in the coat room since he knew they both would be searched.
I wonder if we will see more of an impact from the prisoners being released. Laura posting those documents online could have some have even more unforeseen consequences than we expected.
So on a scale of 1-10, how awesome was Quinn's take down of Hajik? I'm going to vote somewhere in the 8-9 area.
Really enjoyed the scene of Carrie looking through the photos of her, Jonas, and Frannie on her phone. A strong, unspoken way of her officially saying goodbye to her old life.
What did everyone else think of this week's episode of Homeland? Comment below and let me know.
[Photo credit: Stephan Rabold/Showtime]