Guys, I don't think I'm being premature anymore by declaring that Homeland is back and better than it's been in a long time. Sure, could the events of this season's final two episodes destroy all the good will the series has built up over the past few weeks? Most definitely that could happen, but that won't change how I feel about Homeland right now, which is excited.
It's been two weeks since our last new episode of Homeland, one that ended with a twist involving Haqqani and his comrades beginning to infiltrate the U.S. embassy in Islamabad. Some people weren't huge fans of this turn of events, and while I wasn't in love with the story development myself, I gave Homeland the benefit of the doubt. I mean, compared to some of the other crazy stuff that has happened on this show (look at Brody killing the vice president and then somehow getting away with his murder), Haqqani's team possibly taking over the embassy didn't seem too unbelievable.
And even if you are one of those people who still didn't like the twist, could you really argue with its results? The opening twenty minutes or so of this Homeland episode were even more tense and thrilling than the show had been over in its previous two excellent episodes. The writers just keep upping the ante, creating more and more sequences of emotionally-charged tension, and I love it.
What worked so well tonight (both with the events at the embassy and with Carrie and Saul at the convoy site) was the unpredictability of each situation. Did we know that Carrie and Saul would both survive the explosion from the last episode? Yes (although not everyone did–R.I.P. John Redman), but Homeland was still able to catch us off-guard with the firefight that followed, one that was not only well-done on technical level but on a character one as well, as the scene showed us the mental states of both Carrie and Saul–Carrie still determined and now angry, while Saul was clearly damaged and deeply troubled.
And Saul's fragile state only got worse after he and Carrie returned to the embassy to find that 36 Americans (including Fara) had been killed by Haqqani and his men and that the terrorists had also gotten away with Sandy's database of Pakistani assets, the "crown jewels." The whole ordeal took up less than half the episode (I think people initially predicted that it would have gone on for a lot longer time than that) and was devastating blow that essentially broke Saul and defeated Carrie.
However, everything that transpired seemed to reawaken something in Quinn, who has now returned to full-on assassin mode, staying behind to go after Haqqani by himself, although we know that won't be the case. Even though everyone is ordered to return to U.S. by the White House, Carrie remains in Pakistani, with no backup, not any help at all from the U.S. government, to track down Quinn and get him out of Pakistani safely.
It will be interesting to see how Homeland can maintain the intensity that it's brought over the course of its past four episodes for its final two installments. My only fear is that, with Carrie and Quinn isolated in Pakistani together, the show will turn back to the romance well for them, and if Homeland's proven anything throughout Season 4, it's that the show is much better at handling its characters' spy lives than their love lives.
Other thoughts: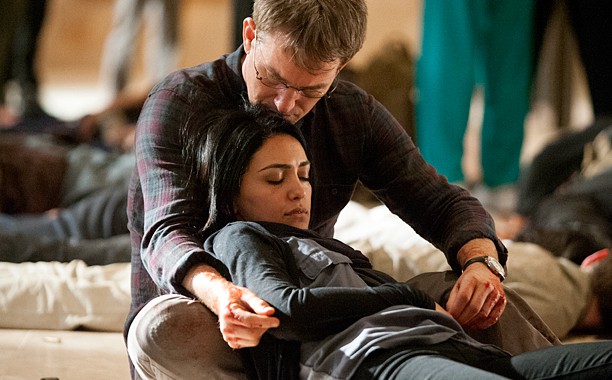 – I want to take a moment to mention how much I enjoyed the character of Fara during her time on Homeland and how great Nazanin Boniadi was in the role. She will be missed. And also, that scene of Max holding her (image above) completely gutted me.
– Quinn was absolutely the best part of this episode. It's kind of sad to see him reverting back to his old self after he desperately tried to get away from the CIA for so long, but I'll be okay with it if we get more scenes of him taking out terrorists like he did in tonight's episode. He's essentially Homeland's Jack Bauer, and I'm not complaining about it all.
– I'm curious about Dennis's decision not to commit suicide. Do you think he just didn't have the guts to go through with it or that he has more planned for Martha? Whatever the answer, that scene between the two of them before she eventually gave him the belt was spectacular.
– Even though Lockhart giving up Sandy's database to Haqqani was ultimately stupid, it was good of Homeland to show us that the guy actually does have a heart underneath all of his political BS. Also loved when Carrie told him she wasn't sure what she would have done in that situation and his thanking her saying that, knowing full well that she was lying to try to make him feel better.
– After Carrie tells Saul she's staying behind for Quinn, he responds by pointing out, ""There comes a point where you're no longer responsible." Carrie tells him she's not there yet. And right there, folks, in a nutshell, is why I still like Carrie Mathison after every misguided thing he's done.
What did everyone else think of tonight's episode of Homeland?
Photos via Showtime