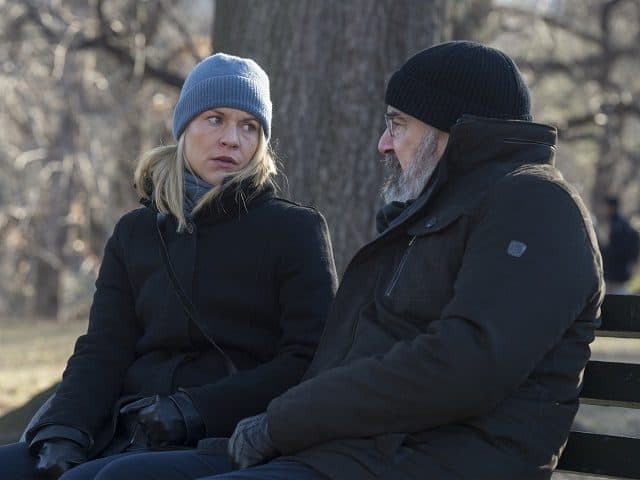 "Sock Puppets" might just be the most action-packed episode of Homeland Season 6 so far. So much happens throughout the hour, from Javadi being taken to Carrie and Saul convincing Keane that they're telling the truth to Quinn confronting Dar Adal, and it's all very important to the main story of the season, which has unfolded methodically throughout these first nine episodes.
However, the reason why "Sock Puppets" works so well has less to do with the fast-paced progression of the plot and more to do with the depth and richness of Homeland's characters and the relationships we've watched them form over these past six years. We care about every little thing that happens to them, which is why the series is able to milk so much drama from something like Carrie's decision about the affidavit, despite how much lower the stakes are compared to seasons of the past when she'd been doing her best to stop a major terrorist attack. Here, though, it can be argued that we care more about Carrie's choice than any type of heroic act she's done in the past, and it's because what she decides to do will greatly impact Saul's career and change their relationship forever.
Unlike the thousands of faceless lives that Carrie and others have saved in the past, Saul is someone we've spent nearly six years with, and we've grown to care about him and his friendship with Carrie. Will their connection have to be sacrificed in order to put Dar Adal away? It certainly seems like that will be the case, as Dar's actions in Berlin appear to be the only real, tangible evidence that Keane can use against him. But no matter what happens, it's clear that Carrie even considering this type of action is damaging her and Saul's already strained relationship. Need proof? Just look at the damning words the two of them exchange as they sit on the park bench together, a setting that bears a striking resemblance to the place where we first see the two of them together in the Homeland pilot.
And then there's Quinn and Dar, whose complex relationship becomes more layered with each passing episode. In "Sock Puppets," Dar tells Quinn that he loves him and reminds him of all that they've been through together after Quinn shows up at his house with a gun, claiming that Dar is the one responsible for the attack on the cabin. It turns out, though, that Dar actually didn't put out the order to have Quinn and Astrid killed; yes, it was one of his men (The Man Across the Street, to be exact), but it's made clear during Dar's phone call to him that The Man Across the Street was acting on someone else's orders. Despite how much of a threat Quinn poses to Dar, he would never try to take his life.
The fact that Dar wasn't behind the attack on Quinn and Astrid is definitely surprising, but this reveal adds some much needed depth to his character. If Dar were to have tried to kill Quinn without Homeland showing us any type of hesitation on his part, it would ring false; we know the history these two men have together and that, in some twisted way, they're like a family. Plus, Dar's weak spot being Quinn makes him much more of a real, human character and also makes him a much more interesting villain. All the best villains, no matter how sadistic they may seem, still have people and things in their lives that they care about, that they want to protect, and it's smart of Homeland to show us that even someone as ruthless as Dar still has a few lines that he won't cross.
But then that leaves us with this question: if it's not Dar who's pulling all the strings behind this operation, then who is fully in control? Could Real Truth host Brett O'Keefe, who is revealed to be the person in charge of the mysterious company, have more power and influence than we think, or could Robert Knepper's character be the man that's fully in control of this organized attack against President-elect Keane and everything she stands for? I'm sure we'll get these answers in the final three episodes of Homeland Season 6. Let's just hope they're as good of television as "Sock Puppets" is.
Other thoughts:
Max goes undercover at the mystery company that O'Keefe runs, the same company that Conlin visited before he was killed, and he gets to actually see what the employees do, which is essentially use fake accounts and usernames to cause chaos and conflict online; it's all part of pushing O'Keefe's agenda. With all of the fake news and "fake news" that exists on the internet nowadays, this storyline is incredibly topical, and I'm glad that we're finally getting to see what exactly this shady company has been up to.
Carrie finds out near the end of the episode that she'll be able to visit Frannie, so hopefully that means she'll be getting back full custody of her daughter sooner rather than later.
Poor Javadi. That's what you get for trusting Dar Adal.
Carrie calls her relationships with both Brody and Quinn "intense." Yeah, I'd definitely say that's a good word to describe them.
As strong as Claire Danes is in that opening scene, as Carrie reflects on her time with Brody, it's still not as big of a gut punch as the reveal about how broken Max was after Fara's death.
What did everyone else think about this week's episode of Homeland? Comment below and let me know.
[Photo credit: JoJo Whilden/Showtime]
Homeland Season 6 Episode 9 Review: "Sock Puppets"
Summary
Carrie faces a difficult decision that could destroy Saul's career, and Quinn goes rogue in another stellar episode of Homeland.