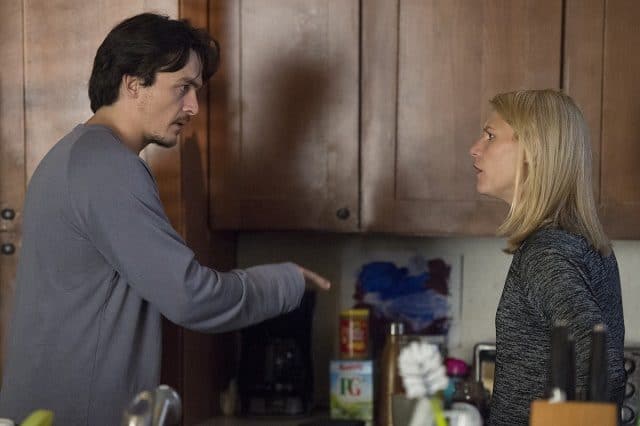 There's an undeniable sense of dread in the closing moments of this week's Homeland. As Sekou hops into his work truck and begins driving, it's expected that something horrible is going to happen; the only question is what and whom will be affected by it. However, even though I and I'm sure many other viewers were anticipating something pretty major in the final scenes of "A Flash of Light," due to the fact that Quinn follows the man across the street to the Medina work site (the same place where Sekou works) and also because things are just going too well for Sekou (especially after he posts and then takes down the video from his website), that doesn't stop the truck explosion and Sekou's death from being shocking. For a series like Homeland, which has been very much a slow-burn series in recent years, including this season, it's a powerful moment to leave viewers with as we wait to see the fallout from this incident next week, and it serves as a tragic ending to Sekou's story, as his release from jail had provided him with a second chance at life.
But the ending to "A Flash of Light" isn't the only reason why this week's episode is one of the strongest of Homeland Season 6 (if not this season's finest hour). There are plenty of moments throughout this installment that push this year's story in new, exciting directions, whether it's Saul being taken by Etai and his men before being released after news of the explosion reaches them, or Dar confronting Carrie outside of Frannie's school, revealing that he knows that she isn't just the President-elect's friend but has been serving as a key adviser to her as she readies for office. All of these more personal conflicts provide Homeland Season 6 with a solid emotional backbone, even though it would appear that they'll take a backseat for the next couple of episodes as Carrie, Saul, and the rest of the show's characters deal with the aftermath of the explosion.
Will this "attack" be what causes Carrie and Saul's storylines to finally collide? Not only will Carrie be connected to this situation because Sekou was her client (which will surely result in the FBI coming after her), but after such a horrific event, happening in New York of all places, it make sense that Keane would want her guidance now more than ever, which could very easily put her and Saul on opposing sides yet again.
And what about who actually planned this attack? We know that it wasn't Sekou himself, and everything that we've seen so far points to the man across the street, the man that Quinn has been investigating, being the culprit. Was this attack orchestrated by someone in the government, such as Dar Adal or Conlin, or was it carried out by a terrorist group that we haven't encountered yet? No matter what, Quinn's concern over someone watching him and Carrie sure doesn't seem like paranoia anymore, and since he witnessed the man across the street get dropped off at Sekou's work site, I'm hopeful that this means that he'll play a pretty large role in whatever happens next, since the CIA and FBI will want and need any information that they can get on the attack unless it was somehow staged by these agencies, which, in Homeland, remains a very real possibility.
"A Flash of Light" leaves us with a lot of unanswered questions, which can be frustrating for some viewers, but it also gives us more exciting possibilities than any other episode of Homeland has this season. After four hours of slowly building storylines, it feels like the show finally has a clear direction for Season 6, and no matter where this new story takes us, I can definitely say that "A Flash of Light" pushes us in that direction in a shocking and satisfying way.
Other thoughts:
Carrie's conversation with Sekou, in which she explains her point of view and convinces him to take the video down, is easily my favorite scene from "A Flash of Light." It's incredibly refreshing to watch two people with very different opinions actually have a civil discussion about the issues of today. Too bad Homeland's fiction and not reality.
So why did Saul hop in the back of a police car at the end of "The Covenant"? It was so he could meet with Majid Javadi, who we haven't seen since the end of Homeland's third season, and ask him whether or not Iran is cheating on the deal. A nice callback to the show's earlier days (back when Brody was still around) and a very captivating conversation between the two frenemies, as Majid essentially tells Saul that the truth doesn't matter since their people's opinions about each other's countries will never change. However, since Majid agrees to look into the situation for Saul, I'm guessing that's not the last we've seen of him this season.
Obviously, this attack and Sekou's death will hit Carrie the hardest, but I'm anxious to see what Reda's response to the situation will be as well. Will he believe that Sekou actually did this, or will he try to find someone else to blame? And will this cause a permanent split between him and Carrie? Their partnership is already quite strained.
So do we think Carrie gives Keane any dirt on Dar Adal, or does she keep her mouth shut? We don't see how that conversation fully plays out, so I'm guessing Carrie does tell her something and we'll find out what later in the season.
It will be a long time before I forget the expression on Saul's face when he's told about the attack in New York and the final shot of the smoke coming from the city. Again, such a dark and powerful way to end a really solid episode of television.
What did everyone else think about this week's episode of Homeland? Comment below and let me know.
[Photo credit: JoJo Whilden/Showtime]
Homeland Season 6 Episode 4 Review: "A Flash of Light"
Summary
Carrie tries to help Sekou stay out of trouble, and Quinn continues his investigation in a shocking episode of Homeland.