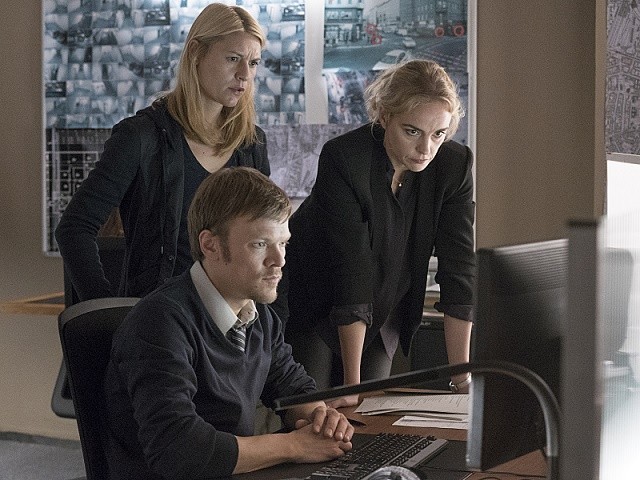 After separating Carrie, Saul, and Quinn for the past few weeks, Homeland finally began bringing them (and their respective storylines) together in this week's terrific episode, "New Normal." Tonight's all-new hour of the Showtime spy drama let the CIA and the BND in on the ISIS cell's plans to use the sarin gas against Berlin, after the group released their "test video" to the public, showing the apparent death of Quinn and announcing their threat against a major European city if the United Nations does not recognize them as a state within 24 hours. While Homeland's slow-burn style of storytelling has been effective throughout Season 5, with each new episode giving viewers a fuller picture of this year's main arc, nothing was more satisfying than watching the disparate stories of the past couple of weeks finally converge in an exciting, drama-filled crescendo.
Pretty much from the get-go, "New Normal" is injected with more tension than almost any other hour of this season, due to two main reasons: Allison's attempts to fool Dar, and the characters' personal connection to Quinn. Although we want to see Carrie, Saul, and the rest of this season's major players stop the attack, their actions are given more weight after they witness Quinn's horrific "death" in the video released by the terrorists. Furthermore, Allison leveraging her intel and experience to ensure that she's out of a holding room and back in the field (even if she is being watched) adds an extra layer of intensity to the affairs; how can we be sure that she won't compromise the CIA and BND's efforts in order to save her own skin?
All of these moving parts come together in fantastic fashion, leading to some incredibly emotional scenes like Saul cursing and choking out Allison in the holding room, or Carrie breaking down while watching Quinn be poisoned before having to force herself to sit through the video again and again in hopes of finding clues. The current crisis also allows characters like Carrie to show off their intelligence and expertise; sure, the algorithm that she has to help narrow down the amount of buildings the terrorists could be using is a little too convenient, but everything else how about she and Astrid discover the center of operations illustrates why these agents (or in Carrie's case, former agent) are the best at their jobs.
Perhaps most interesting, though, is how "New Normal" re-integrates Otto, Jonas, and Laura, putting all three of them in a very different situation than what they are used to, as a client that they are trying to help file a civil lawsuit against Germany turns out to have information regarding the upcoming attack. Ultimately, Otto calls Saul, believing that he can trust him to let their client have Jonas present for all questioning, but when BND agents arrive and take the man, Otto realizes that he may have had faith in the wrong person.
Taking the more plot-specific elements out of the equation, though, what makes this storyline so compelling is the ethical dilemma it places all three of these characters in, and the very timely debate that spawns because of it. With the recent developments that have taken place in our world over the past several weeks, questions regarding the safety of our nations and the rights of our citizens are more and more relevant, and Homeland's willingness to engage with these topics (even if Season 5's episodes were produced before any of these more recent events took place) only adds more depth to the stellar spy drama.
Here's hoping Homeland can find time for these complex situations and relevant ideas in the final two episodes of Season 5, amidst all of the tension and action that are sure to be present now that the terrorists are free to use the sarin gas and an alive Quinn has been rescued (did anyone really think he was dead?). Plus, with Allison as a wild card (who was that woman with the dog and was she giving Allison some type of signal?), there's no telling what these last two hours of Homeland's fifth season could have in store for us, but as long as they're as strong of episodes as "New Normal," I'm pretty certain that we won't be disappointed.
Other thoughts:
It will be interesting to see just how bad of shape Quinn is in if/when he wakes up.
I didn't mention it above, but the conversation that gives this episode its title is so sadly true. The ever-present threat of terrorism will always be in our thoughts, but we can't allow fear to dominate our minds and disrupt our lives.
Claire Danes and Mandy Patinkin are consistently great throughout "New Normal," but both of them really shine in their spotlight scenes: when Carrie reacts to watching Quinn's death and when Saul violently confronts Allison.
Really loved the small bit of insight we got into Bibi and Qasim's relationship. The terrorist leader wasn't willing to kill his family member, but he'll have no more tolerance for any other actions of defiance.
I don't think I've said this before, but Astrid has become a really solid supporting player on Homeland. Her character has been terrific in all of the scenes she's had throughout this season.
What did everyone else think about this week's episode of Homeland? Comment below and let me know.
[Photo credit: Stephan Rabold/Showtime]