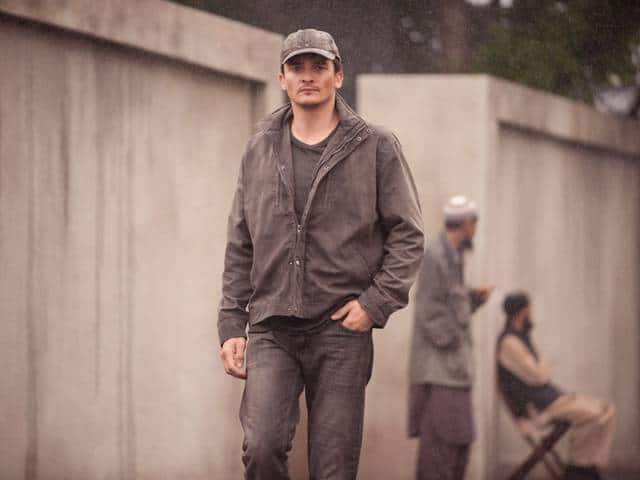 Well, that was quite the twist, wasn't it? We knew that there was something larger at work here in Homeland Season 4, with the conspiracy storyline beginning after Sandy's death in the premiere. However, who expected the CIA, let alone someone as high-ranking as Dar Adal, to be involved in all this?
I hate to jump straight into the final scenes of last night's Homeland, but it's hard not to. While the rest of the episode is certainly solid and even excellent in parts (specifically when Carrie is told about her father's death–Claire Danes was just phenomenal in that scene), it's a slow-build to that tense and twist-filled sequence with Carrie, Quinn, and the protesters, one that now shifts Carrie and Quinn's target to one of their own instead of Haqqani, who wasn't the most particularly memorable or compelling villain even if he was an imposing figure.
Introducing Dar Adal as one Haqqani's backers or followers or whatever he turns out to be is a great story decision for so many reasons. It not only helps connect some of the dots from this season of how certain people, like Tasneem, were getting the information they were receiving and doing the things they were doing, but it also provides a much more dangerous antagonist than Haqqani. For all the bloodshed that Haqqani has caused, he's nowhere near as deadly as Dar Adal, who has the resources to essentially make both Carrie and Quinn disappear in an instant.
This twist also works for the future complications that it will create between characters, with Dar not only being Quinn's mentor but one of Saul's best friends. As we've seen throughout Season 4, Homeland is at its best when it can injects its terrorist plots and action scenes with personal conflict and tension, whether it's something like Saul's kidnapping or Fara's death. Here we discover that Dar Adal may be the main orchestrator of all of these events, and you can bet that the fallout (which should carry over into Season 5–there's no way they can wrap this all up in next week's finale) will be intense and, hopefully, very satisfying.
However, no matter how the conflict with Dar Adal resolves, what will be key to Homeland's success moving forward will be the relationships between Carrie and Saul and Carrie and Quinn. Most of this season has been very Carrie/Saul-based, which has led to some fantastic episodes of television, but "Krieg Nicht Lieb" switches Homeland's attention over to Carrie and Quinn, as she desperately tries to stop him from going after Haqqani on his own, something that will certainly lead to his arrest, if not his death.
We were dealt with the major possibility of a Carrie/Quinn romance earlier in the season, but thankfully, nothing has happened between the two of them yet. Ultimately, I can see Homeland going there at some point in its run (and hey, if the romance is earned, I'll suck it up and do my best to enjoy it), but what the show is doing so well with right now is illustrating just how irrevocably damaged these two people are by the death that surrounds them. It's all the loss that they have witnessed that pushes both Quinn and Carrie to to the brink of rashly assassinating Haqqani (him with a bomb; her with a gun), but it's also that heartbreak that will lead them to the truth about who has really been behind everything.
Other thoughts:
– I'm still incredibly sad about the death of James Rebhorn, who did such a great job at making Carrie's father one of the best supporting characters on Homeland, but I was very happy with how the show dealt with his passing. By having Carrie's father die, instead of just always being off-screen doing something else, the series acknowledges the loss of both the character and the actor who portrayed him. Also, it led to some fantastic scenes from Claire Danes.
– Quinn's German contact in Pakistan mostly just served as a place for him to hide out while on the run from Carrie, but I did love how she revealed that Quinn has said that he's been done with the CIA multiple times before. Like it or not, being an assassin is who he is, and there's nothing he can really do to change it.
What did everyone else think of last night's episode of Homeland?
Photo via Showtime