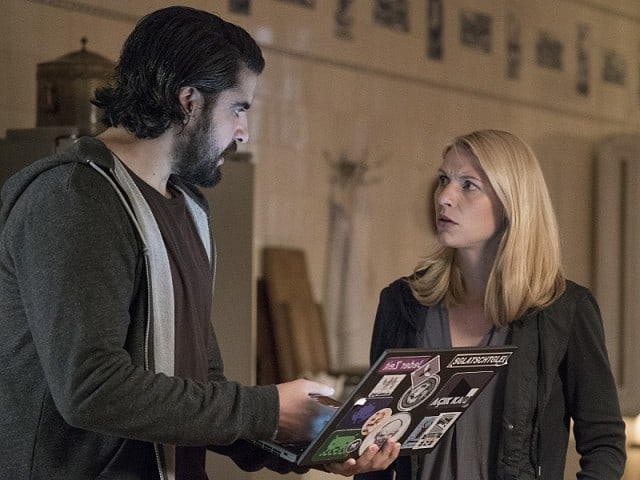 For a show that can be as erratic in tone and quality as Homeland has been throughout its four-plus seasons, Season 5 of the Showtime drama has been remarkably consistent. While not filled with as many twists as the show's solid second season or as exciting its creatively rejuvenated Season 4, Homeland has still told a nicely placed conspiracy story over the first seven episodes of its fifth season. Furthermore, "Oriole" finally begins to give Carrie (and us) some answers as to why the Russians are going after her, while also leaving us off with quite an encouraging ending that promises a major confrontation in next week's episode.
Tonight's episode of Homeland is essentially broken down into two main parts: Carrie and Saul's efforts to figure out exactly why the Russians want her dead, and Allison and Ivan's attempts to stop them. (There's also Quinn infiltrating the Berlin terrorist unit, which still feels a little disjointed from the rest of the hour, but not as much as it did last week, thanks to his meet-up with Dar Adal.) Saul won't reveal why he gave the files to Otto, and Carrie travels to Amsterdam to track down a Nazari, an Iraqi man who she believed was killed during her time in Baghdad and who now seems to play a major role in the Russians' operation against her. However, both of them trust the same, wrong person throughout the hour: Allison.
It's Saul who reveals to Allison that Carrie is alive, which is how and why Ivan knows to send men to Amsterdam to stop her, and they almost do, killing her contact, Esam, in the process. Furthermore, it's Carrie who calls Allison at the end of the episode saying that she needs to speak with her about her time in Baghdad before she arrived herself, and that they must meet in person to discuss it. While the Russians are the main antagonists of Homeland Season 5 (so far), Allison has proven to be the show's most dangerous character this year; as Ivan tells her earlier in the episode, she gets a rush from being a double agent–it's when she's most alive. And despite how close she seems to be crumbling under the pressure of it all, throughout "Oriole," Allison's still pretty damn good at putting on the act, getting Saul to trust her when he won't speak to anyone else at the CIA, and keeping her voice steady with Carrie on the phone, when she hands her the best piece of news she could have gotten all day: a face-to-face meeting with the Russians' number one target.
In a way, Carrie and Saul trusting in the wrong person throughout "Oriole" being what leads to the majority of their current (and future) problems calls back to Homeland's earlier days, when the series drew most of its suspense from the simple fact that its characters (and the audience) never really knew who to trust, especially with Brody during the show's first two electric seasons. While Carrie and Saul both do receive aid from allies in this week's Homeland (Carrie works with Otto, Numan, and Laura to track down Nazari's wife, while Saul escapes from the CIA thanks to Etal Luski's men), it's their continued faith in the wrong people that may make things worse before they get better. And on Homeland, your friends may be able to protect you from the danger that you see right now, but it's your enemies, particularly those that lurk in the shadows, that are the real threat.
Other thoughts:
While Otto helps Carrie in her current situation, he's not willing to continue his professional relationship with her for much longer, as he calls Carrie "unbalanced" and tells Jonas that they will not be renewing her contract when it's finished in February. I really enjoyed this scene for a couple of reasons. First, it shows that, while Otto may be a helpful friend, he's not a stupid or irrational businessman. And second, on some level, I think he was making this decision to help Carrie get back to her and sister's cabin in America, which she tells him she would want to bring Jonas and Fannie to and never leave. I also think that's why Otto encourages Jonas to not let this decision affect his personal relationship with Carrie.
Even though I expected it, I was so upset when Carrie found Esam dead in the taxi. In just a few short minutes, with a couple of details about how he was getting his MBA, Homeland made him someone that I cared a lot about.
Allison's breakdown in Saul's bathroom was some terrific acting by Miranda Otto. We haven't gotten to see too much vulnerability from Allison this season, but when Otto's been called to do it, she's been tremendous, making it clear that this is a person who has gotten into something that's becoming way too much for her to handle.
Mandy Patinkin was, as always, fantastic in this week's episode, but he was even more fantastic whenever he got to curse off at Dar or the rest of the CIA. With him and Claire Danes, Homeland truly does have two of the best expletive-delivering actors on TV, although no one will ever be as good as Jennifer Carpenter as Deb on Dexter.
What did everyone else think of this week's episode of Homeland? Comment below and let me know.
[Photo credit: Stephan Rabold/Showtime]