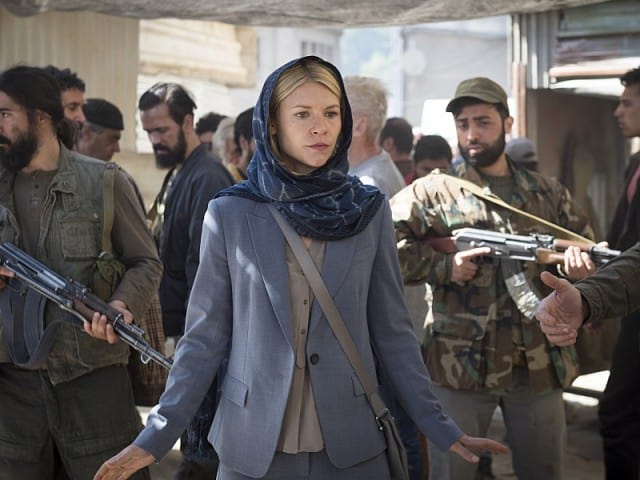 While last week's Homeland premiere hinted at Carrie Mathison's past sins coming back to haunt her, tonight's episode, "The Tradition of Hospitality," reveals that the threat is actually real when an attack is launched during her and Otto's trip to Syria, with her being the target instead of him. While it's not an insanely shocking twist–Carrie needed something to drive her this season, and what's better than someone wanting to kill her?–it does put her into a dangerous position, and furthermore, it plants the seeds for Carrie reuniting with her former CIA colleagues (although more than likely in a not-so-happy way, especially given the message Quinn receives at the end of the hour).
What works so well about "The Tradition of Hospitality" is how it puts each of Homeland's main characters in their element. Carrie is no longer providing security for Otto in Berlin but is tasked with keeping him safe in the highly unstable Lebanon, Saul assists Allison in dealing with the Snowden-esque situation caused by Laura, and Quinn tracks down his next target as quietly and methodically as a predator stalking its prey. Each member of Homeland's core trio is in a in separate location with a different mission, but all of their stories are compelling enough to keep us interested, even if we do miss the interaction between the three of them.
Make no mistake, though, tonight's Homeland works first and foremost because of Carrie and her rediscovery of who she truly is. There's nothing wrong with the stable, happy, and in-love Carrie we saw in the Season 5 opener (and we still get bits of her throughout this episode as well, especially in her phone call with Jonas), but we know that she's not living up to her full potential, not being the person she truly wants to, and on some level needs to, be. However, while she's in Lebanon, Carrie can doesn't have to be worried; as she tells Otto in their enlightening conversation, she was never scared during her previous time in the Middle East.
However, things are different now for Carrie: she's older, has a family, and, most importantly, she isn't alone. But has Carrie really changed, or is she just trying to convince herself that she's different? And even if she has become a new type of person, is there any way that she can escape the demons of her past? That's the question that Homeland raises in "The Tradition of Hospitality," and while its initial answer would seem to be "no," with Carrie and Otto narrowly surviving the first assassination attempt on her with another one apparently coming from the barrel of Quinn's gun, it's a question that I expect and look forward to the show exploring throughout the remaining ten episodes of Season 5.
In a lot of ways, the opening two hours of this season of Homeland feel as if the show is setting up for its swan song, that this fifth year will be the series' last. However, as long as the ratings continue to be strong and Claire Danes and Co. want to stay on, we know that won't be the case. Still, though, it's exciting to see Homeland building to something different than it has done in seasons before, with the main conflict of this year being both external (the attacks on Carrie's life) and internal (the harm Carrie caused to herself and others in her time at the CIA). Even if Carrie Mathison remains the same protagonist that we've seen for the past four years, here's hoping that Homeland can evolve into something even more special during Season 5, or at the very least regain a hint of that psychologically thrilling spark that was ever so present in the series' early days.
Other thoughts:
As soon as Otto began giving his speech in the middle of this episode, I couldn't stop biting my nails. Whatever its other flaws may be, Homeland still delivers some of the most suspenseful, nerve-wracking sequences on television. Carrie and her team's escape from Lebanon was up there with many of the show's best scenes.
It will be very interesting to see how Carrie being Quinn's next target will affect him, especially since he's been cold and detached throughout these first two episodes. Could this reawaken the person inside of him?
Carrie and Otto's conversation in Lebanon is such a small but important scene in this episode, and both Claire Danes and Sebastian Koch are terrific in it.
Another example of how Carrie hasn't changed: she opts to stay in Lebanon after the assassination attempt instead of leaving with Otto and her colleagues. Carrie Mathison, whether she's with the CIA or not, will always investigate.
Laura isn't any less annoying in this episode, but her continued presence on the show (Sarah Sokolovic is a series regular in Season 5) makes me hopeful that Homeland will explore more aspects of cyberterrorism this season.
What did everyone else think about this week's Homeland? Comment below and let me know.
[Photo credit: Stephan Rabold/Showtime]