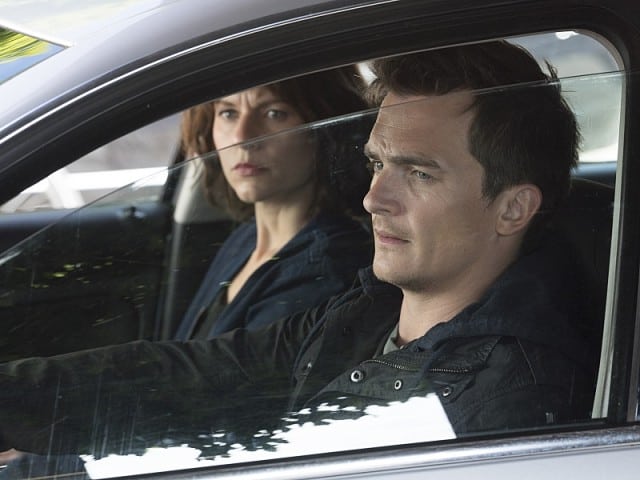 I'm having an interesting experience watching Homeland's fifth season, especially tonight's episode, "Why Is This Night Different?" I'm very much enjoying the singular stories being told (particularly the main one revolving around Carrie and now Quinn) as they all bring something interesting and different to the series. However, the word "different" is one that I applied to the early episodes of Homeland Season 3 and is why I'm a little wary about what's coming next in Season 5 of the Showtime series. While all these separate stories may be compelling, are they too disparate from each other to come together in a strong, satisfying way?
If it turns out to be like the show's much criticized third season (which I still enjoyed, despite its many problems), Homeland Season 5 could wind up disappointing viewers who, like myself, were captivated by the freshness of this season's first three episodes. There's a lot of stuff going on here, a lot of balls that the series' writers are juggling, and most of it lands. In fact, even this week, the storyline involving Laura and the two hackers gets a much-needed boost, when she teams up with another "freedom fighter" named Sabine, who is trapped under house arrest, and the hacker who sells the Russians the information is beaten and murdered (along with his girlfriend) after they discover that he lied about having a copy of the documents for himself.
There's also some movement with Saul and Dar's coup in Syria, as Carrie's former mentor and Allison work together to fill in General Youssef (Igal Nazor) on the plan to make him the country's next president. However, it turns out to all be for nothing, as Youssef's plane is shot down almost immediately, killing him and his family. Who is the person behind the attack? It very well could be the same individual that has tried to kill Carrie and now Quinn: Allison.
Yes, in the final moments of this week's Homeland, Carrie uses the cell phone of Quinn's would-be assassin and calls its one number, a number that belongs to Allison, who is definitely not who she seems to be. While I'm sure we'll discover that she's only a cog in whatever giant machine is trying to murder Carrie and Quinn (and perhaps even Saul, as we know that Allison has become very intimate with him), it's a strong twist, one that helps provide some type of connection between all of this week's disparate stories. My only worry is that Homeland will place too much importance on this reveal and try to make it what ties everything together with a nice little bow on it, a storytelling decision that would only make the show become a convoluted mess instead of smart or shocking.
Still though, despite my hesitation and my desire for more connective tissue between the several different plots and characters Homeland is currently presenting us with, I do like where the show is right now, with Carrie and Quinn (who stage Carrie's death and give her a new identity) back together and on a mission to figure who the real person is behind their respective assassination attempts. This story puts the focus back on two of the show's most dynamic characters, and with Allison now revealed to be at least partially responsible for what has been going on, I'm sure Saul will soon find his way into the mix as well. And that's something to look forward to: whenever those three share the screen, Homeland is at its best.
Other thoughts:
I really loved Carrie's tearful goodbye to Frannie. It was a nice way to allow Carrie to express how she truly feels about her daughter and help the audience to better understand exactly what their relationship means to her.
There's still the question of who is doing the drop-offs and pick-ups with Quinn. Should we assume that it was Allison's people, and that, once it was confirmed that Carrie was dead, they immediately wanted to take out Quinn, too? Or is there more to this story? Personally, I hope there is.
As I mentioned above, Laura and the hackers (well, now one hacker) became a lot more interesting in this week's Homeland. I'm really curious to see what the fallout of the Russians receiving that intel will be.
For some reason, I really liked Sabine. Here's hoping she sticks around and is involved more with Laura's story.
First Carrie and Brody and now Saul and Allison. They may be top-notch CIA agents, but they're both pretty easily fooled in their romantic lives.
It's not subtle, but I loved this small exchange between Carrie and Quinn: Carrie puts on her wig and says, "Well, how do I look?" He responds, "Like somebody else."
What did everyone else think about this week's episode of Homeland? Comment below and let me know.
[Photo credit: Stephan Rabold/Showtime]