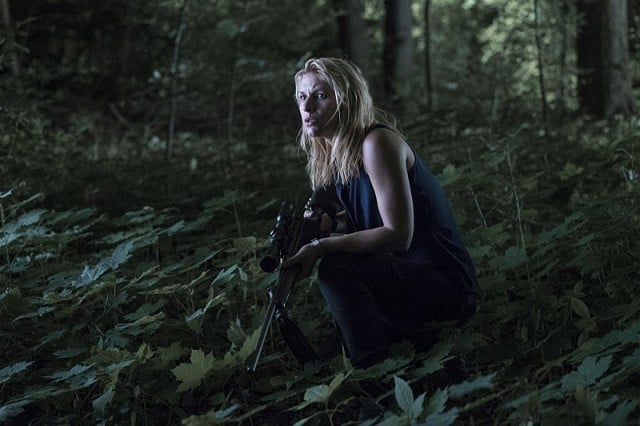 The first two hours of Homeland Season 5 focused on Carrie Mathison's attempt to start over. She has a new job in a new place, and even a new boyfriend; it's a whole new life for Carrie. Well, at least it was until the end of last week's episode, when it was revealed that someone is trying to kill her. And if "The Tradition of Hospitality" hinted that Carrie's past was going to come back to haunt her, "Super Powers" makes good on that threat, as Carrie completely unravels in this week's episode of Homeland, going off her meds while trying to piece together who exactly is planning her assassination, and causing emotional turmoil for herself and those she loves in the process.
It seems that people are of two minds regarding Homeland: some would like for the show to keep Carrie stable and just be the best version of a spy thriller that it can be, while others love to see the balancing act of "Genius Carrie" and "Crazy Carrie," as Claire Danes capitalizes on the meatiness of the role that helped her win two Emmys. Personally, I don't mind watching Carrie spiral every once in a while. Sure, it can quickly become too much of a habit for Homeland (and it has become just that sometimes in the show's past), one that makes its main character incredibly unlikable; however, Carrie's constant shifting on the mental (and emotional) spectrum is a part of Homeland's DNA and, in my opinion, the show not exploring that side of Carrie would ring very false.
So, yes, I found every bit of Carrie's investigation into who could be targeting her entertaining and compelling television, even as it did become somewhat difficult to watch as she broke her sobriety, started speaking gibberish, and insulted Jonas. And even though I knew that neither Carrie nor Quinn were going to die during their standoff in the woods, it was such a well-staged and well-directed sequence by Keith Gordon that I found myself glued to the screen. From each movement that Quinn took, as Carrie found him in her scope and actually pulled the trigger, to him sneaking up behind her and knocking her out, there was not a second of that scene that wasn't nerve-wracking and intense.
However, not everything about "Super Powers" works completely. Saul's motives (and by extension, his behavior) are still not entirely clear, and it's making him difficult to connect with or understand so far this season. Yes, it seems that he's become a "company man" of sorts, doing anything and everything he can to help the CIA, no matter how ethically shady it may appear, but (and I could just be reading into this) something in Mandy Patinkin's performance is telling me there's more to the story. That could just be that Saul is hiding his relationship with Allison (which comes out of nowhere near the end of the hour and, at this time, doesn't make a whole lot of sense), or it could be something else. No mater what it is, though (we know Saul's plotting a coup with Dar), I hope it all unfolds sooner rather than later so that we can figure what exactly his role in this season's arc is.
After two episodes that established Carrie's new life in Berlin, this week's Homeland demolishes her fresh start in one electric and intense hour, and while not everything worked perfectly, "Super Powers" definitely continued Season 5's strong start. With Carrie and Quinn now back together again (and in a very different situation than when we saw them last), I can't wait to see where this season goes. Let's hope it's as action-packed, entertaining, and enthralling as these first three hours have been.
Other thoughts:
I have to acknowledge that Rupert Friend and how terrific and hilarious his delivery of the episode's final line is.
I understand Laura's Snowden-esque role in this season, but I really hope Homeland finds something more interesting to do with her and her storyline. That may soon happen now that one of the hackers is trying to sell the intel they have instead of giving it straight to her.
The one thing that I'm not a fan of when Carrie loses it like this: her hallucinations. While it's nice to see some familiar faces returning every once in a while (this time it's Ayaan, who died because of his work with Carrie last season), their interactions with Carrie just feel too broad for a show that can be as dramatically subtle as Homeland.
I was not expecting to feel much when Carrie said goodbye to Frannie, but man, that scene surprisingly got to me.
I can't wait to see what Carrie's reaction to seeing Quinn is going to be. Also, how is he going to get out of being tasked with killing her?
What did you think of tonight's Homeland? Do you wish the show would forget about Carrie's mental issues and focus on the spy stories, or are you a fan of episodes like these? Comment below and let me know.
[Photo credit: Stephan Rabold/Showtime]