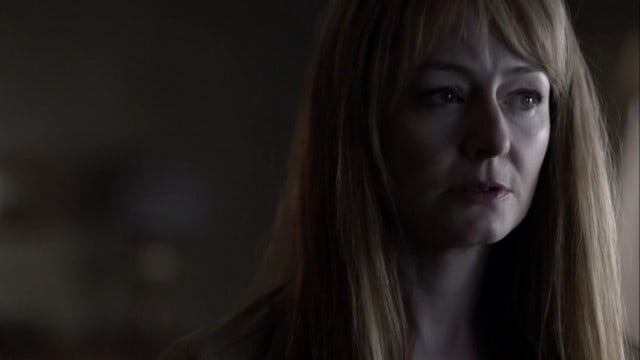 Homeland Season 5 has been a true example of slow-burn storytelling. Each and every episode so far this season has nudged the main storyline of the show's fifth season further and further without ever giving away any key details. Sure, we discover that the Russians want to kill Carrie and that Allison is complicit in the plan, but what led to this situation has remained a mystery.
That is until tonight's Homeland, "All About Allison," which pulls back the curtain and reveals how and why Allison got herself mixed up with the Russians by showing us her and Carrie's time together in Baghdad during 2005. We're introduced to Allison as a tired and beaten-down operative who has become jaded and desperate when faced with the amount of pressure she's under and the losses she's suffered during Operation Iraqi Freedom. Her subdued personality and weariness are in complete contrast with Carrie's enthusiasm and optimism.
And ultimately, it's Allison's emotional state that allows for her backstory to work. Instead of giving us some type of convoluted story about how she began working with Ivan and the Russians, Homeland continues to illustrate Allison's desire to leave Iraq and do something more with her life, which is why she's so susceptible to Nazari's initial suggestion to run away with her (along with the $8 million he's saved) and Ivan's offer to work together for their mutual benefit. While Allison is essentially blackmailed into teaming with Ivan, she's also tempted by his proposal; why wouldn't someone who is so broken and disengaged from their current life want another chance at it with a higher ranking position and millions of dollars?
Again, Allison's true reasons for working with the Russians are not the most thrilling or intriguing storyline that Homeland could have presented us with; to be perfectly honest, the whole explanation is pretty by-the-numbers, something we've seen before. However, we haven't seen this type of story very much on Homeland in recent memory, and I applaud the writers' restraint to not turn Allison into some type of super-villain with a vengeful plan. They moved forward with a story that fits her character better and is, therefore, more honest and satisfying as a result. It should be appreciated when series such as Homeland, which can too often rely on major twists or big action set pieces, approaches a story (and a character) with an authentic lens instead of constantly trying to top itself.
Additionally, "All About Allison" also provides some strong insight into how Carrie's character has evolved (both onscreen and off) since she first arrived in Baghdad in 2005 and also nicely showcases the past connection between her and Allison in only a few scenes. Similar to Allison, Carrie has been torn apart and even completely destroyed by the work she does; their roles within the CIA do not allow you to remain pure of heart or spirit. However, whereas Allison found herself collaborating with the enemy (or at least not an ally) of the United States, Carrie has stayed devoted to the work she does for the country, even if her methods aren't always the most legal or ethical; she's looking out for the U.S. first and foremost, not herself.
It will be incredibly interesting to watch these two very similar but also entirely different women clash in the weeks to come, as Carrie uses Nazari's screensaver of all things to link his fake death to Allison (and doesn't Banana Joe's just look like a delightful place to get a daiquiri?). There is no more friendship between these two; Carrie knows exactly who Allison is now, and she's ready to make every single wall of her double life crumble to pieces in her continued search for the truth.
Other thoughts:
Saul has another rough episode this week, as Dar still suspects him of helping to take down the plane. He ends the episode with Etal rushing him out before he's brought to Dar. Here's hoping that, now that Carrie knows the truth about Allison, Saul will play a more active role in next week's episode.
I also didn't mention Quinn above, but his story actually progresses in some very interesting ways this week, as the terrorists he's traveling with acquire some type of weapons (it looked like nerve gas on my screener, if I had to guess) and reveal what we all should have suspected all along. They're not headed to Syria: they're launching their attack in Berlin.
I really appreciated the little details throughout this episode that help enrich Allison's character, such as her purchasing the handbag which fits in with her wanting to shop in Milan. I also love how the minuscule, somewhat forgettable mention of Banana Joe's plays such a crucial rule and is what ultimately screws her over in the end. It's always the things that we least expect that come back to bite us.
What did everyone else think of this week's episode of Homeland? Comment below and let me know.
[Photo via Showtime]