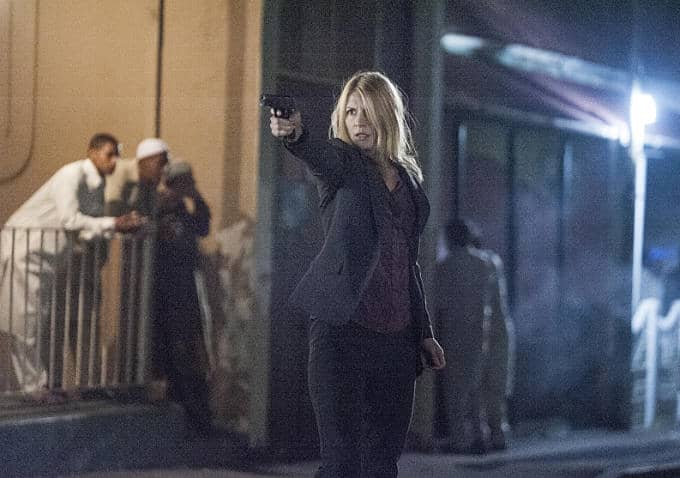 Homeland took a break from the action and got philosophical and psychological with its character last night, as it focused on Saul's time with Haqqani and Carrie's mental breakdown. The result was the best episode yet of Homeland's fourth season.
While I've been enjoying most of Homeland Season 4 so far, there was something missing from the show. The conflict in Pakistan, while certainly important, crucially lacked any connection to the series' main characters. Sure, there was a mystery here that Carrie and Quinn wanted to solve, but how did this affect them in any deeper way and why should we care more about this terrorist threat than any other one?
Although Saul's capture may seem like an easy solution to this problem (and it very well may be), I'd argue that the results so far, at least in "Redux," make any hokey execution of this plot worth it. Homeland has now infused Season 4 with some more urgency (the race to rescue Saul), while also providing more depth to the central antagonist that is Haqqani. Simply look at tonight's episode, where we get to see Haqqani return home to his wife and children–there are more layers to this man than the villain he was the end of last week's episode when he killed Aayan.
Even more impressive is Saul and Haqqani's dinner table conversation that begins with the two of them first talking about 9/11 before becoming an incredibly interesting discussion over whether Christianity or Islam causes more evil. You can tell that neither man's opinion on the subject matter has changed by the end of the conversation (and that neither of them is truly "right") but that they may see each other in a different light now. Plus, after all of Haqqani's claim about how evil Christianity is, Saul's line about being Jewish was a very funny and clever way to end the scene.
However, "Redux" isn't all about Saul's time with Haqqani, which ends with him in a dark, dirty room in Afghanistan, as the terrorist leader says that he plans to trade Saul's life for the lives of high-ranking terrorist that the U.S. has imprisoned. No, an even more crucial part of the episode is Carrie's unfortunate mental spiral, which is partially because of her guilt over Aayan (and Brody–more on that later) but truly caused by the different drugs that Dennis swaps her medication for, under orders of the ISI. Whatever the pills are that Carrie is taking, they don't stabilize her but instead only prey upon her worst suspicions of fears, leading to a sometimes confusing but always compelling episodic storyline of paranoia and hallucinations.
And, ultimately, it all builds to that ending scene in which Carrie sees Brody and apologizes for being willing to let him die. Damian Lewis's presence on Homeland has definitely been missed, even if Brody was a character that needed to go, and in just one short scene, he and Danes are good as they ever were before. For just a second, you, like Carrie, want to believe whatever outlandish plot that would explain Brody's resurrection, but we know better–this is Carrie's guilt and despair getting the better of her, her mind's way of dealing with Brody's and Aayan's deaths, both of which she blames herself for.
Carrie, shaking and sobbing like a child, in the arms of the Saul's ISI contact is the perfect way to end "Redux," which was all about knocking down the walls that Carrie had constructed to prevent herself from feeling pain or guilt. With her so shattered, in one of the worst positions she's ever been in, the only place for her to go is up. And we all know that Carrie Mathison, whatever he numerous flaws may be, is pretty darn resilient.
Other thoughts:
– Although it was pretty difficult to watch Carrie suffer the effects of whatever drugs Dennis and the ISI gave her, I'm glad we actually got more movement on that storyline. It's finally feeling like it has a place in Homeland Season 4.
– I've never loved Lockhart more than in the scene in which he threatened the Pakistani's aid package. He's certainly more likable when he's trying to rescue Saul than when he's butting heads with him like he did for the majority of last season.
– It was announced a couple weeks ago Damian Lewis is going to be a new Showtime drama with Paul Giamatti, which I will certainly be watching. In only one scene, Lewis reminded me of how great he was in the early seasons of Homeland and how much I miss him on my TV screen.
– Maybe it's just because I love a good underdog story, but I never love Homeland more than when Carrie is in a jam. I'm really excited for this season's final five episodes.
What did everyone else think of last night's episode of Homeland?
Photo via Showtime