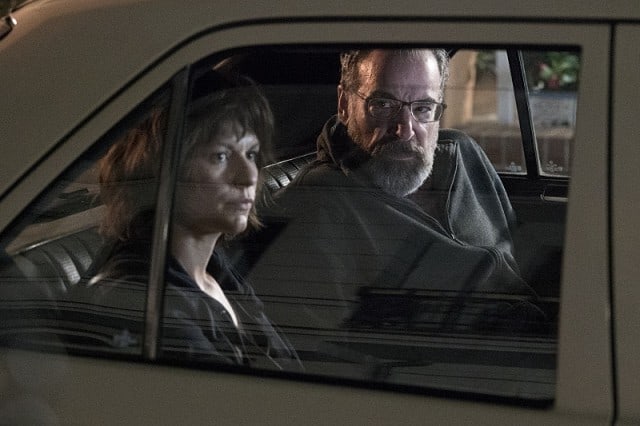 For what's essentially a table-setting episode, "Better Call Saul" is a pretty terrific hour of Homeland, giving each of the show's three main characters important and interesting things to do and continuing to shed light on the mystery of who truly wants Carrie and Quinn dead. There's no major twist like there was with Allison or shootouts like the one Quinn had last week, but "Better Call Saul" advances this season's overarching story in many significant ways and provides Homeland fans with the series' best pairing in the episode's closing moments, as Carrie and Saul are finally reunited.
What works best about this week's Homeland is how active Carrie is. Gone is any trace of the woman we met at the beginning of this season, the content and mostly carefree head of security; Carrie is back in full CIA mode, and it's good for her and the show. Most of the running time of "Better Call Saul" is spent with Carrie piecing together this season's puzzle all on her own, while Quinn (more on him in a bit) deals with his life-threatening injury. Watching Carrie's investigation continue, as she bounces from Astrid to Laura to finally Saul is gripping television and serves as a nice reminder of just how good she is at her job.
However, while Carrie is beginning to learn more about the dangerous situation she's found herself in, Saul still remains clueless to Allison's true intentions, not suspecting her treachery as she pins him against his friend and paints him as one of the co-planners of the plane bombing to Dar. It's a little tough to stomach someone as smart as Saul falling so easily into this trap, but it's also clear the his feelings for Allison are clouding any suspicions he could have about her behavior. With him and Carrie now together again, I'm hopeful that he'll soon discover the truth and find a way to trick Allison with a plan of his own; Saul has been somewhat sidelined for the first half of Homeland Season 5, but having work alongside Carrie and Quinn to take down this new threat is a great way to make him an active, important player in the season's main story.
But will Saul even be working with Quinn, who appears to be knocking on death's door in the final scene of this week's Homeland? Despite the bad shape that Quinn is in, there's no doubt in my mind (or I'm sure any Homeland viewer's mind) that he's still alive, and that the guy who walked up to him will get him some type of medical treatment. And while Quinn's not in on the main action of tonight's episode, it's compelling stuff to watch just how far he's willing to go to protect Carrie, as he attempts to drown himself and throw himself in a dumpster, knowing that if he's discovered dead or dying before Carrie can leave Berlin, then whoever went after her before will do it again. Carrie's safety is Quinn's priority, and whether you take that as a sign of their strong friendship or their romantic history, it stands a testament of his love and care for Carrie and that, despite his time in Iran and the countless people he's assassinated, there's still a human side to Quinn–he's not simply a killing machine.
"Better Call Saul" sets the stage for what should be a thrilling second half of Homeland Season 5, and through Carrie's investigation, Quinn and Saul's misadventures, and more engagement with the cyberterroism aspect of this season, it plants the seeds for what's to come in a very entertaining way. This week's Homeland may not have been the most dynamic episode of the season, but it was still a solid hour of television, one that signals an exciting change of a direction for what has already been a strong season of Showtime's spy drama.
Other thoughts:
So our main villains this season appear to be the Russians. I'm totally cool with slow-burn storytelling, but I'm glad that Homeland is finally starting to explain who is involved with this plan against Carrie, even if their motivations aren't entirely clear yet.
Jonas may not be the most interesting character, but with everything he has done and continues to do for Carrie, he's one stand-up guy.
Allison is definitively revealed to be the person who put Carrie's name in the drop box. That was already assumed, but I'm still glad Homeland confirmed that for us.
I love Many Patinkin and think he's one of the best actors out there, but I can't lie: watching Saul starting running near the end of the episode totally made me laugh.
What did everyone else think of this week's episode of Homeland? Comment below and let me know.
[Photo credit: Stephan Rabold/Showtime]