While we're only two episodes into Homeland's third season, one aspect about this season that I can say that I love and admire more than any part of the first two seasons of Homeland is that this year is pushing the emotional boundaries of characters' relationships, specifically between Carrie and Saul and Dana and Jessica. After last night's episode, "Uh…Oh…Ah…" (I don't even know where to begin with how awful of a title that is), we see how shattered the friendship between Carrie and Saul now is because of the extreme nature of his actions, while we also see that, through that perfectly acted scene in the Brodys' bathroom, Dana and Jessica may have found a new understanding with one another, replacing their constant and typical bickering. Even though we've spent over two years with these people already, Homeland is finding new ways to make these relationships fresh by forcing its characters to make some impossible decisions in very difficult situations.
The biggest development from last night's episode of Homeland was Carrie being institutionalized in a mental hospital by Saul and Dar Adal in order to ensure that she did not share any of the CIA' secrets with a reporter, an action she only took after Saul and Adal threw Carrie under the bus, essentially using her as a scapegoat for why the CIA bombing from last season.
While Saul has already had to make some very hard decisions while being director of the CIA, his actions against Carrie here seem even more troubling. Saul is now willing to essentially lock up someone that he considers a daughter in order to protect and maintain the CIA. While it logically makes sense, the decision comes without any emotional conscience behind it; not only does Saul disregard his history with Carrie as a friend, he also completely neglects to recognize any of Carrie's past achievements, such as her being right about Brody being a terrorist from the start. These are cold and calculated actions being taken by Saul, and while it's sometimes hard to watch (especially during his one and only scene with Carrie at the end of the episode), I really admire what the Homeland writers are doing with Saul's character and hope that they keep making circumstances even more difficult for him and Carrie moving forward.
Another character being pushed into new ground by Homeland is Peter Quinn, who, without Saul there to be the series' moral compass, has become one of the show's most relatable and likeable characters. While Dar and Saul express little sympathy for what they are doing to Carrie, Quinn makes it a point to visit Carrie and is the only person from the CIA to show up at her psychiatric hearing as a character witness. Later in the episode, Quinn tells Saul straight to his face that he doesn't like or believe in what they are doing to Carrie at all, and as soon as this operation is over, as soon as they catch The Magician (the terrorist behind the Langley bombing), he's done, done with Saul and done with the CIA.
Through the death of the child that he accidentally killed last week and the horrendous imprisonment of Carrie, Quinn's conscience is louder than it has ever been with regard to the actions of the CIA. He's the only person looking to be better, just as everyone else around him turns a blind eye to all the horror and chaos that they've created.
Lastly, Dana Brody created a great deal of emotional turmoil for her family when she attempted to kill herself, but in last night's episode of Homeland, she and Jessica share a stunning scene where she tells her mother that her actions were not a cry for attention or a call for help. Dana wanted to escape everything, she wanted to die, and it was that simple. With the dark cloud of Brody's crimes constantly following her, Dana felt like she had nothing to live for, but now she believes that she does with Leo, the boyfriend that she met while in treatment (who is played by Zach from the final season of Dexter).
While Dana wanting to live for solely Leo is definitely something troubling (and something that I hope Homeland does not stick with since I would not be able to stomach a "true love" storyline between the pair), the words that she says about her father and how Jessica responds to them are extremely satisfying to watch. Dana calls Brody "crazy" and blames him for everything that went wrong with the family, while Jessica still attempts to downplay it, saying that Brody was "many things." It's a real, honest scene between the pair.
If Homeland provides us with more moments like this, or like one of the final scenes of the episode (where Dana rifles through her dad's old things in the garage and finds his prayer mat, which she then lies down upon, as if she is about to pray herself), rather than Dana and Leo's typical teen romance, then the Brodys can be an interesting family to follow on a weekly basis, something to look forward to rather than roll our eyes at. Here's hoping that Homeland continues to push its characters into these predicaments where they must be honest with themselves and make the difficult choices placed in front of them, possibly hurting some of Homeland's other characters but always entertaining the audience in the process.
Other thoughts: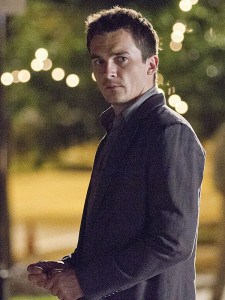 – Really loved Homeland's introduction of Fara (played by Nazanin Boniadi). She's smart and determined to prove herself, especially after Saul's somewhat out-of-character comments to her about her headscarf. My favorite scene of hers was when she straight up called out the banker on his lies before pressing him for more information. Fara will certainly be a fun character to watch.
– Aside from all the relationship drama that went on tonight, Saul and the CIA are one step closer to tracking down The Magician now, thanks to Fara's computer skills. One big question that Homeland left us with: where did that $45 million go?
– How long do you think Homeland can keep Carrie sidelined in the mental hospital, and also when do you think that Brody will make his first appearance back on Homeland? It's been two episodes and so far no sign of him. I really love that the series is sticking to its convictions and staying true to the storyline of Brody on the run, even though Damian Lewis is one of Homeland's two leads.
What did everyone else think of last night's Homeland? Are you enjoying the third season so far?