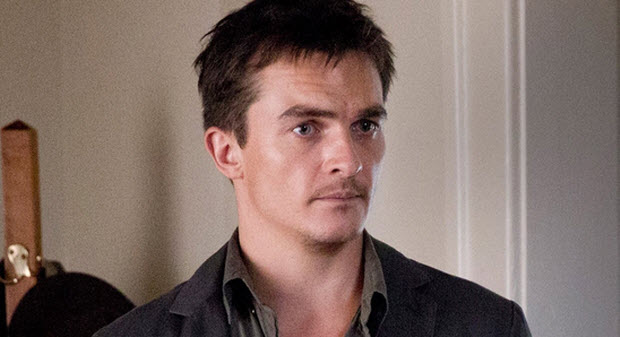 After last week's divisive twist that left some fans applauding but many more throwing things at their television screens, Homeland had a lot to make up for with last night's episode, "The Yoga Play." Ultimately, while all the Dana and Leo stuff still fell flat (hopefully their relationship, and thus Leo's presence on the show, is over now), I really enjoyed last night's Homeland. After all the dark, despair-filled developments that the series has started its third season off with (Brody alone in Venezuela and addicted to heroin, Carrie being confined in a mental hospital for the majority of three episodes, etc.), it was great to see some good old-fashioned CIA spy work during Homeland's episode last night, one that ended with a thrilling final sequence that is making me both anxious and excited to see what will happen to Carrie next week.
Since "The Yoga Play" ended with Carrie, let's start with her. After pretending to broker a deal with Leland Bennett in last week's episode of Homeland (so that she can infiltrate the Iranian organization and meet Javadi, aka the Magician, the man believed to be behind the Langley bombing), Carrie finds herself no longer being the watcher like she was through much of season one; instead, she is the one being watched, watched by the Iranians, by the CIA, and by Quinn, who becomes a part of the undercover operation after Saul tells him what he and Carrie have been doing this whole time.
However, although she is being constantly monitored and even though the entire operation that she and Saul put together relies on her keeping her cover intact, Carrie still finds a way to jeopardize the work that she is doing and places herself in danger after Jessica comes to her apartment looking for help in tracking down Dana. With the assistance of Virgil and Max (so happy to see both of them back), Carrie temporarily distracts the Iranians who are tracking her with a decoy, allowing her to do her best to find Dana.
While some may question the merit of this plotline (I myself rolled my eyes a couple of times as Carrie risked everything in order to protect Dana), especially since Carrie is not in any way instrumental in finding and returning Dana back home during the episode, Carrie's actions do remain true to her character. Whether he is present on screen or not, Brody is and always will be Carrie's blind spot, and the most important person in Brody's life is his daughter, thus, by extension, making her also important to Carrie.
Ultimately, after doing her best to help in the search for Dana (and after having Saul chew her out about on the phone), Carrie sits alone in her apartment, as Quinn watches for her protection, believing that the Iranians may have caught on to her duplicity and are, therefore, no longer tracking her. But this is Homeland, and just when Carrie is about to accept that she might have screwed up this entire mission, the most thrilling moments of the episode occur, as Sean Callery's score roars in the background while a group of Iranians break into Carrie's apartment and force her to leave with them at gunpoint.
The episode ends with Carrie sitting down in a room with Javadi, as he tells her that she looks very healthy because of all the yoga she has been doing. It is unclear here if Javadi is aware that Carrie is a double agent (the yoga reference certainly suggests that he may be). However, whether he is or not, you can bet that he won't be accepting Carrie into his inner circle with open arms, and the trials and torture that Javadi has waiting for Carrie makes me extremely anxious for her but also equally excited about the new territory that Homeland is heading into.
While Javadi represents the main terrorist threat of the season so far, Homeland possesses villains both foreign and domestic, as we seen in Saul's storyline, where, while geese hunting with fellow high ranking DC officials, he discovers that the president has appointed Senator Lockhart to be the new director of the CIA. Lockhart clearly does not have the experience or fortitude to run the agency, and Saul makes this clear in his mocking toast to the senator, as he calls him out for being against the CIA and all of its practices for most of his career.
Despite being an unjust treatment of Saul and all the hard work that he has put into the reforming and managing the CIA after the bombing, the appointment of Lockhart also opens up even more possibilities for Homeland moving forward. How does Carrie become reinstated when the head of the agency despises her? How will Saul deal with working for a man who goes against his principles and tactics? How will Lockhart's appointment affect the way that Homeland's version of the CIA conducts operations?
All of these are exciting avenues that the series can explore further during season three, and while I'm incredibly pumped for everything that will happen with Javadi and whether or not Carrie will be able to truly infiltrate his terrorist organization, I'm equally anticipating how she, Saul, and Quinn will be able to work for Lockhart and whether or not our favorite characters can survive in this new version of the CIA.
Other thoughts:
So can Leo please be gone so that Dana can be interesting again and get something else to do besides mope around and recite poorly written, teenage dialogue with an inferior actor. That would be great, Homeland writers. Thank you.
Quinn's reaction to Saul explaining the undercover operation was priceless. I also loved how he told Carrie that "what you put yourself through was incredible." Basically, Peter Quinn is the man.
Loved the scene of Jessica showing up at Carrie's apartment. Incredibly well-acted by both Claire Danes and Morena Baccarin. Great to see how the dynamic between those two characters has shifted since Jess found out about Brody.
What did everyone else think about last night's episode of Homeland?