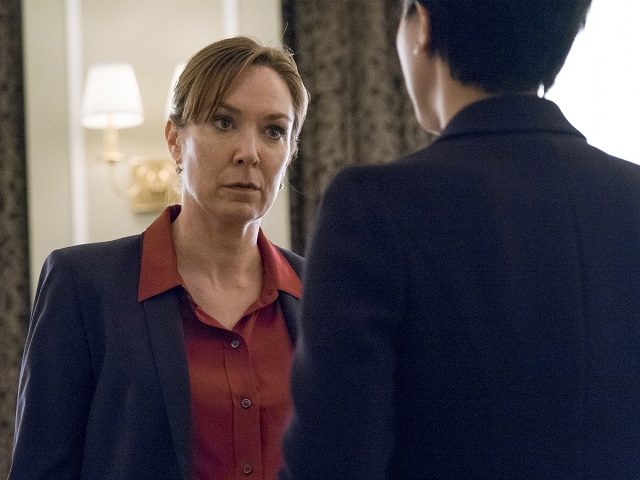 "R For Romeo" is the penultimate episode of Homeland Season 6, and in many ways, it plays like a season finale, giving fans who have stuck with the show throughout this slow-burn season plenty of satisfying moments, such as Carrie and Quinn finally taking down the Man Across the Street and Keane having a face-to-face confrontation with Brett O'Keefe. However, this week's episode doesn't tie up every loose end; in fact, the final moments of "R For Romeo" leave the audience (and the show's characters) in a shocked daze, as Carrie and Quinn survive an explosion that destroys any evidence of foul play in Sekou's death after the two of them discover what looks to be a deadly plot against Keane.
By the end of this hour, it appears that O'Keefe, or whoever is truly in charge, is launching one final attack against the President-elect, and this strike isn't one that's going to damage Keane's reputation; no, it sure seems like the goal of this plan is to actually kill Keane. It's not totally clear how exactly this operation will go down yet, but I would almost guarantee that the extra men that Rob tells Carrie about during their interrupted conversation on the phone aren't coming to protect the President-elect but assassinate her. And perhaps the worst part about the whole thing is that it looks like Quinn will be the patsy that is set up to take the blame for this plot, as Max and Dar Adal discover that O'Keefe has been posting online as Quinn for months, creating his own blog on which he promotes violence towards Keane.
With that cliffhanger of an ending, "R For Romeo" leaves a lot of questions hanging in the air as we head into Homeland's Season 6 finale next week. The most pressing of these questions has to be just how much power and influence does O'Keefe have; it makes sense that he would be using his "sock puppets" to create a culture of anger and distrust on the internet, but he can't possibly be the sole orchestrator of a legitimate, violent attack against President-elect Keane, can he? How could he have the resources to put into motion such an operation, especially without Dar Adal's help (and we know Dar isn't helping O'Keefe to this extent, because he would have never allowed him to pin it all on Quinn)? Here's hoping that we get some solid, concrete answers as to who is exactly behind everything and how they were able to pull it off in next week's finale.
As strong as the cliffhangers are, though, they aren't what make the hour one of the best installments from this season of Homeland. No, what makes "R For Romeo" so special are the episode's many powerful emotional moments. The scenes that stay with me most from this week's episode are Quinn and Carrie's heartbreaking conversations, in which he confronts her about her actions in Berlin and then tells her that there's no love or compassion inside of him anymore–he's nothing but a killer. Carrie's guilt over Quinn's condition has been a major factor in Season 6, causing her to make some reckless decisions that have not only resulted in conflict between the two of them but also in Carrie's loss of Frannie. To have her and Quinn finally be open and honest with each other, in scenes that also feature such raw and real performances from Claire Danes and Rupert Friend, is nothing short of incredible, and it ensures that one of Homeland's longest lasting relationships (second to only the one between Carrie and Saul) gets the amazing emotional payoff that it deserves.
Similarly, Keane's interview with O'Keefe also possesses a great deal of emotional heft but in a different way. For so much of Season 6, Keane has been the victim of criticism and slander, a person who is constantly having to defend herself and can never truly go on the offensive, and that's why it's so damn gratifying to watch her take control for once and call out O'Keefe on all of his BS. Keane even goes as far as to promise to prosecute O'Keefe and others like him once she begins her term in office.
Furthermore, Keane's strength and fortitude throughout her interview is only made better by the fact that Saul is the one that encourages her to engage with O'Keefe in the vicious public arena this is his Real Truth talk show. As Keane herself points out, Saul has no real reason to want to help her, especially since she nearly threw him to the wolves in order to take down Dar Adal. However, if there's one thing that every Homeland viewer knows about Saul Berenson, it's how difficult it is for him to turn his back on his moral compass. Saul knows that at least some of these attacks are coming directly from Dar and others inside the agency, and whether Saul agrees with Keane or not, whether he likes her or not, he knows that this type of behavior is wrong, and it's not what he signed up for when he joined the CIA. He wants the agency to get back to being what it should be, what it used to be.
But what Saul wants or what Carrie wants or even what Keane wants won't matter if the horrible operation that has been set in motion actually comes to fruition, and since the men who appear to be leading the attack against Keane are Special Ops like Quinn used to be, it's going to be very difficult to stop them. At least the Man Across the Street won't be able to provide them with any assistance, though, thanks to Quinn getting vicious revenge for Astrid's death, but that's just typical Homeland: For every minor win our characters get, there's a much more devastating loss on the horizon. Here's hoping that Carrie and Quinn will be able to find a way to prevent tragedy from striking in next week's finale, but no matter what happens, I'm excited to tune in and find out.
Other thoughts:
Major kudos to Jake Weber, who has made Brett O'Keefe into one of Homeland's most despicable villains ever with his fantastic performance. Every time O'Keefe speaks, I just want to punch him in the face, and that's a credit to Weber's work in the role.
When Max was set free, I knew it was too good to be true, but I'm still shocked that he survived this episode. I was sure that Dar would have killed him, and I still wouldn't bet against him taking Max out once he's done using his computer skills next week.
I can't think of a more perfect way of Quinn getting revenge on the Man Across the Street than in the brutal fashion he does in this episode. Yes, it's bloody and vicious and a little disturbing, but it's also well-deserved given all the hell that he's put Quinn and those he loves through this season.
As much as I love how timely and topical this season of Homeland has been, it's been a little too timely at some points, especially with the protesters that we see as Keane drives to the hotel. It feels like we've been seeing protesters that angry and upset on the news every day since November.
With the Man Across the Street dead and Sekou's van now gone thanks to the explosion, I really don't know how Carrie is going to be able to prove that this entire conspiracy exists and ensure that justice is served for Sekou's death. Plus, do we even know if the Solicitor General even makes it out of the house alive?
My dark horse guess for who is behind everything: Robert Knepper's character. We saw him for a brief second in the flashbacks that Quinn had in last week's episode (which means that he'd be more familiar with the Special Ops team than O'Keefe would be, obviously), and plus, you don't hire an actor like Robert Knepper just to have him show up for a scene or two throughout an entire season of television.
What did everyone else think about this week's episode of Homeland, and what do you hope to see from the Season 6 finale next Sunday? Comment below and let me know.
[Photo credit: Jeff Neumann/Showtime]
Homeland Season 6 Episode 11 Review: "R For Romeo"
Summary
Keane confronts O'Keefe, and Carrie and Quinn make a shocking discovery in the stellar penultimate episode of Homeland Season 6.