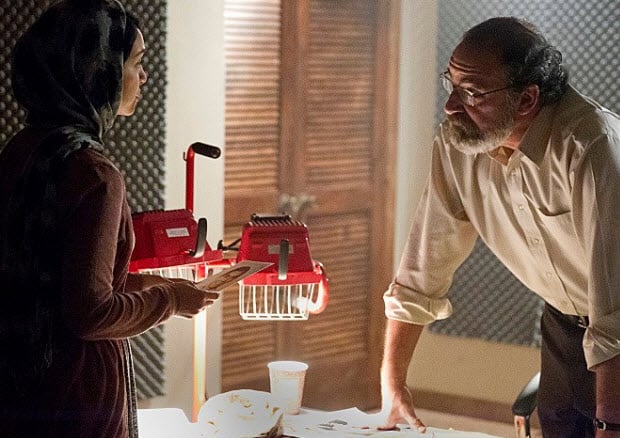 I have a weird relationship with Homeland this season. Unlike a lot of other TV critics that I've read, I don't think season three of Homeland has been horrible. Or painful. Or cringe-worthy. Instead, I've just slowly become more and more detached from the show, without anything about it really making me upset or angry. During its first two seasons, Homeland was like the coolest girl in school that I had the biggest crush on. But now? Homeland is sadly becoming that one friend you don't really talk to that much but still hang out with because you're neighbors and he guilt trips you into spending time with him. For a series that I used to call one of my favorite shows on TV, Homeland is starting to feel like an obligation, and I can't really figure out why.
Perhaps it has to do with Javadi and his, in my opinion, over-importance so far this season. We are seven episodes into the third season of Homeland, and Javadi, in some way or another, has been the focus of the show up until this point. What worked so well in the past two seasons of Homeland is that Abu Nazir was a looming, always present threat; he didn't need to be on the screen or constantly discussed by the characters.
Furthermore, the series has had other interesting storylines to deal with in past seasons that complimented the main CIA arc. Was Brody a terrorist? How would Carrie deal with her bipolar disorder while keeping it from the CIA? Would Carrie and Brody's relationship last, and how would it affect the Brody family as a whole? Unfortunately, season three's other plots have either been mind-numbingly dumb (I'm talking about pretty much everything the writers have stuck Dana with. That's right, I'm looking at you, Leo and Angela) or nonexistent. All we have to primarily care about is Javadi and his role in the story and that is a lot to ask of a character that we have only just met.
However, not all is lost on Homeland. Thankfully, we still have Peter Quinn, who I'm finding to be the character that I am most invested in this season. Quinn's guilt and fatigue over what the CIA requires agents like him to do is a really interesting and compelling avenue for Homeland to explore, and it adds more depth to Quinn's character, ensuring that he's more than just a cold-blooded assassin or wise-cracking romantic option for Carrie. The scene tonight between Carrie and Quinn, when he admits that confessing about the murders of Javadi's ex-wife and daughter-in-law made him feel better, even though he wasn't the one who killed them, was by far one of my favorite scenes of the entire episode.
Another storyline that Homeland has going for it as it moves forward is the tension between Carrie and Saul. In Carrie's car ride with Javadi, the Homeland writers made sure to hammer home the fact that it was Saul's idea to put her through all that she went through during this operation, even though it has been incredibly dangerous and damaging for Carrie. Carrie's anger and feelings of betrayal towards Saul were touched upon a little bit at the end of this season's fourth episode, when she told him that he should have got her out of the psych ward earlier.
However, I believe that moment will not be the last and only time we see Carrie lash out at Saul for his actions and that this muted conflict will continue to slowly burn in the background until it is ready to explode. And maybe when it does it'll be so crazy and so intense and so awesome that it'll make me feel as passionately about Homeland as I used to.
Other thoughts:
So I forgot to mention that another big part of this episode was both Carrie and Saul trying to get Javadi to confirm that Brody wasn't the one who planted the bomb in the car on the day of the Langley bombing. Javadi not only told Carrie that it wasn't Brody but also pointed her in the direction of Leland Bennett (Javadi's lawyer, the guy Carrie met a few episodes ago who helped get her into Javadi's inner circle). Part of me thinks this is all a trick by Javadi. Part of me thinks it's real. And all of me has no idea how the heck the Homeland writers are going to get Brody to become an integral part of this series again, even though Carrie and Quinn are going to do their best to clear his name.
As I said last week, if Mira is going to be sleeping with another guy and is clearly not happy with Saul, can she just let him go already? Watching Saul give his big speech to Mira over the phone while her lover sat in bed next to her was so sad, and so was the last scene of the episode, where Saul comes home and tells Mira that she's beautiful, not realizing how much is still wrong with their marriage.
Call it juvenile or immature or even kind of stupid, but I absolutely loved Saul locking Lockhart into the conference room and leaving him there with the lights off. My roommates and I were all hysterically laughing.
Dar is now in on the Javadi operation with Saul, Carrie, and Quinn. I liked and didn't like how easily it was for Dar to accept Saul's actions. Part of me is happy that there is no more unnecessary conflict between him and Saul, but I also think that Homeland wasted some good dramatic material with not having Dar team up with Lockhart to go against his old friend and colleague.
What did everyone else think about last night's episode of Homeland?
[Photo via Facebook]