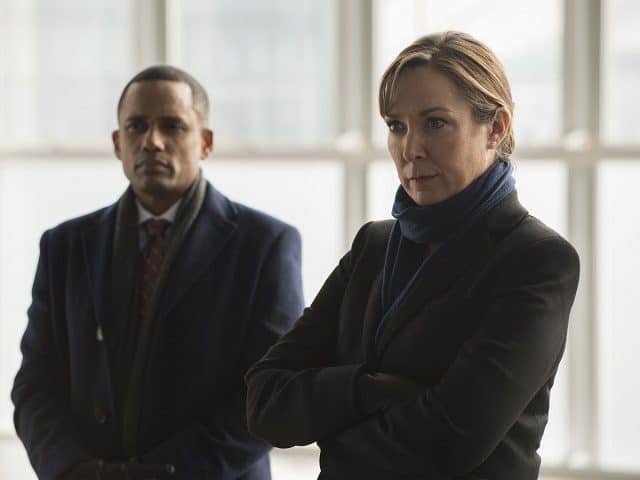 The good guys just can't seem to get a win in Homeland Season 6. Carrie, Saul, and Quinn all suffer devastating losses in "Alt.Truth," ones that will not only affect their lives but, particularly in the case of Saul, the lives of potentially millions of Americans. The stakes continue to get higher and higher this season on Homeland, despite the fact that this year's stories feel more personal than ever, and the main reason for that is because Dar Adal is the mastermind behind all of these conflicts, attacking the most vulnerable areas of his three colleagues, our three main characters.
But Carrie, Saul, and Quinn aren't the only people that Dar goes after in "Alt.Truth"; in fact, perhaps the most personal and vile plan he puts into place is against President-elect Keane, as he works with Real Truth host Brett O'Keefe to manipulate footage that will present Keane's son, Andrew, as a coward and horribly damage her presidency before she even steps into the White House. While this storyline may not be the most significant one from this week's episode, it's certainly the most relevant one, especially following the presidential election that we just had here in America, an election that featured smear tactics and fake news and false comparisons from both sides, leaving most people in the United States disheartened as they saw scandals become more important the country's actual, real-life issues. It doesn't matter that what Dar and Brett are saying is false as long as they can make people believe it's true, make people believe that Keane and her son are both cowards, despite the fact that both of them have shown more bravery in the face of adversary than either Dar or Brett.
Furthermore, this development goes to show just how far Dar and his group are willing to go to take down Keane's presidency. Now that she's opening up about her son's death and discussing it publicly, they needed to find a way to destroy the image of her as a "gold-star mom," and by distorting Andrew's history as a soldier, they guarantee that not only most of the American public will turn on Keane but that she will second-guess her own decision to talk about Andrew to the press, a lack of faith that could be even more damaging than whatever opinion the American people have of her.
However, Dar's planned personal attacks against Keane aren't the worst actions he takes against her during "Alt.Truth." No, the most potentially harmful act that Dar is a part of is Javadi lying to the President-elect, as Saul and Carrie set up a meeting between him and Keane so that he can reassure her that Iran is not cheating on the nuclear deal. Instead, though, Javadi feeds Keane the same lie that Dar Adal has been pushing all season long on Homeland, that Iran has set up a secret, counter-program that the United States knows nothing about; he even goes as far as to tell Keane that Iran will not be a friend of America, and despite the protests of both Carrie and Saul, Keane takes Javadi at his word, believing the false report he gives and wondering why she even trusted Carrie in the first place.
While it's a little disappointing that we don't see how exactly Dar was able to forge an agreement with Javadi, it makes sense that the Iranian agent would switch over to Dar's side if he was promised more safety and security. Throughout his time in America, Javadi has seen Saul act like a scared dog, unsure of where and when he's getting his next meal; it's been clear to him that Saul is on the outside of whatever is really going on in the CIA and that his resources are minimal compared to someone like Dar Adal's. Since Javadi has always been someone that puts himself first before anyone else, it makes complete sense that he would bet on the "winning horse" that is Dar and betray Saul, and the fact that what we don't know that this turn is coming makes it all the more effective and shocking when it does.
But Javadi's actions don't solely affect Saul; they also directly impact Carrie's relationship with Keane. Whatever connection the two women had before seems to be gone now following this debacle of a meeting, not to mention Carrie's tearful call to Keane near the end of last week's Homeland in which she brought up her son's death. Although Carrie reconnects with Saul in this episode, leading to the two of them working together, she ends the hour with even less resources than she had previosuly, and it will certainly make whatever plan she and Saul come up with next much more difficult to pull off.
However, despite the bad spots that both Carrie and Saul find themselves in at the end of this week's Homeland, it's nothing compared to the dire situation that Quinn faces, as the Man Across the Street opens fire at him and Astrid at the cabin. While the outcome of the situation isn't exactly shocking (Quinn leaves the shooting wounded but still alive, while Astrid is shot and killed), that doesn't stop it from being one of the most intense (if not the most intense) sequences Homeland has pulled off this season, as it reminds us yet again of the desperate lengths Dar will go to in order to hide his role in the New York explosion, and also the constant danger that Carrie and Quinn find themselves in this season, despite the fact that they're not dealing with extremists on foreign soil but a former friend that has turned into a foe.
Furthermore, "Alt.Truth" does a nice job of playing with Quinn's paranoia again, as he attacks a man that he believes is the Man Across the Street before discovering that it's not. That reveal, that the man that Quinn hits with a crow bar at the motel is actually an innocent, lulls both him and us into a false sense of security, which is why the violent final minutes of the episode are so surprising. Quinn ends this week's Homeland bleeding from his body as he hides underwater, one of his best friends lying dead on the ground near him; I'd say he suffers the worst loss of the episode, but hopefully, Quinn can join Carrie and Saul soon as they all recover from the damaging actions of Dar Adal and find a way to stop him in the final four episodes of Season 6.
What did everyone else think about this week's episode of Homeland? Comment below and let me know.
[Photo credit: Jeff Neumann/Showtime]
Tell us what's wrong with this post? How could we improve it? :)
Let us improve this post!