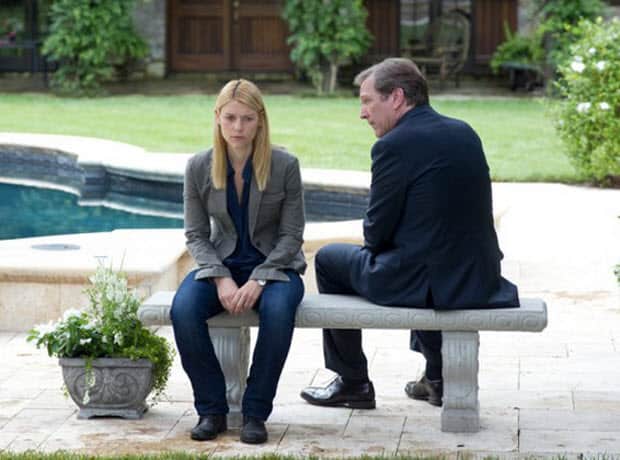 So the end of last night's Homeland, entitled "Game On," dropped a bomb on us, and while I imagine that a lot of viewers and critics are upset with Homeland after last night's big twist that Saul and Carrie have actually been working together this season in order to have Carrie infiltrate the Magician's circle, call me one of the few that actually bought it. Even though I still need the series to answer the question of when Carrie and Saul actually concocted this plan (if this has been set up since before the beginning of the season, like Alex Gansa suggested in an interview with TVGuide, then I'm less inclined to believe it), I'm more excited that Homeland has finally provided Carrie with a purpose for this season and that her relationship with Saul is back to being the central focus of the show again.
Before we discuss the twist from last night anymore, however, we should focus on everything else that led up to it. Carrie being "on the run," after getting released from the hospital, was some extremely impressive filmmaking from Homeland's director, David Nutter. Many of the shots from "Game On" put the viewer in the point of view of an intruder invading someone else's privacy; as we watch Carrie, it's as if we are one of the men in the cars following her every actions, trying to make sure that she doesn't step out of line. This type of direction was very similar to much of season one of Homeland, when Carrie had the cameras placed inside Brody's house in order to spy on him, and I really appreciated the technique and skill that was put into it.
Another strong component that made last night's episode work was (as always with Homeland) the performances. Claire Danes was nothing short of brilliant in the scene between Carrie and Leland Bennett, as I actually believed that Carrie had turned on the CIA and was willing to provide information in order to help Bennett and his associates. Danes was also magnificent in the final scene of the episode with Mandy Patinkin, as Saul cradled Carrie is in her arms, and she told him that he had left in the hospital for too long, displaying the raw and real emotional scars that Carrie now bears, even if this whole ordeal was established as an undercover operation.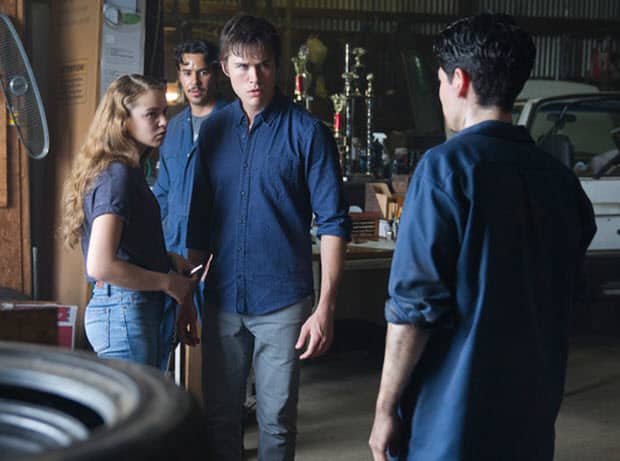 Furthermore, while Danes was consistently outstanding throughout last night's Homeland, it was because of Saul's warmth and pride, incredibly portrayed by Patinkin, that I was able to buy into the final Carrie-Saul twist. Saul's proclamations that Carrie is "the strongest person I know" and that she has "been very, very brave" show how much Saul truly cares about Carrie, contrasting with the somewhat detached use of her as a member in this operation. To Saul, Carrie is a friend and family member; to the CIA, Carrie is nothing more than expendable asset.
And maybe that's why I'm so excited to see what Homeland can do now, moving forward with its third season. This is new ground for Saul and Carrie, and new ground for the series as a whole. While Carrie has regained her agency as a character, she is no longer the CIA's manic marvel; instead, she has become just another piece on the chessboard, even if she has the ability to take out the enemy's king.
Other thoughts:
– I didn't mention Dana or Leo in my review because I don't really have much to say about them except "Ugh." While the scene with Dana remembering her dad at the military base (the one last true thing that he ever said to her being "goodbye," worked amazingly well), everything else about this storyline, from Dana busting Leo out of the treatment center to the revelation that he may be an unstable killer, completely fell flat.
– Virgil returned! So did Mike! And they were both awesome! (Virgil's return was a little more awesome, but that's because Virgil is just inherently better than Mike. Sorry, Mike.)
– I'm really excited to see how Quinn and Dar react to Saul and Carrie's undercover operation after they find out about it.
What did everyone else think about last night's episode of Homeland?