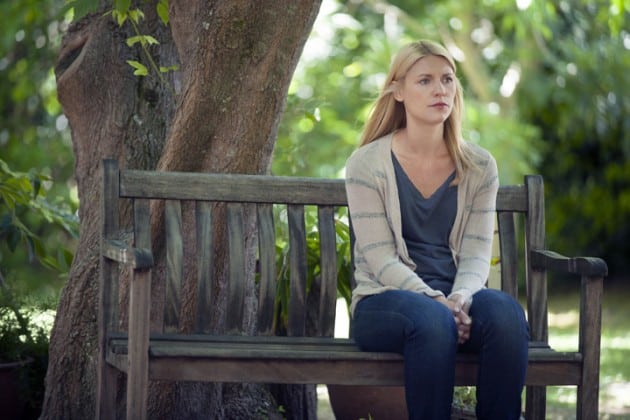 We've known that Homeland's Carrie Mathison will find herself in Berlin for months, and now we finally know when we'll see her in action in this new locale, as Showtime has announced the premiere dates for Homeland Season 5 and The Affair Season 2. Both series will return for their respective seasons on Sunday, Oct. 4, with Homeland airing at 9 p.m. and The Affair following it at 10 p.m.
Season 5 of Homeland will pick up two years after Carrie Mathison's (Claire Danes) ill-fated tenure as Islamabad station chief. Struggling to reconcile her guilt and disillusionment with years of working on the front lines in the "war on terror," Carrie finds herself in a self-imposed exile in Berlin, estranged from the CIA and working as the head of security for a German philanthropist.
In addition to Danes, the fifth season of Homeland will also star returning cast members Rupert Friend, F. Murray Abraham, and Mandy Patinkin. Newcomers joining the show as series regulars include Sebastian Koch, Miranda Otto, Alexander Fehling, and Sarah Sokolovic.
Meanwhile, the second season of The Affair will explore the emotional and psychological effects of an affair that destroyed two marriages, and the crime that brings these individuals back together. This season, the provocative drama will be told separately from four different perspectives, revealing four distinct truths.
Alison (Ruth Wilson) is a young woman attempting to move on from tragedy and building a lasting relationship while contending with the judgment of others and her own self-doubt. Her lover Noah (Dominic West) is a burgeoning writer trying to balance the temptations of success, the family he left behind, and the woman he loves. Noah's former wife Helen (Maura Tierney) is attempting to piece her life together while navigating divorce proceedings, care for her children, and her parents' noxious influence. Cole (Joshua Jackson) is Alison's former husband struggling to overcome past heartbreak and start a promising new life. Yet the long-term ramifications of the affair continue to shape these lives, and will lead to an event that changes everything once again.
Check out the most recent trailers for Homeland Season 5 and The Affair Season 2 below:
Are you excited for the returns of Homeland and The Affair? Comment below and let us know.
[Photo via Showtime]