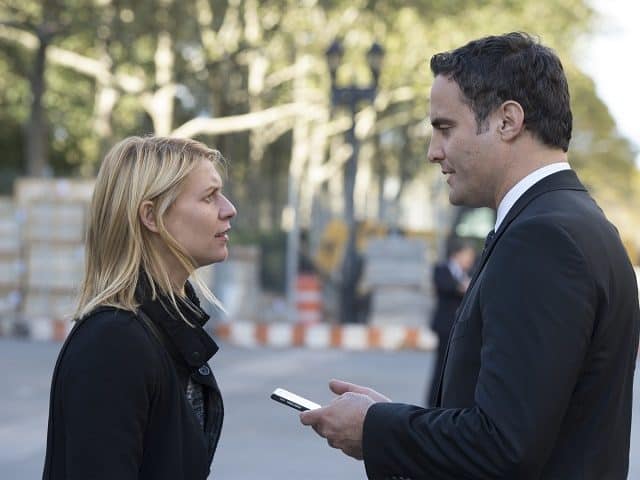 Showtime has made this week's episode of Homeland, "The Return," airing on February 26 at 9 p.m., available early to viewers on On Demand. This review will discuss "The Return" with full spoilers. Please watch the episode before reading this article if you do not want to be spoiled.
"The Return" officially marks the halfway point for Homeland Season 6, and while I wasn't too impressed with the first few episodes from this season, which were decent enough but lacked the energy and emotion I've come to expect from this show over the years, the past three installments have kept my eyes glued to the screen, as each new character decision or reveal amps up the tension and pushes Season 6 into new, exciting directions. However, as strong of episodes as "A Flash of Light" and "Casus Belli" are, they still don't hold a candle to this week's hour; "The Return is easily the best episode yet of Homeland Season 6, and it achieves that title by not only being the most intense hour of the season (yes, I'd argue that it's more intense than "Casus Belli") but also by personalizing all of this season's major conflicts in a way that the series hadn't done before.
So what do I mean by saying that the conflicts get more personal in "The Return"? Well, for one, Carrie nearly comes face-to-face with the man across the street, the man who we can pretty much definitively say placed the bomb in Sekou's van and the man who shoots and kills FBI Agent Conlin after he and Carrie get too close to figuring out what and who is exactly behind the explosion in New York. Carrie arriving at Conlin's home only to discover his dead body and the man across the street lurking around throughout the house is one of the most tense scenes Homeland has produced in a while, and it reminds Carrie (and us) of the dangers involved with what she used to do. So much of Homeland Season 5 and even Season 6 have been about Carrie trying to escape her past and leave everything and everyone involved with the CIA behind; however, no matter where she lives or what she does, Carrie always finds herself pulled back into the fold, and with Frannie potentially become a target in this evil game, she must do whatever she can to make sure her home and everyone she lets in it are safe and secure.
And when it comes to protecting her child and her home, Carrie is more on her own than ever in "The Return." Sure, she has Max come by to spend the night and install security cameras to help her watch out for possible intruders, but she's without Quinn, who's locked up in Bellevue and doesn't even want to speak to Carrie when she's able to pull some strings and get in to see him. She apologizes for not listening to him sooner about the man across the street, telling him he was right and asking for any more information that he might have on this violent terrorist. But Quinn still can't get over what happened at her home; she asked him to protect Frannie and he did, so why did she tackle him down? Can he even trust her anymore, or could Carrie be working with the people behind everything? Despite the fact that his suspicions have been proven correct, Quinn's paranoid nature still prevents him from making much ground in his investigation, and here, in this episode, it causes him to push Carrie even further away.
Without Quinn or Conlin to help her and without any hard evidence to go after the man across the street or the shady organization that he works for (again, all the information about that private company died with Conlin), Carrie is more alone than ever, which makes the image of her sitting by Frannie's bed holding a pistol all the more striking. Here in Homeland Season 6, we might be seeing Carrie at the most vulnerable she's been since Season 1; in fact, an argument could be made that she's even more vulnerable now than she was in that first season, since she's without any proof and any agency contacts and resources to aid her. Again, this makes the threat and the conspiracy to hide it, no matter how large it actually is, feel very small-scale and much more personal than the antagonists we've seen over the past couple of seasons.
But things aren't only personal for Carrie. Saul's investigation into Tovah Rivlin gets much more exciting in "The Return" after his Russian contact, Victor, shows him photos of Tovah, a Mossad agent, meeting with Dar Adal on what appear to be U.S. soil. Similar to Carrie, it doesn't look like Saul has any major evidence to throw against Dar and whatever he's up to with Tovah (Victor tells Saul that he's not allowed to keep the pictures he shows him, although it's unclear if Saul takes the photos with him or not), but the fact that we know that Dar is or has been meeting with an Israeli agent makes whatever stake he has in the Iran deal much more complicated and Saul's storyline for this season much more interesting. It seems like the two friends are on a collision course, and the end result should certainly be explosive. However, Dar Adal has his hands in so many storylines this season from Saul's to Carrie's to even President-elect Keane's that it feels like almost any episode could lead to a major confrontation between the Black Ops Director and one of the show's other main characters.
Speaking of President-elect Keane, her storyline also fits in with the more personal nature of "The Return," as a conversation with Mrs. Diehl about their sons, who both died while fighting in Iraq, leads to her opening up to the press. In an inspired speech that Keane gives upon returning to New York City, she finally discusses the death of her son Andrew in public and how his bravery and heroism reflects the same type of courage and strength that was shown in New York on the day of the explosion. It's an entirely new side of Keane, not just to the reporters but also to us as the audience; we've never seen her be so authentic and emotional, and her honesty (or who knows? Maybe it is just a political tactic) in this situation clearly works, leaving reporters speechless about what to ask next and providing the country that she will soon lead with a message of inspiration rather than one of fear. To be honest, it's the first time that we've seen Keane do something truly presidential, and even though Mrs. Diehl didn't vote for her, in that moment that Keane talks about Andrew, it's hard to imagine anyone who wouldn't put their faith in her to lead the country. Hopefully, this development will result in more vulnerable moments for Keane in future episodes, especially as she continues to face criticism and resistance from people like Dar Adal and the current president, President Morse (played by the always terrific Alan Dale).
Plot-wise, it's unclear where Homeland will head next in the back half of Season 6. With Conlin's death, the reveal of Dar's meetings with Tovah, and the surprise reunion between Astrid and Quinn (which happens in the episode's final moments), pretty much anything could happen next, and we are only just beginning to see what and who was really behind the explosion in New York and Sekou's tragic death. However, no matter what Homeland tackles in its next episode, I'll be grateful that the series took the time in "The Return" to get closer to its characters and make its worldwide conflicts more intimate. As I've said before, that version of Homeland is the best version, and the return of that version this week is why "The Return" is Season 6's finest hour yet.
Other thoughts:
With Astrid's return, do we think that German Intelligence will play a bigger role in the back half of Season 6, or will her presence on the show be more about helping Quinn reign in his paranoia and adjust to the challenges of his new life?
I can't get over how tense that scene at Conlin's house is in this episode. We know nothing about the man across the street, and maybe that's what makes him such a terrifying threat. Also, I missed seeing Carrie carry a gun. Hopefully, she won't have to use one to protect Frannie.
So, after this episode, can we go ahead and call Dar Adal the main villain of the season? He seems to be betraying and double-crossing everyone in Season 6, including Saul now. Homeland can't paint him as this evil and then walk it away again like it has in seasons past. I think Dar's going down this season, and as much as I love F. Murray Abraham, I'd say it's time he does.
As I mentioned at the top of this article, this review has been posted a little bit earlier than usual since Showtime made this week's episode available early on On Demand because of the Oscars telecast tonight. Expect my reviews at their normal, 10 p.m. EST time for the rest of the season.
What did everyone else think about this week's episode of Homeland? Comment below and let me know.
[Photo credit: JoJo Whilden/Showtime]