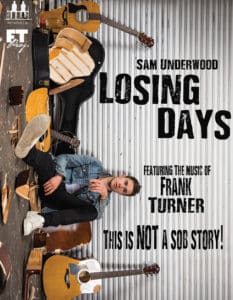 "We should probably talk"
FTP Artistic Director Sam Underwood (TV's Fear The Walking Dead, Homeland, Dexter, The Following) is mostly manic, and definitely depressed!
Losing Days follows his hilarious and harrowing journey of losing his mind – and finding it again – set to the tunes that got him through. Featuring live music from Frank Turner's 'Tape Deck Heart' album, and the debut performance of The Boxroom Larrys.
1 in 3 people experience some form of mental illness in the course of their life. For such a pervasive condition in society, opening up about the internal struggle many people deal with on a day to day basis is still surrounded by skepticism, shame and silence. Losing Days is a true story seen through a shattered kaleidoscope, delving into the superhero struggle of mental illness, and smashing the taboos that surround it.
This is NOT a sob story!
Fundamental Theater Project presents an Initiative | 26 production
Losing Days
Created, performed and produced by Sam Underwood
Musical Director/performer: Maks Kubis
Drums: Jodan Bieber
Bass: Gabe Simon
Associate producers: Virginia Podesta and Jamie Sims
Tickets for July 28th – Atelier Roquette can be purchased here.
Tickets for July 29th- The Sheen Center-Black Box Theater can be purchased here.
Losing Days is also part of the Edinburgh Fringe Festival 2017 at the New Town Theatre.
Tell us what's wrong with this post? How could we improve it? :)
Let us improve this post!