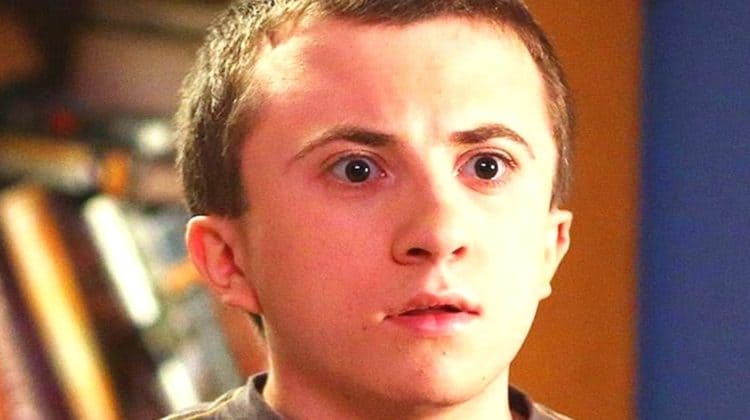 For all of nine seasons, we kept up with the Hecks on The Middle. As the Heck parents struggled to find work-life balance, we watched them put their best foot forward, and sometimes give up on having a legacy altogether. Parenting wasn't the easiest, especially when it came to their youngest, Brick (Atticus Shaffer). A self-proclaimed nerd, Brick only worried about books. His head was full of information. He took it all in, one page after another, marveling at the feeling of paper between his fingers. When he was done, he took in more knowledge, so much that sometimes he made a living out of it. Although Brick's reading game was top-notch, the same could not be said for his social life. He had one too many awkward moments. Here are the most awkward of them all:
1. Brick Preferred To Read During His Birthday Party
For children, birthday parties are supposed to be fun. They are full of friends, friends of friends, ponies, clowns, cakes, snacks, and all the colorful hats a child could think of. In the case of Brick Heck, however, his ninth birthday was an ode to his favorite pastime; reading. Brick had invited his class over, and he had the perfect activities lined up for his party." Well, thank you all for coming to Brick's birthday party. Brick thought it'd be fun to start with some quiet reading time here and then later we'll all walk to the library," Frankie Heck (Patricia Heaton) announced. Though the birthday was planned in such short notice, Brick's mom managed to pull it off.
2. He Found His First Girlfriend In An Awkward Way
As laid back as Brick was, his love interests had an equally strange aura and an aggressive one at that. As much as he did not like to speak up, the ladies in his life did so with such authority. Brick didn't mind because, frankly, he did not care. When Brick first announced that he had a girl in his life, his parents were skeptical. They thought it was some imaginary girl in his head. That couldn't have been far from the truth. Olivia had walked up to Brick, who was reading during lunchtime at the cafeteria, and announced that they were going out. " You are my boyfriend now," she said. Brick did not protest.
3. Olivia Was A Handful To Take In
In the relationship between Brick and Olivia ( Ronni Hawk), it was clear that the girl had taken control. When Brick was asked whether he liked her, he said, " She says I do." According to Brick, the only fascinating thing about Olivia was the fact that she wore a red ribbon. As Brick's girlfriend, Olivia had a list of demands. Brick was supposed to buy her ice cream and tell her she was pretty. While Brick was a certified introvert who loved to stay indoors and read books, Olivia was the bubbly kind who wanted to play and wouldn't take no for an answer. Within no time, the demands of having a girlfriend became too much and Brick was ready to call it a day.
4. Playtime Would Involve 'Playing Librarian'
Given his love for reading, Brick had a strong relationship with the library. When he wasn't coercing his parents into escorting him to one, he was super excited that a librarian was coming to have dinner with the family. To Brick, that was the ultimate 'date'. " A librarian is coming here? An actual librarian? Oh my Gosh, but what will I wear?" A nervous Brick asked. In the eyes of Brick, the library was his kingdom and the librarian sat at the throne. When it came down to playtime, he preferred to play librarian. The game basically involved Brick reading a book while the other child maintained silence and pretended to be a librarian. After six hours, they were expected to tell Brick the library was closing.
5. 'Everybody Read Now': Introducing Bernie The Bookmark
As if making his classmates read books during his birthday was not antisocial enough, Brick still had more book-related antics up his sleeve. In a passionate moment, Brick showed up to represent a part of the school that was easily overlooked; the library. According to Brick, the athletes often got all the glory, and the library deserved some shine too. What did he do to bridge the gap? Brick showed up in front of 'cool' students as Bernie the Bookmark, a red and black mascot meant to be an ode to the hundreds of pages he had flipped through over the years. Brick pulled his best moves to a rendition of 'Everybody Dance Now' that suited his agenda perfectly.
6. Brick Tried To Get Into The High School Spirit
In a bid to have the full high school experience, Brick decided to get into the high school spirit. His parents were taken aback by the sudden change, but Brick had the perfect defense planned. " As you know, I live life on the periphery, on the fringes of fun. But, I've decided I want to graduate having lived the high school experience. It will require total immersion." He explained. From a past of loathing sports, Brick had turned over a new leaf and was now very invested. He had a couple of things lined up, including decorating his locker and participating in a school prank. Brick was unearthing a new version of him that was open to taking selfies. As for cheering, the Bears were 'going dooown!!'
7. Brick's Whispers Were Soothing To Him, But Annoying To Others
In many conversations, Brick would often end the talk with his signature whisper. Most of his family found the habit annoying, but to Brick, it was soothing at best. It didn't matter whether he was trying to make a new friend, lying, or trying to convince his siblings of something. Brick was bound to pull off a whisper at any stage. His teacher thought he was a little over the edge. In addition to wandering alone, Brick would lower his shorts in the full glare of other students and touch his teacher inappropriately. Upon inviting Brick's parents to school, Frankie and Mike ( Neil Flynn) tried to dismiss the teacher's observations. " Brick isn't your typical kid but he is funny and sweet and probably a genius," they said. Despite his awkward traits, Brick's parents had accepted him as any parents would.
Tell us what's wrong with this post? How could we improve it? :)
Let us improve this post!