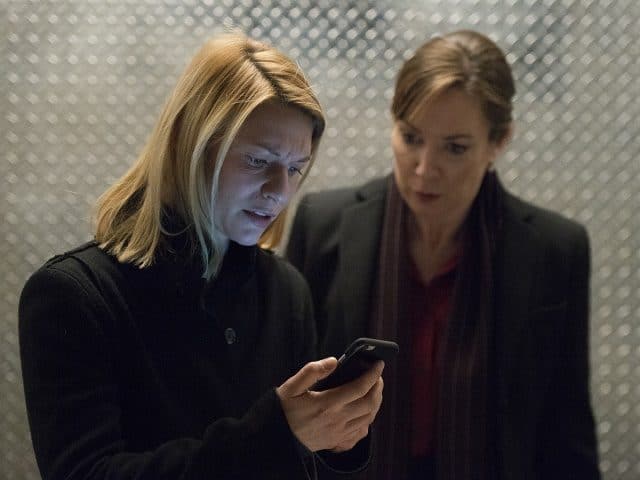 Homeland isn't a show that's well-know for delivering happy endings, particularly in its season finales, and that is certainly the case with tonight's episode, "America First," which is a thrilling and devastating conclusion to Season 6. This finale continues to prove that, aside from a select few characters like Carrie, Saul, and Quinn, there are truly no "good guys" on Homeland. For as evil or radical as one side may appear to be, the other can be just as cruel and vicious, and we witness that in both halves of "America First," through the actions of McClendon and his men but also through the decisions that Keane makes as president in the episode's final moments.
But before we turn to Keane and her presidency (she's 34 days into it after the six-week time jump happens midway through the finale), let's focus our attention on the first half of tonight's Homeland, which is as action-packed and exciting as this series has ever been. As we saw with the end of last week's episode, it's clear that someone, who turns out to be General McClendon (played by Robert Knepper), is trying to frame Quinn for the planned assassination of President-elect Keane, and his plan is quickly put into motion when a fake bomb threat is called in on the hotel that Keane is staying at, which forces her and her people to begin driving out into the streets of New York City.
Fortunately, Carrie and Quinn get to the hotel with enough time to try to prevent Keane's assassination; Carrie rushes inside to warn her, while Quinn scouts the perimeter of the hotel, looking for the trained soldiers that are armed and ready to fire. However, the two of them aren't the only ones who help, as Dar Adal actually plays a major role in stopping Keane's assassination by interrogating a U.S. senator for information and passing along that intel to Carrie so that she and Quinn can better prepare themselves. It might seem like a surprising move for Dar to call Carrie like he does, but he's doing it all to protect Quinn; as we've seen throughout Season 6 and past seasons of Homeland as well, Dar deeply cares about Quinn and doesn't want to see him be framed for this heinous crime.
Ultimately, Dar's actions do help Carrie and Quinn save Keane's life, but it comes at the cost of Quinn's. In an effort save both Carrie and the President-elect, Quinn drives them away from the two Deltas that have infiltrated the hotel, but the only path for Quinn to take once he's on the street is right into enemy fire. McClendon orders his men to shoot and kill Quinn, claiming that he is the one attempting to assassinate Keane, and while it looks like, for a moment, that Quinn might be able to survive this, multiple bullets burst through the windshield of the car and hit him. He continues driving as far as he can, getting Carrie and Keane away from the gunfire, until he can't drive anymore, as blood pours from his mouth and his head falls. It's an incredibly heroic sacrifice by Quinn, the complete inverse of what McClendon and O'Keefe were trying to frame him for, and while it's a sad and tragic way for him to die, it's a much more fitting ending for Quinn's character than his potential death at the end of last season. Here, in his final moments of the finale, Quinn continues to be what he always has been, a patriot, and after last week's episode, in which he told Carrie that there is no love inside of him and that all he is or would ever be is a killer, he dies in order to save the lives of the future president and, more importantly, the woman that he loves.
And it's clear that Quinn loved Carrie and that she loved him, too. While the two of them never actually entered into any type of real, romantic relationship, they made their feelings for each other known through their actions, whether it be Quinn's sacrifice or Carrie allowing him to live in the apartment below her after visiting him nearly every day at the hospital. Despite what earlier moments from this season might have tried to suggest, Carrie's devotion to Quinn was not a byproduct of her guilt over his condition; sure, that guilt ate at Carrie, but it never consumed her in the way that her love and compassion for Quinn always did.
The two of them may never haven't gotten their timing right and it's tragic that they'll never have the opportunity to truly be together, but that doesn't rob their connection of its power. Need proof? Simply watch that marvelous scene of Carrie looking through Quinn's copy of Great Expectations, in which she finds several photos of Quinn's son, John Jr., and one picture of herself. Despite all of Quinn's protesting and posturing about how he no longer had any love left inside him, it's absolutely clear by the end of tonight's Homeland that he had plenty, and that it was all for Carrie and Frannie. They were his family.
But while Quinn would definitely be happy with how his death saved Carrie's life and ensured that Frannie and her mom will be together very soon, I'm not too sure how he would feel about what President Keane is doing with her new lease on life. It makes total sense that Keane would arrest and convict the numerous people that conspired against her, such as Dar Adal, who finds himself in a military prison at the end of the hour, but she takes things way too far by arresting and detaining countless other agency officials who have no direct ties to the conspiracy, including Saul. For the first time, we see Keane abusing the power of her new office and taking action that doesn't serve justice but, as Carrie points out, fits with her new political ambitions.
Does the fact that Keane wrongfully goes after all of these individuals mean that she should have been assassinated? Of course not. However, for the first time all season, Homeland shows us that Keane might not exactly be the president that she promised she would be, and it gives some merit to Dar Adal's concerns (near the end of the finale, Dar calls his actions "unforgivable" but doesn't necessarily believe they're wrong, telling Saul that there's something distinctly "un-American" about Keane).
More importantly, though, Keane's decisions cause a major, irreparable rift between her and Carrie, as she won't even let Carrie into her office at the end of the episode, even though she had just offered her a permanent position as a senior adviser only days before. It's clear that Carrie's newest enemy isn't a terrorist from overseas or someone inside of the agency; no, it's the commander-in-chief inside the White House.
That final shot of the episode, with Carrie staring angrily at the Capitol Building, after having been escorted out of the White House on the orders of Keane's new chief of staff, David Wellington, is very telling for the type of conflict we could see from Homeland next season. Carrie spending Season 7 fighting against the President that she spent nearly all of the previous season trying to protect, and by extension, the entire U.S. government–that's a very unique and exciting direction for the series to head in next year, and I can't wait see it all unfold.
Other thoughts:
It turns out that the Solicitor General was killed in the explosion during last week's episode and that he wasn't involved in the conspiracy against Keane in any way. Poor guy. Just in the wrong place at the wrong time.
Whether she's living in New York or D.C. next season, it looks like Carrie will have full custody of Frannie again after her home inspection goes well. I'm curious to see how long the time jump between the end of Season 6 and the beginning of Season 7 will be and if Homeland will decide to age Frannie up any more than the show already has.
I hope with Saul getting arrested that Carrie will put in more of an effort into reconnecting him with him, especially given Saul's constant, unwavering concern for her. One of the major weak spots of Homeland Season 6 was that the Carrie/Saul relationship hardly got any focus, aside from maybe one or two episodes, and I hope Season 7 rectifies that problem by giving the two of them much more screen time together.
Do you think this is the last we've seen of Dar Adal? It would be a shame for Homeland to lose both Rupert Friend and F. Murray Abraham, but I can't see how Dar's character continues to be relevant after this season.
When Season 6 first began, I wasn't sure how I felt about Homeland bringing back Quinn, but after having watched the whole season now, I can't stress how smart and effective a decision it was. Quinn was the beating heart of Homeland for most of Season 6, and Rupert Friend, who has always been terrific on this show, delivered another spectacular performance. I've been a huge fan of Quinn's character since he was first introduced back in Season 2, and he will most definitely be missed.
"What you did took balls. People like a president with balls."
"He saved our lives. What was his name?" "Peter Quinn."
And that will do it for Homeland Season 6 here at TVOvermind! Even though it got off to a slow start, this season of Homeland might be my favorite one since Season 2, especially with how it all came together in tonight's excellent finale. Thank you all so much for reading, commenting, and sharing these reviews over the past couple of months. I greatly appreciate it, and I will hopefully see you all back here next year for Season 7!
What did everyone else think about the Homeland Season 6 finale, and what did you think of the season as a whole? Comment below and let me know.
[Photo credit: JoJo Whilden/Showtime]