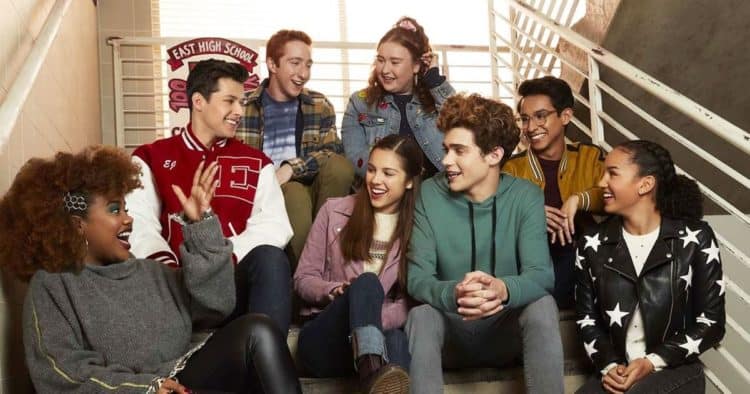 Sorry movies but we are truly living in the golden age of television. Shows like Game of Thrones started out costing around 5 million an episode in the first couple of seasons and ended up costing 15 million an episode in season 8. Dragons are expensive after all. Television is now expanding the universes of established franchises. The Marvel universe is made richer through in-depth exploration in television series such as Loki, WandaVision, and The Falcon and the Winter Soldier. The same concept can be applied to the High School Musical Franchise.
The High School Musical franchise started with a Disney channel original movie directed by Kenny Ortega. It premiered in 2006. The plot is a modern twist on Romeo and Juliet and Grease. Smart new girl Danielle and sporty Troy are from different social cliques but fall in love and audition for the school musical. Although their friends initially try to stop them, eventually they learn they are all in this together. High School Musical was immensely popular with ratings of nearly 8 million viewers. It was one of the most successful original movies to air on the Disney Channel to date. It launched the careers of Zac Efron and Vanessa Hudgens. Disney would continue the franchise's success with another Disney channel original movie High School Musical 2 and a theatrical release of High School Musical 3: Senior Year. They were both hugely successful. With all this momentum why stop there?
High School Musical: the Musical: the Series Season One
The first season of High School Musical: the Musical: the Series was released in the United States in November of 2019. The show's format is a stylized mockumentary similar to Christopher Guest films. It follows "real" east high students. Episode one starts on the first day of school. We meet Nini (Olivia Rodrigo) who's new boyfriend is the handsome E.J. (Matt Cornett) They met at theatre summer camp much to the dismay of her ex-boyfriend Ricky (Joshua Bassett). The new theatre teacher the energetic Miss Jenn (Kate Reinders) announces the school's next production will be High School Musical: the Musical. Ricky nervously but successfully auditions with a song that Nini wrote for him.
Nini is cast as Gabrielle beating out new-girl Gina (Sofia Wylie). Ricky is cast as Troy with E.J. as his understudy. Oh the drama. E.J. gets jealous and steals Nini's phone to check on her. When Nini finds this out, she breaks up with E.J. Gina and E.J. fake date for awhile to make Nini drop out of the musical but this does not work. Ricky's parents have separated and are dating new people. His mom shows up to the show with her new boyfriend. Miss Jenn gets into trouble for lying about how much of a role she had in High School Musical. The principal tries to get her fired but the students plead on her behalf and save her job. Nini gets accepted into a performing arts high school in Denver. Ricky and Nini get back together. Now she has to choose between the two.
High School Musical: the Musical: the Series Stars
Oliva Rodrigo
Olivia Rodrigo, singer-songwriter and actor, plays Nini. She is originally from Temecula, CA. Her first acting gig was an Old Navy commercial. Other credits include Paige Olvera in the Disney channel series Bizaardvark and Grace Thomas in An American Girl: Grace Stirs Up Success. She released her debut single "Drivers License" in January 2021.
Joshua Bassett
Joshua Bassett is a singer, dancing, and actor from Oceanside, California. He plays Ricky. He has five sisters who are also in theatre. Past credits include Aidan Peters in Stuck in the Middle. Josh also enjoys being behind the camera.
Matt Cornett
The role of E.J. is played by Matt Cornett. He is originally from Rogers, Arkansas. Matt likes football, singing, guitar, video games, and his car. Past credits include Zach Barnes on Nickelodeon's Bella and the Bulldogs. He won a 2016 Young Artist Award for Best Performance in a TV Series – Recurring Young Actor for this role.
High School Musical: the Musical: the Series Season 2
High School Musical: The Musical: The Series Season two was released on May 14th 2021. A new episode was released every Friday. Miss Jenn 's ex-boyfriend Zack played by Derek Hough is teaching drama at East High's rival high school North High. This year East High will be doing a production of Beauty and the Beast so they can compete against North High in the Alan Menken Awards for high school theater productions. Zack is so going down. Nini goes to a performing arts high school in Denver. Ricky and Nini ultimately break up so Nini can focus on her music career but are on good terms. Jamie, Gina's brother, offers to help Nini with her music career. E.J. and Gina develop feelings for each other and may have kissed but the camera pans away. Ricky takes a chance and calls Lily who goes to North High. Lily tried to sabotage East High's production of Beauty and the Beast by stealing a key piece of equipment that helps the beast transform. Will Ricky find this out? After a wonderful opening night of Beauty and the Beast, the cast and Miss Jenn decide not to open the envelope that says if they are nominated for the Menkies. Creating theatre is award enough.
High School Musical: the Musical: the Series Season 3
So far there is not an announced release date for season three. The covid pandemic delayed season two so it may also impact season three's release and filming. There has also been speculation about Olivia Rodrigo's role in the upcoming season. Her solo artist career has blown up so it will be interesting to see what happens there. She recently told The Guardian that she is "committed to HSM for two more years." This could mean she will be a part of seasons three and four.
The Bottom Line
Season three of High School Musical: the Musical: the Series is set up to be a great one. More original music. Another theatre production. And finally some answers to the lingering questions from season two. What will happen with Gina and E.J.? What will happen with Lily and Ricky? What will the new theatre show be? What will happen with Nini?Game of Thrones