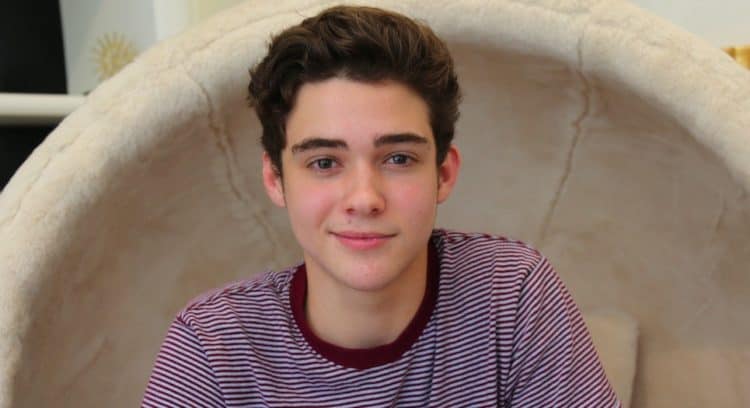 Joshua Bassett is an American actor who is best known for his role in the television series "High School Musical: The Musical: The Series." He is a teenage actor who has attracted a large following of fans in the short time that he has been in the entertainment business. These fans love to hear news about his life and career, so we looking into his history as well as what's going on in his life now, as well as any future plans that he's sharing. Here are 10 things about Joshua Bassett that we learned that you probably didn't know.
1. His Birthday
Joshua T. Bassett was born on December 22, 2000. He turned 18 years old in 2018, and he is getting ready to turn 19 in a little over a month. He was born in Oceanside, California and this is where he has spent the majority of his life, being raised there by his parents Laura and Taylor Bassett.
2. He hasn't been in acting for that long
Joshua has only been a professional actor since 2016. he has spent four years of his teenage life in the acting business. He has really done remarkably well for the short amount of time that he's been an actor. He has already snagged a leading role in a popular television series. So far, his acting appeals to the 12 to 22 age group with an emphasis on pre-adolescents through the middle teen years.
3. Joshua was a stage actor
Although Joshua didn't become active in television acting until recently he has performed on the stage. He began at teh age of seven years old as a stage actor and he has appeared in a large volume of musical theater productions since that time. He has more than thirty of them to his credit. Stage acting is a lot different than acting in front of a camera where you can stop and reshoot a scene if you fumble your lines. When you're on the stage, the performances are live and you only get one shot to get it right because there are no second chances.
4. He was also a commercial actor
Bassett was not only a stage actor as a young child, but he also appeared in several other filmed productions. He appeared in a few short films as well as in several television advertisement commercials. It seems that he has been an actor for about 12 years, but fans of his television series may not know these things about him.
5. Joshua is multi-talented
In addition to being a stage actor and appearing on a musical television series, Joshua has a few other talents. We all know that he is a talented singer, but he is also a dancer. When looking into his history we also learned that he loves working in front of the camera, but he's versatile and he also enjoys doing work behind the scenes of the camera whenever he can.
6. He comes from a talented family
Joshua Bassett isn't the only member of his house with acting ability. He has five sisters who are also all involved in theater. It seems that acting is a passion and talent that just runs in the family. It's wonderful that all of the siblings have so much in common with one another. These are the kinds of things that bring them closer together because they have similar experiences in life and a lot more in common to talk about when they get together.
7. He's appeared in other television series
Bassett has also appeared in a few episodes of the television series "Grey's Anatomy" for 2 episodes as a character named Linus, He also appeared in the television series "Dirty John" in the role of Teenage John," and in "Stuck in the Middle" as Aidan Peters in a recurrent role. Other series that he had minor parts in include "Game Shakers" in 2018, and "Lethal Weapon" in 2017. He also appeared as Caleb in the film short "Limbo" in 2015.
8. Joshua is friends with the "Andi Mack" cast
Joshua has spent a lot of time on the set of Disney's "High School Musical" television series. He has gotten to know quite a few members of the cast of the Disney Channel's "Andi Mack." You can find photos of him hanging out with them on social media. It just makes sense though as they are all considered a part of the new generation of "Disney Kids."
9. His father has had an impact on his life
Joshua Bassett has a great deal of respect and admiration for his father, Taylor Bassett. He shared in an interview that one of his goals into adulthood is to be the kind of man that his dad is. This is a statement that should make his father feel very proud of Joshua. He is setting a good example for other young people in showing this level of respect. It's something that is becoming less common in our society today. he is fortunate to have a lot of support at home and good family life.
10. He is also a musician
We all knew that Joshua is a talented singer and actor, and he's also a pretty good dancer, but there is one other thing that he does quite well. He also plays the piano. He's the kind of young man who has all of the skills and talents that you would look for if you were casting a musical theatrical production. He's made of the right stuff for stage acting, but there are a lot of his fans who are happy that he made the decision to appear in television because it exposes him to a larger audience of viewers, some of which have not had the opportunity to see a stage production.
Tell us what's wrong with this post? How could we improve it? :)
Let us improve this post!