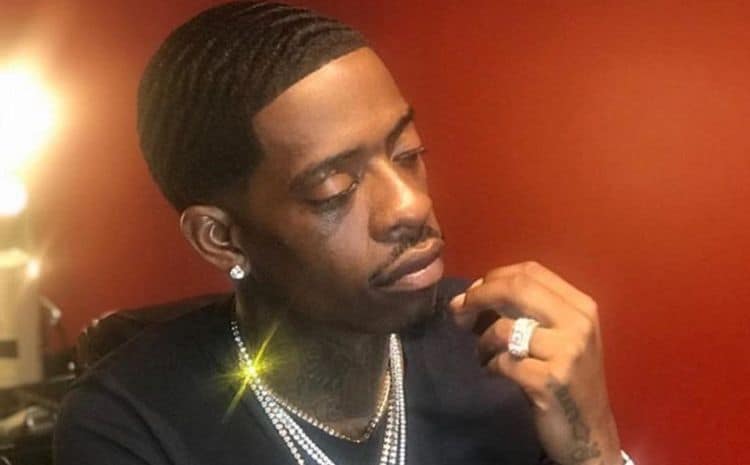 Dequantes Devontay Lamar, or as most people know him, Rich Homie Quan has had a spectacular career so far. We've enjoyed watching him rise to fame, and fans go crazy for his music. Naturally, we got curious about the man behind the music. It turns out Quan has had some interesting times, feuds, and more. We decided to go for a deep dive into his past and see what turned up about this exciting musician, and we learned a lot about him. Seeing the inside story behind musicians and actors always seems to make us admire them all the more. Here are ten things you didn't know about Rich Homie Quan.
1. Family Man
According to Article Bio, Rich Homie Quan is married to Amber Rose. He's a family man and has three children.
2. BFF's
It's no secret that RHC and Young Thug were once the best of friends. They performed together often, and with fellow rapper Birdman, they formed Rich Gang. Then everything changed in 2015. The famous friends had a dispute because YT wanted to go out on his own and focus on his solo career. They argued and stopped working together. It's been years, but according to XXL Magazine, Quan is more than ready to let the past stay in the past. He even said he'd perform with Young Thug again 'if it made sense.'
3. Could Have Been a Player
Dequantes didn't always dream of performing on stage. When he was younger, he was very sporty and physically inclined. He played baseball all four years he was in high school at Ronald McNair Sr. High School back in Atlanta, Georgia. More than that, he dreamed of a career playing professional baseball. Who knows? If things had gone just a little differently, RHC might be Major League instead of majorly musical.
4. A B.I.G. Problem
In 2016, after agreeing to do a tribute song for Notorious B.I.G., Quan made a major mistake. Instead of memorizing the song he was supposed to sing, he… didn't do that at all. Fans and mourners for the beloved rapper were outraged. It could have been one of those moments that everyone remembered and replayed a million times for all the right reasons, but rather than that happening in a beautiful moment that memorialized the deceased rapper, it became a source of problems. We don't know why it happened, but RHQ screwed up and made it worse by making excuses about technical errors.
5. And Worse
After the Notorious B.I.G. kerfluffle, people were putting up hashtags like #BanRichHomieQuan. It wasn't a good sign for the talented rapper's career. That wasn't the worst of it. Someone started a petition to ban him from hip hop forever officially. While we certainly understand why people were so upset, it seems important to point out that even if everyone who saw it signed the petition, which they certainly didn't, it wouldn't keep him from doing what he loves. However, it probably taught RHQ an important lesson, even if less than two thousand people ultimately signed it.
6. His Favorite Place
You might expect a star to hang out somewhere that expensive champagne is on tap, but Quan likes to keep things real. His favorite spot in Atlanta is a little place with the humble name Pizza Bar that's in a retail strip on Camp Creek Parkway. (The Trials and Tribulations of Rich Homie Quan – XXL )
7. Airport
Before his career, as a musician took off, Rich Homie Quan had to make a living. He spent a while working at an airport, according to Sa hip Hop. We're not sure what his job was there, but it's a decent living even if you're a baggage handler. Next time you're going through a TSA checkpoint, instead of getting frustrated, think about the fact that you could be dealing with the next singing sensation instead. It will make the trip easier.
8. Jail & Other Troubles
Unfortunately (at the time), RHC lost his airport job and ended up in need of money. As a result, he got into illegal activities to pay the bills. Eventually, he got caught and spent fifteen months in jail on a burglary charge. Since then, he managed to keep himself out of trouble until 2017 when he was arrested on felony drug charges on the way to a concert.He made his twenty-thousand dollar bail, and as far as we can tell, he wasn't sentenced to do any time for the marijuana possession.
9. Love of Literature
Quan has always loved words, so it's no surprise he got into a profession where words are how he makes his living. When he was younger, he read often and enjoyed his creative writing classes the most in school. It takes a lot of talent to become a rapper, but it also requires skill. You have to be familiar with the language if you plan to use it for a living. Some people don't realize this about rappers, but many of them are highly literate and spend a huge amount of their time focused on words. After all, you cant 'spit mad rhymes,' if you don't know how to make a rhyme in the first place.
10. Safe & Not-So-Safe
Quan lives and often works in Atlanta. It's his hometown, and it's where his family is. He's often seen around town without security. Any big city can be a dangerous place, but sometimes even celebrities have to take a calculated risk and live their lives. However, RHC knows better than anyone just how dirty the south can get. In 2014 his father was hot while working at the family's barbershop. Still, you can't spend all your time being afraid to live and jumping at shadows. We admire his willingness to let loose when he feels at home.
Final Thoughts
One thing is for sure. Rich Homie Quan is a unique and talented guy who's been around doing what he does best for a long time. We enjoyed learning more about him, and we hope you did too. Some of the facts about his life surprised us, but it was all intriguing. We'll undoubtedly be interested to see what he does next. Was there anything that shocked you in his past? Do you know more fun facts about Quan? Let us know what you think in the comments section below.