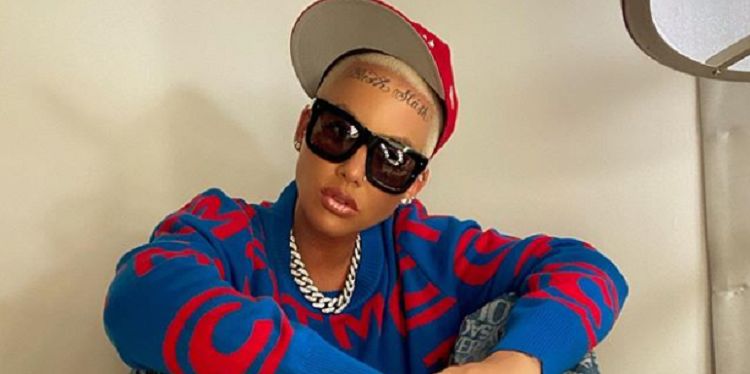 Born as Amber Levonchuck in Philadelphia on October 21, 1983, this model and actress is better known professionally as Amber Rose. She began her career in entertainment in 2007, and although she is best-known as a model and actress, she has also had a career in the music industry. Her relationships and controversial lifestyle have also attracted attention to this celebrity. Although she is quite a well-known entertainer, there are many things that people do not know about her Here are 20 interesting facts that you probably didn't know about Amber Rose.
1. Appearing in Music Videos Launched Her Career
The Richest says that Amber Rose launched her career thanks to appearances in music videos. As a model, she did not originally intend to appear in music videos. However, taking the plunge helped her to attract attention to herself and move forward with her career. She has appeared in music videos for Nicki Minaj's 'Massive Attack, 'Fabolous' video for 'You'll Be Killin' Em', and Young Jeezy's 'Vacation'. The music video that attracted the most attention to her was Ludacris' 'What Them Girls Like'. It was reported that Amber Rose first caught Kanye West's eye when he saw her in this video and she apparently took his breath away.
2. She Worked as a Stripper at 15
Amber Rose grew up in South Philadelphia. Her parents divorced when she was very young, and Rose was living in poverty with her mother and her brother, Antonio Hewlett. Amber Rose began working as a stripper at the age of just 15 to support her family financially. Working as a stripper in the past is not something that Amber Rose is ashamed of as she believes that women should have the right to control what they do with their own body.
3. She Has African Heritage
Amber Rose has a mixed heritage. Her father, Levonchuck is an American who served in the United States Army for 20 years and he is of Irish and Italian descent. People often mistake her mother as American. However, she is actually from Cape Verde, which is an island country off the west coast of Africa. Therefore, Amber Rose has some African heritage. Rose is close to her Cape Verdean mother and is often snapped spending time with her.
4. She Used to Date Women
Prior to her turbulent love life with men, Amber Rose dated women, says Cosmopolitan. She has said in interviews that she dated women for around six years before deciding to date men exclusively. Rose has said that during that time, she dated two or three women. As of 2019, it is over a decade since she last dated a woman.
5. She Shaved Her Head for the First Time at the Age of 19
Amber Rose is well-known for her distinctive looks, especially her hair which she wears either shaven or cropped short. IMDB says that she shaved her hair for the first time when she was 19 and that Sinead O'Connor was her inspiration. She now shaves her hair, which is naturally brunette but dyed blond, twice a week to maintain her distinctive look.
6. She Denies Ever Having Plastic Surgery
On many occasions, the media has reported that Amber Rose has had plastic surgery to achieve her voluptuous figure and to maintain her good looks. According to Cosmopolitan, this is something that Amber Rose vehemently denies. She has gone on record saying that she has never had plastic surgery, and nor does she intend to in the future.
7. She Has Had Three High Profile Relationships
Other than her fame for her skills and her looks, Amber Rose is also famous for her relationships with high-profile men. Rose was in a relationship with rapper Kanye West from 2008 to 2010. Following their split, there was a very public social media war between them. Amber Rose then began a relationship with rapper Wiz Khalifa in 2011 and the couple got engaged the following year. They married in 2013, and their son, Sebastian Taylor Thomaz, was born in the same year. Although the couple split in 2015, they continue to co-parent their son. From 2017 to March 2018, Rose dated rapper 21 Savage. Since 2018, Amber Rose has been in a less high-profile relationship with Alexzander 'A.E.' Edwards, a record label executive with Def Jam Records. She announced in April 2019 that she is expecting her second child, a son, with him.
8. She Met Her Ex-Husband Through Social Media
Technology often plays a part in dating in the modern world, and that was certainly the case for Amber Rose as it was how she met her ex-husband. Amber Rose first met Wiz Khalifah via Twitter. She has said that she is surprised she fell so in love with him considering that they met via social media. She contacted him on Twitter after seeing him in an interview when he said that he would choose Amber Rose if there was one woman he could meet. She sent him a message on Twitter saying she thought it was cute and this led to the couple hooking up.
9. She Has a Huge Social Media Following
Amber Rose has a huge social media following, and she is a very active user of both Twitter and Instagram. On her Twitter account, she has 4.09 million followers. She uses this account to post about her lifestyle, her work, and her political and social opinions. On her Instagram account, she has 18.7 million followers. She uses this account to post pictures of herself with her son and family, photos of herself socializing, or snaps of herself in her various working activities. She has also posted photographs of herself pregnant and having a scan.
10. Her Personal Net Worth is $12 Million
Amber Rose has an estimated personal net worth of $12 million. Not only has she earned this money as an actress, model, and singer, she has also earned money from various business ventures, endorsing brands, making personal appearances, and writing a book.
11. She Has Invested in a Luxurious Home
One way that Amber Rose has invested her fortune is to buy a luxurious home, says Heavy. She spent $4 million on her current home in Tarzana, California. The luxurious 7,233 square feet property boasts six bedrooms, eight bathrooms, a tennis court, a lighted pool, a basketball court, a library, and a patio. She sold her former property in Los Angeles for $5.1 million. This house had six bedrooms, seven bathrooms, a guest house, a home gym, a spa, and a pool.
12. She Loves Cars
Another way that Amber Rose likes to spend money is on buying herself nice cars. One of her prized possessions is her Gallardo Spyder Lamborghini, which is worth $181,900. Another of her favorite cars is a Rolls-Royce, for which she paid $371,000. She bought the Rolls-Royce so that she and her best friend, Blac Chyna, could have matching cars as Blac Chyna had bought the same car just days earlier. Also in Amber Rose's car collection are a Jeep, a Ferrari, and an Escalade.
13. Promoting Positive Mental Health is an Important Aspect of Her Parenting Style
One of Amber Rose's worst fears as a parent is that her son, Sebastian, will become depressed and unhappy, says The Talko. She says that promoting positive mental health in her son is important to her, and that means letting him express himself in the way he chooses. In her opinion, this will make him feel accepted by his family, which she says is important.
14. She Wants to be a Positive Role Model to Her Son
Amber Rose thinks it is important that she hasn't given up her individuality just because she is a parent. She says that it is good for him to see her being herself and having a good time. Rose believes that this is part of her being a positive role model to her son and that she doesn't need to compromise her own life to become solely a parent.
15. Mariah Carey's Ex-Husband is Her Manager
Mariah Carey's ex-husband Nick Cannon is a rapper, actor, producer, singer, television host and actor. In 2009, he launched his own production and management company called N'Credible Entertainment. In 2014, Amber Ross signed up to N'Credible Entertainment, says Contact Music. Therefore, Nick Cannon is now Amber Rose's manager and he will guide her through her career in several aspects of the entertainment industry.
16. She Had a Tattoo of Her Ex-Husband Removed
Shortly after giving birth to her son Sebastian, Amber Rose had a large tattoo of Wiz Khalifa's face inked on her arm. This was done by tattoo artist Bobby Serna who posted an image of his work on Instagram. Rose had this done to show her love for Wiz, who was her fiancé at that time. Following their split, she had the tattoo removed by laser and replaced with a tattoo of Slash. She also has another tattoo of slash on her other arm.
17. Rose Thinks She Intimidates Men
Due to her lifestyle and power, Amber Rose thinks that men are intimidated by her. According to People, Rose has said that she has lawyers, managers, assistants, and access to anything she wants. This means that many men find her intimidating. She added that she feels more comfortable with a man who can come up to par with her.
18. She Earns Money from Endorsements
As someone with celebrity status and a huge social media influence, Amber Rose now earns money through endorsing brands. Verified Tasks says that she is the spokesperson for Smirnoff Vodka and she promotes the brand's new flavors. She also promotes nightclubs, and hiring Amber Rose to spend the night at a nightclub can cost between $50,000 and $125,000.
19. She is a Supporter of Gender Equality and Female Empowerment
Amber Rose has spoken many times about her passion for fighting for gender equality and female empowerment. She set up the Amber Rose Basis, which is a corporation that increases awareness of women's rights, victim shaming, and many other issues related to gender equality. Amber Rose is particularly passionate about eradicating the shaming of women who have any type of sexual past.
20. She Has Been a Judge on Two Reality Television Series
Rose appeared as a contestant on 'Dancing with the Stars' and received praise from the judges, finishing in ninth position. However, she has also sat on the other side of the judge's desk as she has been a judge on two reality television series. She has been a judge on both Season 3 of RuPaul's Drag Race and on Season 2 of Master of the Mix. For the former, her experience in fashion and modeling were important, while for the latter, it was her experience as a singer an actress that were the attributes that gave her authority to judge others.